SKI.BG > СКИ в България - http://www.ski.bg
. бг ски скок новини : Зографски завърши на 13-та позиция в лятното Гран При на ФИС - 03 Октомври 2012 - 19:46

СКИ СКОК (SKI.BG) -- Младата надежда на българския ски скок Владимир Зографски завърши летния сезон на 13-то място в генералното класиране за Гран При на ФИС, след като остана извън вторите скокове на финалното състезание от турнира в Клингентал (Германия).

Vladimir Zografski (BUL), photo Anna Szczepankiewicz / skijumping.pl
За разлика от отличния 131-метров скок по време на квалификацията вчера, при първия си опит в състезанието на 140-метровата шанца в Клингентал днес Влади прелетя само 117 метра, което го лиши от възможността за участие в по-нататъшната надпревара и му отреди 42-рото място в крайното класиране на състезанието с актив от 102,7 точки.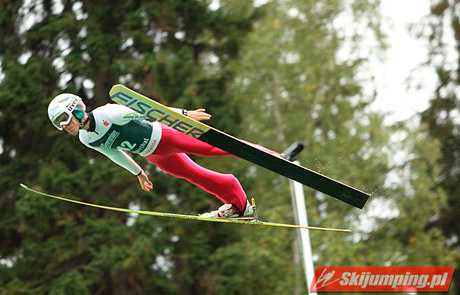 Vladimir Zografski (BUL), photo Tadeusz Mieczynski / skijumping.pl
Преди старта в Клингентал 19-годишният ни национал беше 11-ти в генералното класиране за Гран При с актив от 134 точки, но след като днес не взе още точки, в крайна сметка слезе с две позиции и завърши сезона за лятния турнир по ски скок на ФИС на 13-та позиция.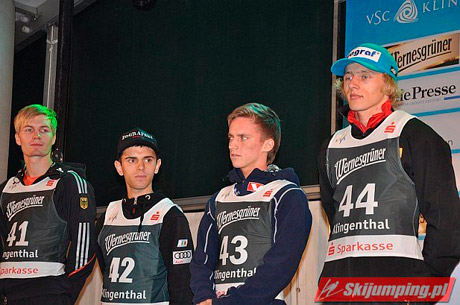 Danny Queck, Vladimir Zografski, Anders Fannemel and Dawid Kubacki, photo Anna Szczepankiewicz / skijumping.pl
Победител в турнира Гран При на ФИС стана германецът Андреас Ванк с общо 449 точки, а днешното последно състезание от турнира спечели неговият сънародник Северин Фрюнд.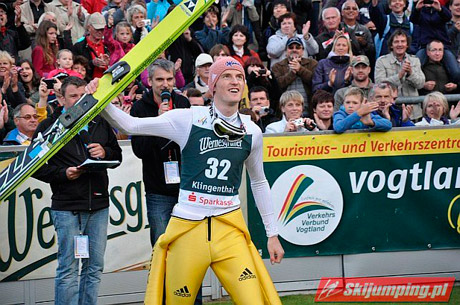 Severin Freund (GER), photo Anna Szczepankiewicz / skijumping.pl
Най-доброто постижение на настоящия световен шампион за младежи Владимир Зографски през този сезон беше 4-тото място в Хакуба (Япония), за което той получи 50-точки за генералното калсиране и спечели 1000 швейцарски франка от наградния фонд на турнира. Поздравления за Влади и пожелания за един още по-успешен зимен сезон!
SKI.BG
03 октомври 2012 г.
Следват подробностите за днешнтото състезание на английски >
Andreas Wank GP overall winner, Freund wins final
SKI JUMPING. The Germans dominated the final event of this year's FIS Grand Prix: Severin Freund was the well-deserved winner of the last international competition this summer. In front of about 9 000 spectators he won ahead of Taku Takeuchi (JPN) and Thomas Morgenstern (AUT). Andreas Wank (GER) captured the overall title with 449 points, followed by Slovene Jurij Tepes (378 points).
13 years after Sven Hannawald, Andreas Wank is the German jumper in the history of the FIS Grand Prix who won the overall title. "I feel good right now, but the summer is only a way station towards the winter. But I'm definitely on the right track", he described the feeling after his convincing performances this summer. In today's competition Wank finished 15th, his main opponent in the overall ranking, Jurij Tepes, was eighth - not enough for the Slovene.
"I'm more than satisfied with Hinzenbach and Klingenthal. It's really great to compete again. Actually the results were not that important, but of course it's great when you come back and are among the best right away", said Severin Freund, who won an exciting competition. Jumps of 137 m and 136.5 m (272.5 points) earned him this win after he was already leading after the first round. At this point athletes of Slovenia, Japan and Poland were in good positions to attack. Jaka Hvala (SLO) and Reruhi Shimizu (JPN) were on course to the podium, but they could not defend their ranks in the final and came in fifth and sixth.
Japanese Taku Takeuchi celebrated a victory at the Grand Prix in Almaty and with the second place in Klingenthal he again achieved a top result. "I had a really good jump in the final round and it would be great if I could remain in this shape until the winter season", told the Japanese, who showed good jumps on 135.5 m and 139.5 m (266.8 points).
With 130 m Austrian Thomas Morgenstern was only 13th, but with 137 m in the final round (256.9 points) he moved up to third overall. "I think that I can be very satisfied with the last competition of the summer. I'm proud that I can return home with a third place. Now I'm looking forward to the next trainings and the winter season."
Eight German athletes participated in the competition today, seven of them reached the final round and so the Germans showed a good team performance. With Severin Freund, Richard Freitag (7th), young Karl Geiger of Oberstdorf (14th) and Andreas Wank (15th) four Germans achieved a Top 15 result. Martin Schmitt, Danny Queck and Andreas Wellinger completed the good result with the places 20, 21 and 30. Only Stephan Leyhe could not qualify for the final round as 33rd. "I'm very satisfied with the whole team, we also had some great reinforcements out the national group. The national team proved consistency and, in general, we are on the right track", head coach Werner Schuster said about the performance of his team.
In opposite to his teammate Thomas Morgenstern, this event ended with a disappointment for Gregor Schlierenzauer, who showed the longest jump of the day of 139.5 m (Taku Takeuchi jumped on the same distance). With 120.5 m in the second round he finished 23rd. Andreas Kofler and Michael Hayboeck achieved a Top 10 result. It was not a perfect day for the Norwegian tom Hilde, who could not qualify for the final round, just like a few days ago in Hinzenbach. Also his teammates could not achieve top results. Anders Bardal was the best of the Norwegians as 16th.
FISskijumping.com
03.10.2012 16:23
[xt] ski