SKI.BG > СКИ в България - http://www.ski.bg
. световни ски новини : Якобсен с 2 от 2 победи на Четирите шанци - 01 Януари 2013 - 16:47

СКИ СКОК, ЧЕТИРИТЕ ШАНЦИ. Норвежецът Андерс Якобсен спечели и втория старт от тазгодишното 61-о в историята издание на престижното състезание в ски-скока Четирите шанци. За днешния победител това е 8-а победа в кариерата за Световната купа.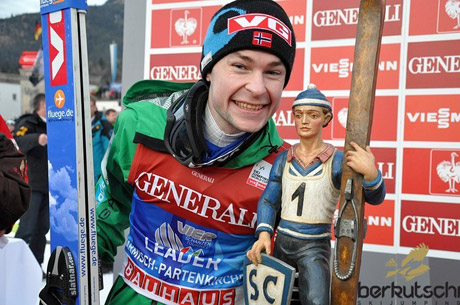 Anders Jacobsen (NOR), photo: FISskijumping.com
Българинът Владимир Зографски се представи отлично днес. На 140-метровата шанца в Гармиш-Партенкирхен 19-годишния самоковец зае 17-о място, което е негов личен рекорд в германския курорт.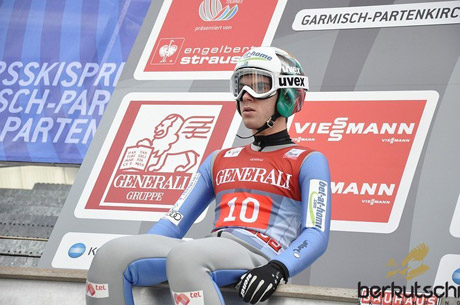 Vladimir Zografski (BUL), photo: FISskijumping.com
В елиминациите световният шампион за младежи от 2011-а година Зографски се справи без проблеми с легендарния японец Нориаки Касай. В битката за място във втория кръг българинът постигна 127 метра и получи от съдиите 120,1 точки. В същото време Касай, който е сребърен медалист от олимпиадата в Лилехамер'94 и победител в 15 старта за Световната купа прелетя 123,5 метра, а за стил оценката му бе едва 113,4 точки и се нареди едва 41-и. Зографски направи изключителен втори скок. Той преодоля 134 метра и с обща оценка от двата опита 251,2 точки се класира на 17-ото място.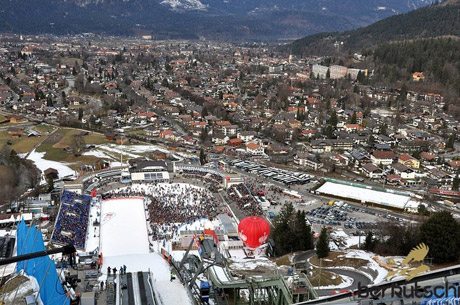 photo: FISskijumping.com
По-напред в старт от Четирите шанци Зографски е достигал само в Оберсдорф (Германия) през 2010-а, когато бе 16-и. Победител в Гармиш-Партенкирхен стана норвежецът Андерс Якобсен с 277,7 точки след скокове от 131.0 и 143.0 метра, който спечели и първото състезание в Оберсдорф в неделя. Втори е водачът за Световната купа Грегор Шлиренцауер (Австрия) със скокове от 134,0 и 136,5 м и 276,8 точки. Трети е Андерс Бардал (Норвегия) с 267,2 точки след 136,5 и 135,5 метра. В класирането за Световната купа след 9 старта начело остава Шлиренцауер вече с 608 точки, Втори е Зеверин Фройнд (Германия) с 506 точки, а трети е Кофлер с 409 точки. Зографски е 27-и със 72 точки. За Четирите шанци след два турнира води Андерс Якобсен с 586,3 точки. Зографски е 29-и с 369.6 точки. Следващият старт от Четирите шанци е на 4-и януари в Инсбрук (Австия), а ден по-рано е квалификацията.
БТА
01 януари 2013
Anders Jacobsen enchanted Garmisch-Partenkirchen
SKI JUMPING, 4-Hills-Tournament. An outstanding Anders Jacobsen of Norway is on the best way to repeat the four wins, that Sven Hannawald could celebrate at the 50th 4-Hills-Tournament. After a spectacular and dangerous looking jump on 131 m in the first round, the 26-year-old was ninh after the first round.
The ends of his skis crossed after the take-off and the flight became very unstable. With an impressive jump on 143 m in the final round he then captured his second win with 277.7 points.
"My first jump was actually very good and very powerful, but the ends of the skis crossed and the skis started to wobble. I could have tried a 360", the winner was joking after the competition. "When I also have this much energy at the next two competitions then it's looks good. Of course I also want to achieve a third win at this 4-Hills-Tournament", said Jacobsen.
So Gregor Schlierenzauer, the leader after the first round, could not celebrate his fourth win at the Olympic hill. At the end, the Austrian came in only 0.9 points behind the winner with 134 m and 136.5 m (276.8 points). Schlierenzauer is now 12.5 points behind Jacobsen in the overall ranking, but he will definitely try to attack at the third competition at the Bergisel in Innsbruck.
The great performance of the Norwegian team was completed by Anders Bardal (136.5 m and 135.5 m; 267.2 points) and Tom Hilde (133.5 m and 138 m; 266.4 points) as third and fourth.
Two athletes of Poland came in right behind the Norwegians. With jumps on 134.5 m and 135 m (265.7 points), Maciej Kot showed a stable performance and achieved the best World Cup result of his career. He was followed by Kamil Stoch and Dimitry Vassiliev (both 261.8 points). Yet another good result for the Russian veteran, who is now one of the contestants for a podium result in the overall ranking of the 4-Hills.
Strong team performance of Germany
In front of 20 500 spectators the Germans showed a strong team performance. Eight of their jumpers qualified for the final round, Andreas Wellinger (133 m and 131.5 m; 253.0 points) and Andreas wank (128 m and 132 m; 252.5 points) were stronger than their more experienced teammates today. Severin Freund was 15th with 129.5 m and 130.5 m and a total of 251.9 points. "The competition could have been better for me, that's true", Severin Freund said afterwards. Freund, who was third in Oberstdorf, is now fifth in the overall ranking.
Veteran Martin Schmitt, seventh after the first rund, jumped on 129 m in the final and could not defend his position. He came in 14th, one place better than Freund. One of the best in yesterday's training and qualification, Michael Neumayer (246.1 points), was 21st. Also Maximilian Mechler (22nd), Danny Queck (23rd) and Richard Freitag (25th) reached the final round.
Ammann and Loitzl out
One of the top contestants for the overall title, Simon Ammann (124 m; 112.8 points) lost his KO duel against Kamil Stoch and could also not qualify for the final as one of the "Lucky Losers". "Yesterday and also today in the trial round I was jumping well. I was only about 3,4 or 5 meters shor, it's very close. It's really bad that it happened here", told the Swiss, for whom the dream of the first 4-Hills title is now over.
Wolfgang Loitzl - 14th in Oberstdorf - could also not qualify for the second round. The Austrian ws 33rd with his jump on 126 m (117.6 points). The same fate was shared by his teammates Michael Hayboeck (31st) and Martin Koch (39th). Both lost against athletes of Poland, just like in the competition in Oberstdorf.
No points for Japan
None of the Japanese jumpers could score World Cup points today. After a strong start of the season, Taku Takeuchi (37th) and Reruhi Shimizu (45th) lost against Thomas Morgenstern and Richard Freitag.
Lukas Hlava, who jumped well in the qualification and the trial round, fell and couldn't achieve another good result. The Czech jumped on 128 m but lost his balance in the outrun. It went better for other jumpers of head coach David Jiroutek. Jan Matura and Roman Koudelka came in 16th and 18th.
After the second competition of the 61st 4-Hills-Tournament Anders Jacobsen remains in the lead with 586.3 points, followed by Gregor Schlierenzauer (573.8 points). With Tom Hilde (547.7 points) the next best Norwegian is third. Severin Freund is the best German as fifth (542.7 points).
FISskijumping.com
01.01.2013
[xt] ski