SKI.BG > — » ' ŃķŽ"ŗūŤˇ - http://www.ski.bg
. ispo : SKIING FASHION at ISPO MUNICH 2017 - 04 'Ś'ūůŗūŤ 2017 - 11:57

ISPO. When the new collections were presented at ISPO MUNICH, it was soon clear: The time for loud neon colors and wild prints has passed. The styles on offer are increasingly better suited to a wide range of skiing requirements. And almost all of the skiing fashions can be worn for Alpine sports, snowshoeing, winter mountain biking and for walking. ISPO MUNICH will take place from February 5Ė8, in Munich.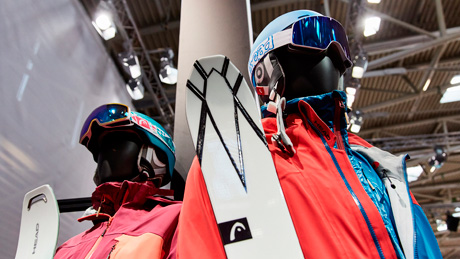 New materials including extremely efficient functional materials which stretch in all directions, as well as technological innovations like fully taped seams, intelligent 3D cutting, laser-cut air vents and almost no need for seams, are revolutionizing ski fashion. The new collections offer all-round protection from excessive heat or cold, wind, weather and fall injuries, while also offering even greater freedom of movement. Whatís more, these models are designed such that they can be worn for leisure or in town, as well as for sports. Maier Sportsí contribution to this trend is Crossover Ski. The new winter sports collection is perfect for skiing, but also for any other winter (sports) activities. The Aviator jacket from Peak Performance strikes the balance between highly functional ski apparel and stylish city clothes.
Instead of trendy gimmicks, this yearís clear trend is timeless design. This includes versatility, high quality, durability and above all, environmentally friendly manufacturing processes and sustainable materials.
This season, freeriders can buy jackets and pants with more freedom of movement thanks to incredibly stretchy materials and slightly wider and longer cuts, some in parka-style. Thanks to technologies like GORE-TEX C-Knit, everything is light and breathable, yet pleasant to wear without that plastic feeling next to your skin. Extra reinforcing, with Cordura or Kevlar for instance, on shoulders and pant-leg ends protects against ski edges, crampons and jagged rocks. While darts, articulated elbows and knees provide support during those high-speed maneuvers. Increasingly pockets and zips are also cleverly designed for ventilation so they can still be operated with gloves on, even when carrying safety sets or avalanche backpacks. Adjustable cuffs are practical, as are jacket-to-pants zip-on systems. Helmet-compatible hoods are cleverly designed so that they can be adjusted with one hand and follow the turns of the head without restriction.
Technically complex manufacturing techniques allow differing fibers and materials to be adapted for the demands of specific areas of the body. For example, materials that quickly wick away heat and moisture in one place, but store heat in another. Membranes are complemented with microfiber or stretch materials and can offer waterproof protection or more freedom of movement depending on the type. ISPO MUNICH is awarding prizes for these kinds of precision apparel with a new award for the categories; Hybrid Outerlayer, Hybrid Midlayer and Hybrid Baselayer.
Windstopper panels on the front are combined with seamless knit areas on the sleeves and back, three-layer areas with down-filled two-layer segments, and down incorporated into synthetic wadding, ensuring warmth is provided in a targeted manner. Bergansí new Hemsedal hybrid outfits for active down-hill skiers and freeriders are breathable, cooling and moisture-wicking at the back and under the arms, warming in the kidney area and chest, and protective at the shoulders.Icebreakersí new response to the cold is a foldable hybrid jacket no bigger than your palm, made from MerinoLoft with a durable Pertex Microlight outer fabric and Durable Water Repellent (DWR) coating.
On trendóget up and go
Nearly all of the product innovations are in outfits for the growing number of freetourer and splitboarder clients. Ever more sophisticated are the lightness, elasticity and flexibility of these outfits, but at the same time, so too is the toughness of the materials. Polartec Alpha, G-Loft, PrimaLoft Gold Active, PrimaLoft Black Eco and Firewall Magma (OíNeill) all have thermal insulation that works even better in the snow. All these are technologies that have both hydrophobic and breathable properties. Several high-tech fabrics are combined togetheró such as with the hybrid Narek/Nolana touring pants from Ziener. Made from wear-resistant softshell with stretch on the back pant leg, they have side ventilation inserts and windproof softshell at the front.
For skiers focusing on the climb, there are outfits that stay dry and quickly self-dry. Laser-perforated fabric on the back, and clever mesh and net inserts under the arms simultaneously let heat out and fresh air in. Light 3D mesh on the shoulders makes carrying a backpack nice and sweat-free. For endurance skiers, who tackle summits without a daypack, there are concealed, spacious pocket solutions, for your emergency jacket for example. The weight limits of these jackets in particular, have again been reduced. The new, simple, reduced-to-the-minimum emergency jackets, already weigh well under 100 grams. The emergency jacket from Blackyak weighs only 71 grams and is made from Dyneema, a material known in the rope industry for its strengthó15 times stronger than steel.
Technically innovative inside and out
Technical innovations are hidden in the second layer too. They help to make the second layer function both as a midlayer and as the outer layer. Hoodies and lightweight vests combine stretchy (net) fleece or thin softshell with down, or a mix of down and synthetic fibers. A good example is the jacket from Berghaus Ulvetanna which incorporates the new PrimaLoft Down Boost.
There are jackets and vests with sections made of wool, together with extremely fine, windproof layers that make the product super-comfortable, stretchy and light. Light, highly compressible insulation pantsóeither made from down or synthetic fibersófit particularly well under a hardshell or over multi-layer ski pants.
The new ďLife PocketĒ from Helly Hansen offers help for batteriesó preserving smartphone and camera batteries with an aerogel developed by PrimaLoft and NASA. They promise more heat retention than a normal pocket even at temperatures down to minus 22 degrees Fahrenheit.
From Rossignol Apparel comes the Atelier Course range with Sensor Support Technology. This activates specific areas of the jacket or pants, providing long-lasting support for the muscles through compression; this is made possible by an anatomical construction, combined with an ultra-stretch fabric around the core and thigh areas.
A world of colors: Natural tones, black and white
In demand in 2017/18, are natural, earthy, intense and muted hues, reminiscent of colorful spices and incorporating tone-on-tone fabric into the designs. Particularly in premium collections, entirely black ranges are standing out. Sometimes interpreted as simple, timeless understatement, with the high tech skillfully concealed. Sometimes as an effortless mix of performance and glamor, like in Toni Sailerís limited line, including leather, lambskin, fur and black, decorative zips.
Black is often combined with lots of fresh white or with ruby red and blue. Deep yellow, vibrant orange, powder pink, berry shades and a spectrum of green tones emphasize featuresóoften as broad areas of color blocking. Color combinations of black with brown, charcoal and dark blue, or blue with gray in many tones are proving popular. Striking, shiny looks are reminiscent of leather and satin. Fashion statements are using shapes like velvet blousons, voluminous collars and overalls with a feminine cut for women, and sporty casual for men.
Sustainability is continuing to gain ground
To keep the environmental footprint as small as possible and to manufacture products that are harmless to health, bluesign-tested materials and technologies are increasingly being used. Many companies are aiming to have their new collections fluorocarbon free by 2020. Some have already achieved this significant step in 2017.
Nearly all manufacturers already offer fluorocarbon-free DWRs. In their Shuksan line geared toward Alpine sports, Vaude focus on robust, elastic outer fabric that is made of up to 85 per cent recycled polyamide thus helping to conserve fossil raw materials. The backing is made from 100 per cent recycled polyester, the laminated, PTFE-free Ceplex Green membrane in between, is recycled polyurethane blended with S.Caféóprocessed coffee grounds. There are also new raw materials, nearly a third of which are derived from the molasses waste from processing sugar cane. These are used in three-layer jackets made from Dermizax EV ecodear which, in turn, is used in designs by freeriding brand Elevenate.
New material innovations for the slopes
Fabrics, like ReflectMesh by Berghaus, whose fibers are coated with aluminum and reflect heat, are being brought to ISPO MUNICH. And for bags, a hydrophobic, highly functional down from Nikwax that is treated with fluorocarbon-free Hydrodown. From PrimaLoft Insulation comes ThermoPlume, made from water-repelling PrimaLoft fibers in small, silky fiber tufts. They replicate the feel, look and flexibility of goose down and are an ethical, water-resistant, synthetic alternative to down.
With ProKnit Technology the freeriding label Picture Organic Clothing is launching the first knitted ski and snowboarding jacket in the world, with different density zones providing strategic body mapping. This jacket, made from a polyester yarn similar to that used in sweaters, is laminated and brings the benefits of stretch (1.5 times more flexible compared to woven fabrics), breathability, waterproofness, comfort and durability.
Further information on ISPO MUNICH can be found at www.ispo.com
Press Release
ISPO
Friday, 03. February 2017
[xt] ski