SKI.BG > SKI in Bulgaria - http://www.ski.bg
. world ski news : Ski jumping in Romania - 06 November 2012 - 16:54

SKI JUMPING. It seems to be a bit exotic, and actually it really is: International Ski Jumping Championships in Romania. But already a view on the facility Trambulină Valea Cărbunării in Rasnov shows, that something is resp. was built here that is not exotic, but the result of year-long professional planning.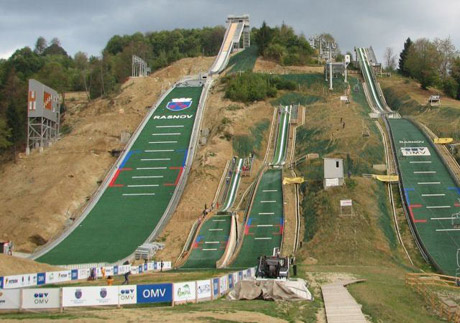 Photo © OMV / Carina Sima
Background: OMV Move & Jump
In 2007 the OMV, a marked-listed Austrian industrial company, and the Romanian Ski Association started a cooperation. The goal of the project "OMV Move & Jump" to give Romanian ski jumpers the chance to be among the Top 10 of the world within ten years. One step of this cooperation was starting the construction of the first ski jumping center in Romania and South-Eastern Europe in June 2009 in Rasnov.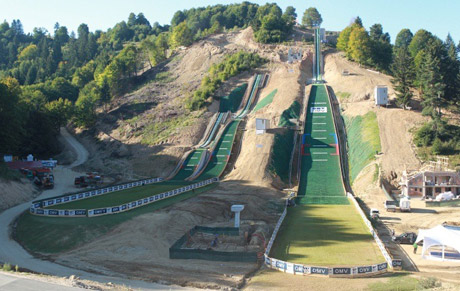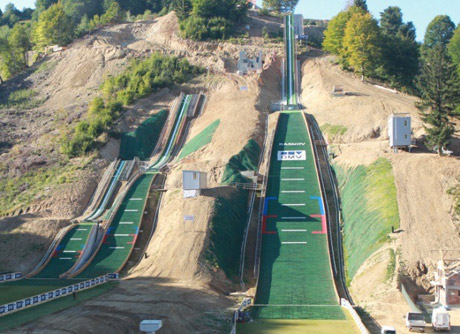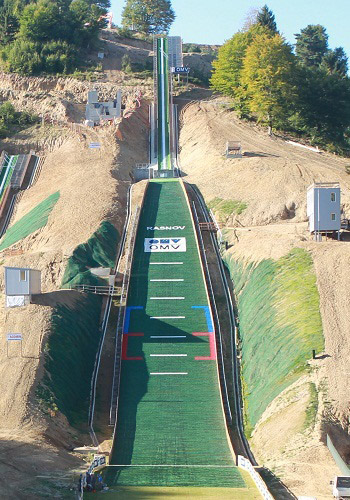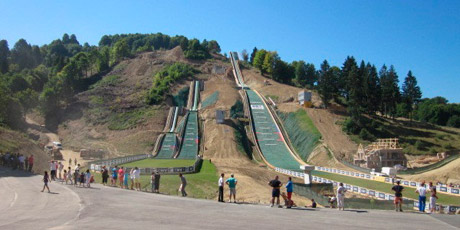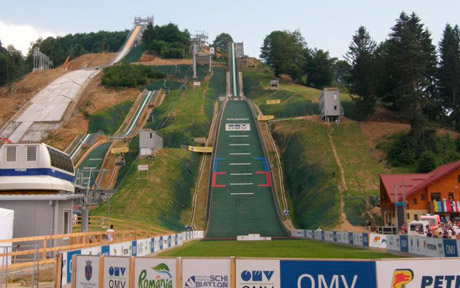 Photo © OMV / Carina Sima
The project of the Romanian Ski and Biathlon Association (RSBF) and the city of Rasnow was supported by the OMV, the official sponsor of the Romanian ski jumping national team and partner of the RSBF. The modern ski jumping center was built according to the requirements of the International Ski Federation (FIS). The facility originally consisted of three jumping hills (K15, K35 and K64) for children and young athletes. In the mean time two more hills K64 (HS 71) and K 90 (HS 100) - completed in October 2012 - were also built. The facility can be used in summer and winter. Four FIS Cup competitions (2 for women and 2 for men) will be held on the new HS 100 hill on January 19 and 20, 2013.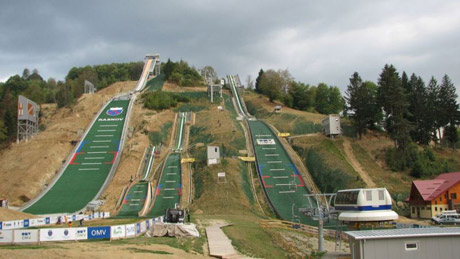 Photo © OMV / Carina Sima
Now, the international Romanian Championships on the three small hill were held as the first highlight.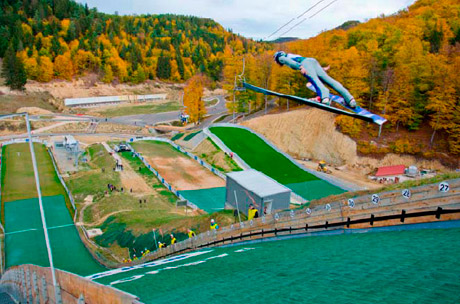 Photo © Federatia Romana de Schi-Biatlon
FIS Race Director Walter Hofer was on location
"Six years ago we did some sort of an appraisal and saw a precarious situation. Just like in some other countries as well, the only possibility for a young Romanian athlete to train was to travel abroad. Since then an amazing development took place at an accelerated pace. At the open national championships (with Bulgaria and Hungary) two weeks ago the fruit of this labor could be seen. Romania is on its way to establish itself in the international field of the boys and girls. On athlete (Dana Haralambie) could even already qualify for the Olympics in Sochi.
The opening of a complete facility this spring was the first highlight of this unique project. This was made possible also by FIS sponsor OMV under the project management of ski jumping expert Paul Ganzenhuber and former ski jumper Christian Moser (both Austrians). Paul Ganzenhuber, former principal of the ski high school in Stams, was now also assigned to build a boarding school close to the ski jumping center for athletes in the nordic disciplines.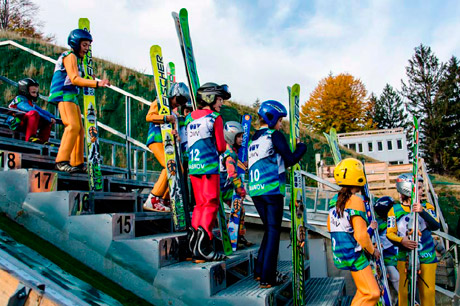 Photo © Federatia Romana de Schi-Biatlon
As part of the European Youth Olympic Games even international competitions will be held on the new K 90 this winter. Also the first World Cup in women's ski jumping of the 2013/14 season will take place on this facility", said FIS Race Director Walter Hofer, who was on location and enthusiastic about the developement.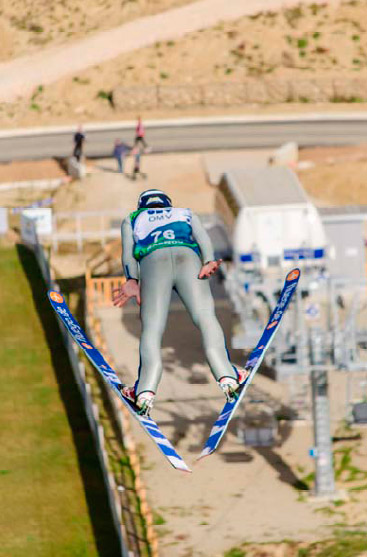 Photo © Federatia Romana de Schi-Biatlon
 
New hill- and national records
 
Hence everyone involved was satisfied after the competitions that were held under the motto: Young athletes and organizers are gaining experience. More than 80 athletes participated in the competitions on the three hills K15, K35, K64. There was a new hill record set on the K35 with a jump of 40 m by 14-year-old local hero Stefan Blega and a national record on the K64 by Tudor Remus. Remus showed a jump on 72 m.
FISskijumping.com
06.11.2012 12:26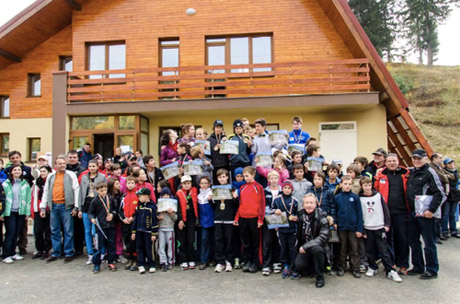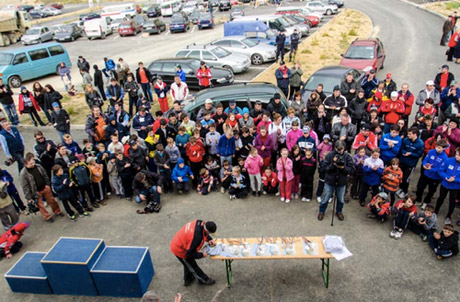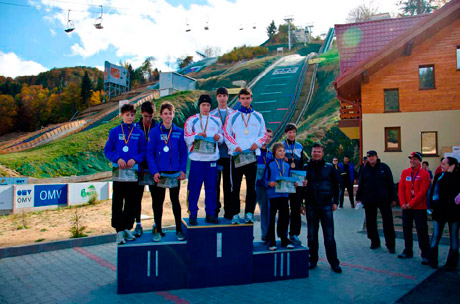 Photo © Federatia Romana de Schi-Biatlon
***
Trambulină Valea Cărbunării
Hill Size: HS 100
K-Point: 90 m
Year of construction: 2012
Hill Size: HS 71
K-Point: 64 m
Hill record: 72.0 m (Remus Tudor , 2012-10-28)
Summer hill record: 72.5 m (Jure Šinkovec , 2012-06-09, FIS)
Take-off angle: 10°
Landing angle: 32.4°
Hill Size: HS 38
K-Point: 35 m
Take-off angle: 9.4°
Landing angle: 31°
Conversions: 2001,2011
Further jumps: K15
Status: operating
Plastic matting: yes
Ski club: CSS Dinamo Râşnov
History
Already in 1936 the first ski jumping hill was set up at Râşnov.
From July 2009 until summer 2011 a new ski jumping complex with K64, K35 and K15 was constructed at "Valea Cărbunării". The financing of the around 3m Euro expensive project was financed with a sponsorship of the oil company OMV and Râşnov municipality. Training business on the ski jumping hills started on 2011-08-30 with the Romanian ski jumping national team. The official inaugration of the ski jumping facility took place with a FIS-Cup event on 2012-06-09, where even World Cup jumpers such as Thomas Morgenstern, Robert Kranjec and Roman Kudelka participated.
For the European Youth Olympic Festival (EYOF) at Braşov in 2013 an additional 90 meter ski jumping hill was constructed from summer 2011 to fall 2012. It was planned by a Romanian architect firm and the financing of about 4.5m Euro taken over by the ministry for tourism and regional development. The works on the jump shall were finished by October 2012 in order to complete the ski jumping center of Râşnov with four ski jumps, two judges' towers, floodlights and a lift.
Information by skisprungschanzen.com
[xt] ski