SKI.BG > SKI in Bulgaria - http://www.ski.bg
. world ski news : Bjoergen starts the season on top, Sundby Triumphs in Gaellivare - 24 November 2012 - 16:20

CROSS-COUNTRY SKI. Norway's Marit Bjoegren got the World Cup season started just as it end last year with her on the top step of the podium. She led at all check points on the course today. Early on Johaug, Sweden's Charlotte Kalla, Norway's Vibeke Scofterud, and a trio of US skiers including Kikkan Randall skied tightly for the top places. In the end Bjoergen stopped the clock in 22:31.8 minutes winning by 12.6 seconds ahead of Johaug and 25.9 seconds ahead of Randall. Notching her best over distance finish, and a best ever for a US female, Randall crossed the line just 1 second faster than local favourite Charlotte Kalla. Brooks in the end had to settle 5th place a lifetime best just 28.5 seconds off of the lead.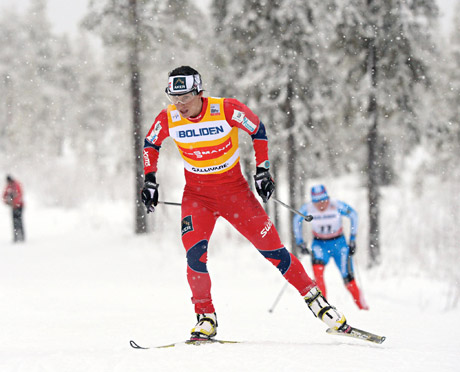 24.11.2012, Gaellivare, Sweden - Marit Bjoergen (NOR) - FIS world cup cross-country ski, 10km women, Gaellivare (SWE). Photo © Felgenhauer/NordicFocus www.nordicfocus.com
Despite some heavy snowfall during the middle of the race it seemed to have little affect on the final results. "I am really happy with today's race, commented Bjoergen. "The weather conditions changed during the competition and I was little bit worried when I saw that Holly Brooks (USA) was still in the lead. When I heard the split times from my coaches I was confident I could win. I think I gained some seconds in the downhills and corners."
Despite her dominant result in the Norwegian National opener in Beitostoelen last weekend Johaug stated in the post race press conference that, "I am not disappointed with today because Marit is always a strong competitor. Today's course was different than last weekend in Beitostoelen with more corners and that was difficult for me today." For Johaug it was her 22nd individual World Cup podium in her young career.
The US women's team success was certainly a talking point on the day. An early starter in bib 6, Holly Brooks spent most of the day in the leaders chair at the finish. It was her teammate Randall with bib 56 that managed to bump her from the top spot. A fall for Liz Stephens took her out of contention shortly after splitting through just behind Randall and ahead of Brooks at the midway point in the race and end up in 21st place.
Randall recovering from a stress fracture in her right foot began training in freestyle technique just 4 weeks before. "I am very happy and surprised today. I have had a foot injury and I wasn't sure of my fitness coming into the season. The course was great today. The snow during the race was not an issue, it was a really fun course to race on," stated Randall the reigning World Cup overall sprint champion.
Sundby Triumphs in Gällivare
Martin Johnsrud Sundby of Norway took the victory in Gällivare in 15km free technique race in 30:37.0. He edged out Alexey Poltoranin (KAZ) by +8.9 sec and Marcus Hellner (SWE) claimed third place having lost on the winner +11.1 sec.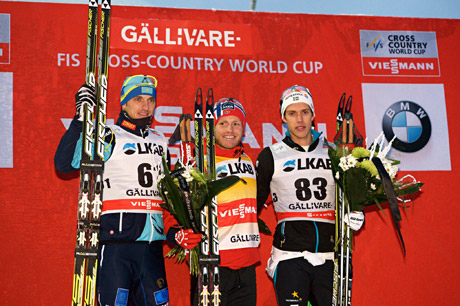 24.11.2012, Gaellivare, Sweden - Alexey Poltoranin (KAZ), Martin Johnsrud Sundby (NOR), Marcus Hellner (SWE) - FIS world cup cross-country, 15km men, Gaellivare (SWE). Photo © Felgenhauer/NordicFocus www.nordicfocus.com
First World Cup victory for Martin Johnsrud Sundby (NOR) in the free technique
Fifth individual World Cup podium for Sundby
Sundby started to focus on the free technique after Winter Olympic Games 2010
Sundby plans to compete on the free technique leg tomorrow and as well at the FIS World Ski Championships 2013
First free technique podium for Alexey Poltoranin (KAZ)
Third World Cup podium for Poltoranin in his career
Poltoranin is a classical technique specialist but has worked a lot on skating
Poltoranin claimed silver medal in 15 km Free at the U23 World Ski Championships 2009 in Praz de Lys Sommand (FRA)
Third podium for Marcus Hellner (SWE) in Gällivare (wins in 2008 and 2010)
Marcus Hellner lives and trains in Gällivare since his studies at the local ski high school and the stadium his named after him.
Hellner hovered around 10 seconds off the lead entire competition
Athletes' Quotes
Martin Johnsrud Sundby (NOR)
It's been a long road to improve in the free technique. In Vancouver at the Olympics I did not ski well on the relay and let down many people down with me free technique leg. I decided that spring that I could be a classic only specialist or I could work hard to improve my my free technique and it has happened. I did not expect to be in the yellow bib after the first World Cup weekend. I hope I will perform well also in the next competitions.
Alexey Poltoranin (KAZ)
I am very happy with my result today. I did not expect to be on the podium today. I have worked hard on my free technique and today's result is good.
Marcus Hellner (SWE)
My feeling was similar to last weekend at the national opening in Bruksvallarna. Here, the snow was faster and the audience helped me lift myself to another level. I know the competition course here very well. I hope to ski well tomorrow in the relay. I think the difference between 4x10 km and 4x7.5km will not be that big.
FIScrosscountry.com
Saturday 24 November 2012
[xt] ski