SKI.BG > SKI in Bulgaria - http://www.ski.bg
. ski travel : Full pleasure, cult and sun - 30 December 2013 - 09:40
Springtime 2014 in St. Anton am Arlberg
With the iconic "White Thrill Race", blues music and volleyball at over 2,000 metres above sea level – springtime 2014 in St. Anton am Arlberg promises to be both colourful and sporty. Snow fans enjoy unparalleled winter sport conditions as the warmer season approaches. Alternate great skiing with some pampering spa treatments, après ski or relaxing in a sun lounger for an hour or two – always accompanied by abundant sunshine. www.stantonamarlberg.com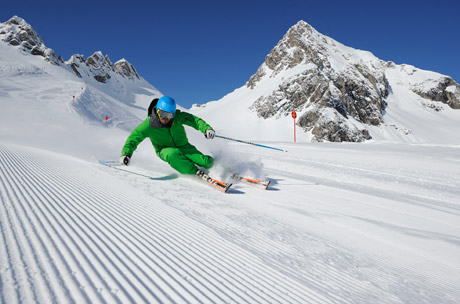 Perfect pistes can still be found in springtime in St Anton am Arlberg. Photo courtesy of St. Anton am Arlberg Tourist Board / Photographer Josef Mallaun
Sun Ski Weeks from 15th March to 5th April
The beginning of spring and the ski season are not mutually exclusive in St. Anton am Arlberg: During the Sun Ski Weeks, winter sports enthusiasts can savour pleasant temperatures and superb snow conditions all over again – at greatly reduced prices! From 15th March to 5th April, many hotels and accommodation providers offer package deals with special conditions. Seven nights in a pleasant B&B including a 6 day lift pass cost, for example, from as little as Euro 470.- per person. The entire Arlberg ski area is accessible with just one ticket, encompassing an incredible 340 kilometres of marked runs, 200 kilometres of back country terrain and 94 state of the art cable car and lift systems. For more information visit www.stantonamarlberg.com
"Snow Volleyball Tour" on 5th and 6th April 2014
Built on snow: In the now recognised sport of snow volleyball, the pitch is built on unusually icy terrain. The "Grande Finale" of the "Snow Volleyball Tour 2014" will be held in early April in St. Anton am Arlberg. The international beach volleyball pros will be giving their all again, as they battle for the coveted "King of the Snow" title. The matches will take place in the giant snow arena at 2,030 metres above sea level, at the top station of the Rendlbahn llifts – where, alongside hundreds of fans, palm trees, cheerleaders and whirlpools add to the extraordinary ambience. More information under www.snowvolleyball.at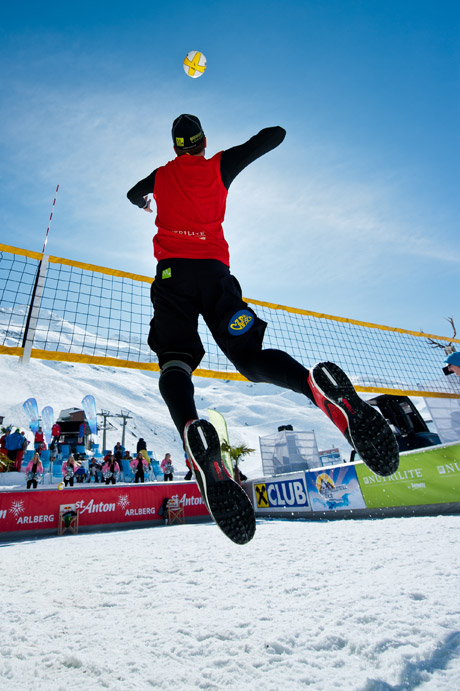 "Snow Volleyball Tour" in St. Anton am Arlberg, Photo courtesy of St. Anton am Arlberg Tourist Board / Chaka2 GmbH
Music Premiere: New Orleans meets Snow from 10th to 13th April 2014
An exceptional music debut will be celebrated in St. Anton am Arlberg from 10th to 13th April - because that is when New Orleans will be moving from Mississippi to Arlberg in Tyrol. Musicians and bands that have devoted themselves to African-American music will get the village streets and surrounding mountains of St. Anton "into the groove". Dance along if you fancy – no matter if you still have your ski boots on, or normal shoes. A New-Orleans-Night with concert will be held at ARLBERG-well.com on Saturday night, before one or another "Hallelujah" can be heard at the gospel brunch on Sunday.
Simply iconic: "The White Thrill on 19th April
This demanding ski race has cult status with both participants and spectators and is booked out well in advance every year: "The "White Thrill" on 19th April is a mass-start race with around 500 international participants. Together they charge down the 1,300 metre, unprepared descent from the Vallugagrat Ridge to the valley. In-between, they have to unbuckle their skis and contend with a 150 metre long, 37 altitude metre ascent, before getting back in their skis again to race towards the finish line. This nine-kilometre race is held late afternoon. Whoever thinks that alone is more than enough is sorely mistaken: Just before the end, a final obstacle awaits that really takes the biscuit! All that counts at the end of the day, is getting over that finish line!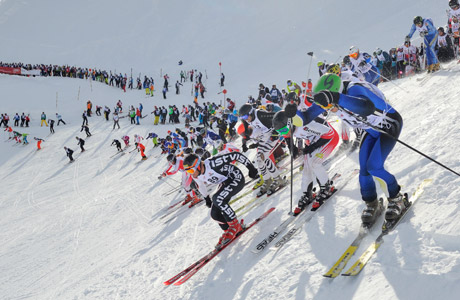 After the starting pistol has been fired, there's no holding back for "White Thrill" participants. Photo courtesy of St. Anton am Arlberg Tourist Board
Snow Crystal Days from 22nd to 27th April 2014
Winter is extended by another week after Easter in St. Anton am Arlberg: Runs down to the valley are possible right up to the 27th April. Whether on the slopes or in a deck chair – holidaymakers can soak up abundant sunshine and savour the last vestiges of winter as springtime approaches. Not only that, hotels and accommodation providers celebrate the end of the season with attractive package offers. Five nights in B&B with a four day lift pass cost, for example, as little as Euro 292.- per person. For more information, visit www.stantonamarlberg.com
Press Release
St. Anton am Arlberg Tourist Board
27.12.2013 | St. Anton am Arlberg
[xt] ski