SKI.BG > SKI in Bulgaria - http://www.ski.bg
. ski travel : 650 metres of pure fun - 24 October 2014 - 08:55

The Mayrhofen ski area has added an attraction for the 2014/2015 winter season: The Funslope Ahorn offers skiing fun for young and old in three areas wńith different challenges. It offers waves, High Fives, Low Fives, basins and steep turns – this isn't about speed or looks, it's all about pure fun. Children and beginners can improve coordination and motor skills that are needed on the slopes.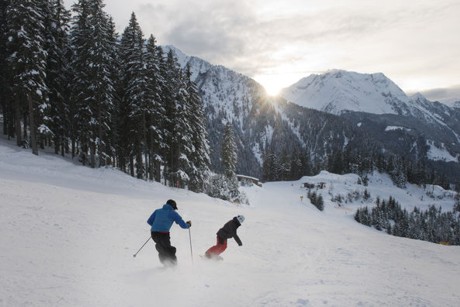 Fun, action and enjoyment ©Archiv: Mayrhofen, Foto: Frank Bauer
Where the fun's at home
The name of the new Funslope Ahorn says it all: Fun is the name of the game here. The Funslope brings together specially designed elements as well as influences from snowboarders and ski-crossers in a unique parcours. What makes it special: The slope is very moderate and the waves, steep curves and basins are designed in a way that they can actually be navigated by any winter athlete – from skiers to snowboarders, whether beginner or advanced. Children and beginners will particularly enjoy improving their coordination and motor skills in a playful manner here.
Up to the basin
The upper part of the Funslope, next to the practice lift, is the perfect training area for beginners and lower intermediate skiers, due to its simple elements. Pass through the entryway, and you are immediately confronted by waves with archways and simple banked curves. After hand-slapping the High and Low Fives, you come across a combination of steep curves and through a trough to the completion of the run. The central part of the Funslope is a bit more challenging. A series of waves follows the first curves. After a short breather on the Funslope photo point, you can jump and ski in a basin for an extra shot of adrenaline. The final Funslope section in the lower part takes you through a unique forest environment. Here children as well as adults can indulge in the joys of real winter sports fun.
Always in good shape
The most important thing in a perfect playground is of course flawless preparation. Every morning a professional team prepares the Funslope with shovels in order to provide the best conditions for safe and enjoyable departures.
Tirol Werbung GmbH
23.10.2014
[xt] ski