SKI.BG > SKI in Bulgaria - http://www.ski.bg
. bg ski news : Jekova placed 3-rd in World Cup PGS in Furano - 16 February 2007 - 20:15
Canada's Morrison, Italy's Dal Balcon win snowboard world cup events in Japan
FURANO, Japan (AP) - Canada's Matthew Morrison and Isabella Dal Balcon of Italy won snowboard World Cup parallel giant slalom events Friday.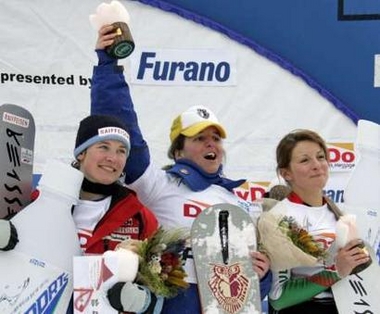 Italy's Isabella Dal Balcon (C) celebrates with Switzerland's Fraenzi Kohli (L) and Bulgalia's Alexandra Jekova after winning the women's parallel giant slalom competition at the Snowboard World Cup in Furano, northern Japan February 16, 2007. Kohli placed second, and Jekova placed third at the competition. REUTERS/Toru Hanai (JAPAN)
Morrison, of Blackstock, Ont., outpaced World Cup leader Simon Schoch of Switzerland in the men's final. Rok Marguc of Slovenia placed third.
In the women's event, Dal Balcon edged out Switzerland's Fraenzi Kohli. Bulgaria's Alexandra Jekova finished in third place.
The three-day event continues Saturday with snowboardcross. The halfpipe event will be contested on Sunday.
Friday, February 16, 2007, 4:15 AM
Place Furano (JPN) Discipline Parallel GS
Date 16.02.2007 Category World Cup
Race codex 7226 Gender L
Valid for FIS Points NO - Waiting reports TD Name Malsiner Markus (ITA)

Rank Bib FIS Code Name Year Nation Result Level Points
1 7 1484391 DAL BALCON Isabella 1977 ITA 5 1000.00
2 3 7519953 KOHLI Fraenzi 1982 SUI 5 800.00
3 25 7537602 JEKOVA Alexandra 1987 BUL 4 600.00
4 11 1547635 GUENTHER Doris 1978 AUT 4 500.00
5 9 1454127 LABOECK Isabella 1986 GER 2 450.00
6 10 7205013 KOBER Amelie 1987 GER 2 400.00
7 17 1543464 TAKEUCHI Tomoka 1983 JPN 2 360.00
8 16 1004920 RIEGLER Claudia 1973 AUT 2 320.00
9 5 1489922 TUDIGESCHEVA Ekaterina 1987 RUS 1 290.00
10 1 1330840 KREINER Marion 1981 AUT 1 260.00
11 19 1567520 ZAKRESKI Kimiko 1983 CAN 1 240.00
12 6 1265268 KRINGS Doresia 1977 AUT 1 220.00
13 2 1638621 BOLDIKOVA Svetlana 1982 RUS 1 200.00
14 21 1746485 DUJMOVITS Julia 1987 AUT 1 180.00
15 32 1244704 DESMARES Nathalie 1972 FRA 1 160.00
16 13 9205004 JOERG Selina 1988 GER 1 150.00
17 12 1059932 NEURURER Heidi 1979 AUT 0 140.00
18 30 1049929 SHAW Johanna 1982 AUS 0 130.00
19 18 1071559 RANIGLER Carmen 1976 ITA 0 120.00
20 31 9105000 DOYON Christelle 1988 CAN 0 110.00
21 33 1638718 GOLOVANOVA Olga 1983 RUS 0 100.00
22 15 7519960 KUMMER Patrizia 1987 SUI 0 90.00
23 28 1648321 YANETANI Eri 1984 JPN 0 80.00
24 29 1437540 MUELLER Erica 1981 USA 0 70.00
25 24 1004823 RIEGLER Manuela 1974 AUT 0 60.00
26 27 1396315 PLETZER Romy 1982 AUT 0 50.00
27 38 9305144 SATOH Emi 1990 JPN 0 45.00
28 8 1109990 CALVE Caroline 1978 CAN 0 40.00
29 34 1539986 LLOYD Lindsay 1981 USA 0 36.00
30 22 1608066 RUOTSALAINEN Ilona 1981 FIN 0 32.00
31 4 1124327 KRINGS Heidi 1983 AUT 0 28.00
32 20 1553261 GORGONE Michelle 1983 USA 0 26.00
33 37 1159927 KOUKALOVA Klara 1984 CZE 0 24.00
34 39 9305108 SATOH Saika 1987 JPN 0 22.00
35 35 9535039 WIENCKE Madeline 1989 USA 0 20.00
36 36 1102599 SAUERBREIJ Marieke 1982 NED 0 19.70
37 40 7305022 MARUYAMA Miki 1988 JPN 0 0.00
38 23 1603798 HAGGLOF Aprilia 1983 SWE 0 0.00
39 14 1102308 SAUERBREIJ Nicolien 1979 NED 0 0.00
Did not finish :
BOCCACINI Corinna (ITA)
[xt] ski