SKI.BG > SKI in Bulgaria - http://www.ski.bg
. world ski news : Moscow getting ready for the City Event - 06 February 2012 - 09:33

ALPINE SKI. The Russian capital of Moscow will serve as the stage for a total of four different FIS World Cups this season. The FIS Cross-Country World Cup presented by Viessmann was the first to visit the famous Luzhniki Olympic Stadium, the biggest sports stadium in Russia, on 2nd February 2012. Thereafter, the Audi FIS Ski World Cup will follow with the parallel slalom City Event on 21st February. In March, the LG Snowboard World Cup will again return to the city for two parallel slalom races on 3rd March while the FIS Freestyle Ski World Cup aerial specialist will take the stage a week later on 10th March 2012.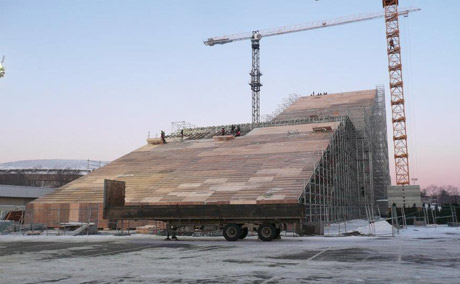 Huge construction in the Luzhniki Park for Audi FIS Ski World Cup City Event in Moscow, Photo © Georg Zipfel
The Audi FIS Ski World Cup City Event will also be held in the Luzhniki Park this time. It will be the third time a parallel event on a huge scaffolding construction will take place in Moscow (RUS).The previous events were held in Moscow on 2nd January and 21st November 2009 but on those occasions the events were held in front of Moscow's State University's main building and on the grounds of the Moscow City Palace of Children's and Youth Creativity.
The huge ramp is currently under construction with the final installation of the lifts and the snow-making completing the facility. Eligible for participation in the parallel slalom will be the top 16 ladies and men based on the overall World Cup Starting List (WCSL) with a wild card in each gender going to a Russian racer. The final list of those qualified will be available after the World Cup events in Bansko (BUL) for the men and in Sochi (RUS) for the ladies. To see the list of currently qualified racers, please click here.
The ramp in the Luzhniki Olympic Complex will be 56 meters high, 37 meters wide and 175 meters long which means that race run times of around 20 seconds are expected.
FISalpine.com
Monday 6 February 2012
[xt] ski