ORIENTEERING. They have it in cycling. A World Champion jersey. Now it will be a thing in orienteering as well, with IOF introducing World Champion jerseys in FootO, MTBO and SkiO.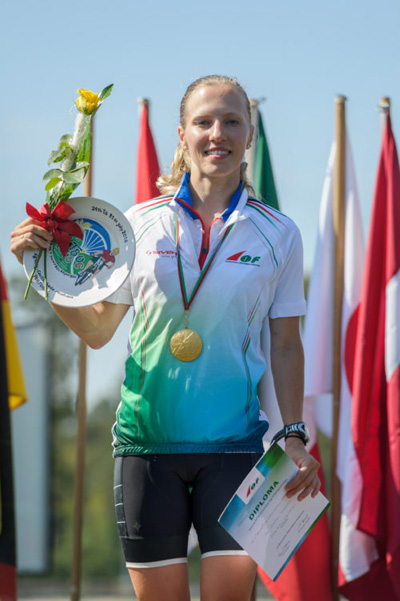 Olga Vinogradova-Shipilova from Russia wearing the World Champion jersey. In July she won the Middle Distance at the World MTBO Championships in Portugal. Photo: Donatas Lazauskas
Winning a World Championship is the greatest you can achieve as orienteer, and to acknowledge that, the IOF has introduced World Champion jerseys on a trial basis in 2016. At the World Championships in Strömstad-Tanum the winners in Sprint, Middle and Long will win a specially designed jersey, that they can wear until next year's championship in Estonia:
– To raise the status of the performances of top orienteers, the IOF wants to symbolize the achievement of winning the World Championship. Hopefully the initiative will be well appreciated by the athletes and fans, Hans Jørgen Kvåle, IOF marketing manager says.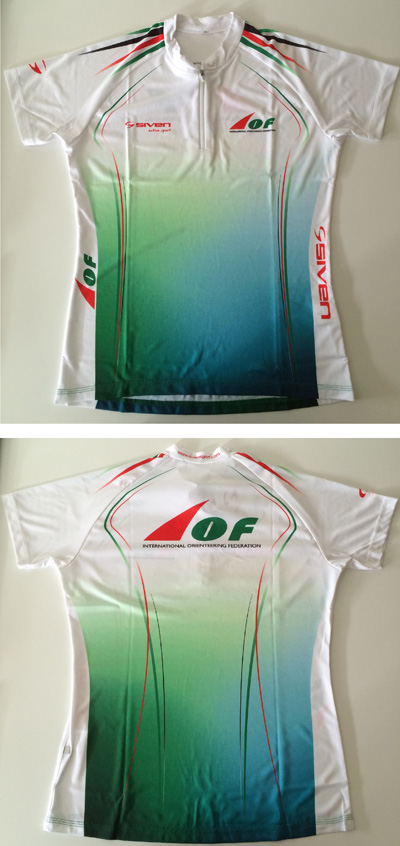 World Champion jersey produced by Siven
At the same time, a jersey for the current leader in the World Cup is a part of the test period:
– The IOF wants to recognize the current World Cup leader and therefore introduces a World Cup leader jersey. We hope the initiative will help to raise the status of the World Cup, Hans Jørgen Kvåle says.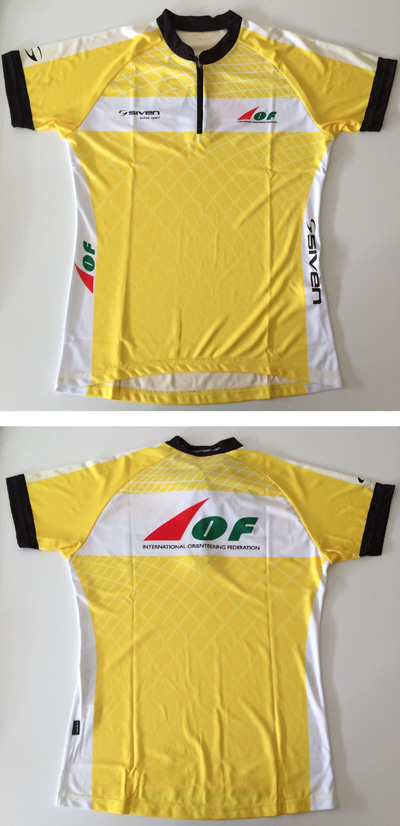 World Cup leader jersey produced by Siven
Not only FootO
The World Champion jersey should only be worn when running the same distance that the athlete is World Champion in, during the period they are the reigning champion.
It is not mandatory to carry the IOF Jerseys in the test period. However, by allowing the athlete/national team to add up to four sponsor logos at the jersey it should be possible without conflicting with the federation's and personal sponsorship agreements.
Jerseys are already introduced in MTBO in the same way as for FootO, and will be introduced in SkiO as well. It means that the current leader in the World Cup and the World Champion in Sprint, Middle and Long will receive a jersey, or a number bib in the case of SkiO. The same rules apply as in FootO for wearing the bib/shirt.
Press Release
IOF
August 18, 2016
Siven Active Sport
IOF Official Sponsor
The brand concentrates on orienteering, cross country skiing and athletics and provides clothing for a number of national teams and sports federations. The production is extremely concentrated, it works on small batches and short terms. The people behind Siven Active Sport all come from a sports background and that gives them the necessary insight and understanding of what sports teams and athletes are looking for in a garment.