ISPO. Ski manufacturers, sports retailers and tourist regions alike are all facing increased challenges in the area of winter sports, such as late snowfalls and more options for leisure time activities. That said, there is still great enthusiasm for skiing. The industry is responding with even better models and technical innovations for the 2017/18 season, some of which will be on show at ISPO MUNICH from February 5–8.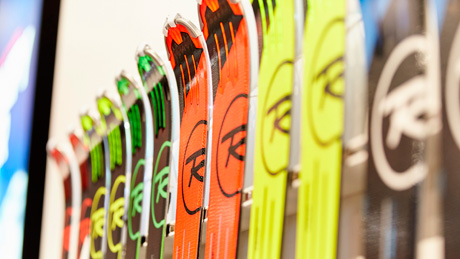 With the main objective of providing customers with a unique skiing experience at every turn, manufacturers are doing everything they can to make the sport even more appealing. Once again, many of the new models for the next winter season have been constructed with absolute precision using the very latest CAD programs and CNC milling machines, and contain high-tech materials from the space and motor-racing industries. These should provide yet more precision for skiers, while also ensuring even greater levels of convenience, safety and, above all, ease of use. In order to achieve this, the weight needs to be reduced. The ski cores are shaped using a milling machine, and then combined with rigid foam, carbon tubes and lighter types of wood to create hybrid wood cores, and some are even processed as skeletons with slits to allow airflow. This provides a balanced combination of lightweight construction and ski performance. Materials used include PET, natural flax, bamboo laminate, natural rubber, and a stable and flexible microfiber used in rope which protects the wooden core.
Race Gathers Pace
There is a clear trend emerging among manufacturers: almost all of them are using technology from the motorsports industry to enhance their piste skis for the coming season. This allows them to address customer requirements for greater speed and precise carve turns. The brands Fischer, Völkl, Salomon, Atomic, Head and Rossignol all have piste-ski ranges available on the market which almost reach FIS standard – not just for men, but for women too. Atomic's Redster collection features the very latest World Cup race technology Servotec—this represents a new innovation on the market, providing easier steering for World Cup athletes and hobby skiers alike. These skis are intended to provide greater agility when turning, but at the same time bringing greater stability when traveling at high speeds. Fischer's new Brilliant range, including the RC4 racing ski, features all the benefits of the Race range, including new aramid material Diagotex, which absorbs vibrations thereby ensuring smooth running and dynamic turning. Völkl's PRO models in the Racetiger and Code ranges are also aimed at those who are out and about on the mountains on a daily basis. As such they are equipped with pro fittings: A nine-millimeter original World Cup binding plate and 0.8 degree race finished steel edges. These fittings should enable full direct power transfer which is usually only found in World Cup skis. Elan's new 'arrow' construction for race carver skis was developed with ski cross in mind. Competitive hobby racers will now be able to execute more powerful maneuvers, without having the build of a World Cup skier, thanks to the prestressed carbon plate located under the binding and two arrow-shaped titanium reinforcements which run from tip to tail
All-Mountain Skiers Thrilled with Innovations
For the new all-mountain models it's about delivering maximum performance for hobby skiers using technical innovations, such as a running surface containing carbon nanoparticles. This nanotech coating, previously only used in elite sports, is intended to provide even greater durability and ideal gliding characteristics in all types of snow in two of Elan's Amphibio skis. Völkls 3D.Glass is a brand new innovation for selected all-mountain and freeride models. The technology aims to support a sporty skiing style and provide agility, even in varying and challenging snow conditions. Dynastar is bringing back its Legend model, this time with an added cushioning system. Much like a car chassis, it absorbs vibrations via a three-part vertical sidewall, partly constructed from visco-elastic material, which improves thrust and power distribution. Salomon's new all-mountain XDR collection is technically equipped to enable skiers to access any skiing area even in poor snow conditions. With its C/FX technology, this collection makes use of natural flax fibers, as well as rockers and a wood/titanium core. These fibers are used to form bands and then laid in the ski-like fiber glass, ensuring additional cushioning while remaining tough and stable.
Touring and Freeride Further Strengthened
Versatility is also a key topic in this segment, as is even greater efficiency both for piste and off-piste skiing. Companies have placed great emphasis on further developing their products for the 2017/18 season, with most skis again becoming lighter and more precise in their handling. The current focus is on greater compatibility between individual elements, i.e. skis, bindings and freeride or touring boots. In addition to this, more and more ski manufacturers are developing their own boots, with over 70 different models of touring ski boot now available. Current trends favor the ever-popular freeski-oriented touring models. For example, La Sportiva's four-buckle models promise the stability, durability and precision of an alpine boot, combined with the lightness and flexibility of a ski touring boot.
The topic of boot fitting is more important than ever. This is partly due to new technologies which enable better analysis of the foot, meaning the boot can be more accurately adjusted to the individual requirements. "Convenience" is quickly becoming the buzzword for the coming winter and not only in terms of feeling comfortable in your boots, but also feeling secure when walking. When it comes to backcountry skiing, whether it be with or without crampons, the ultra-light freeride touring boot the Hawx Ultra XTD 130 from Atomic is the perfect fit. Marker's new Grip Walk profiled, anti-slip rockered soles are also in high demand. The warm, light and comfortable boots from Blizzard Tecnica's "Women to Women Project" are specifically aimed at women, and use Celliant, a unique material consisting of polyester fabric impregnated with 13 minerals which acts as a heating system. It works by converting body heat into infrared energy which is then reflected back at the foot, which helps to stimulate the circulation and regulate the temperature.
Further information on ISPO MUNICH can be found at www.ispo.com
Press Release
ISPO
Friday, 03. February 2017