FREESKI. The Jon Olssson Invitational concluded in Аre, Sweden last night with the JOI and Vattenfall Alpine Challenge Finals, brought progressive skiing and perfect tricks, some of which had never been done inside or outside of the contest arena before.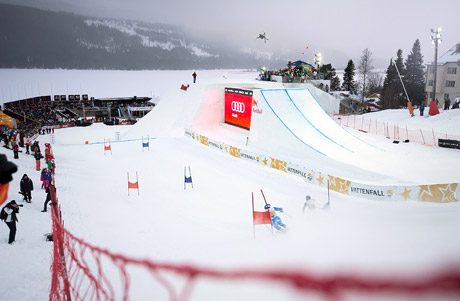 The Vattenfall Alpine Challenge kicked off the evening and featured an impressive showing from the event's host, Jon Olsson, who ended up in fourth place at the end of the night with Mattias Hargin in third, André Myhrer in second and Calle Lindh speeding his way to the win. Having never seen Olsson race in person before, it was clear to see why he's well on his way to potentially and hopefully competing in the 2014 Olympics, in addition to being considered one of the best all around skiers in the world.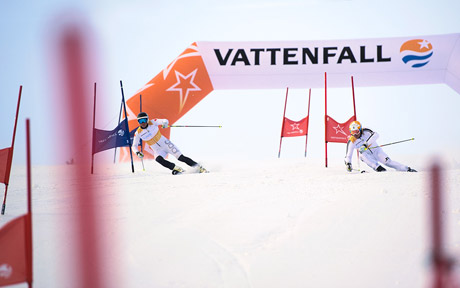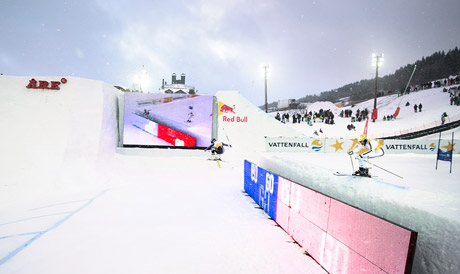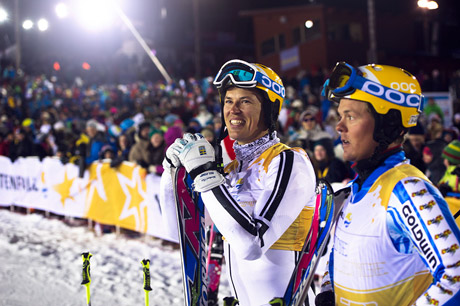 Once most of the racing was over with, it was time for the biggest big air show in skiing's history to go down on one of the biggest big air jumps ever built. Before finals began, the athletes who didn't make the cut during Friday night's qualifiers got the massive crowd fired up by treating them to a flying circus, where two teams of three to five skiers hit the jump train-style (and the team that received the loudest ovation from the crowd was awarded the People's Choice Award), with highlights including Robby Franco stomping his first ever triple cork 14, Noah Morrison coming so close to landing the second ever triple cork 16, and much to the delight of the crowd, quite possibly the biggest and most laid out backflips ever by Jacob Wester, Mikkel Jøraandstad and Ole Mustad, which helped their team pick up the win.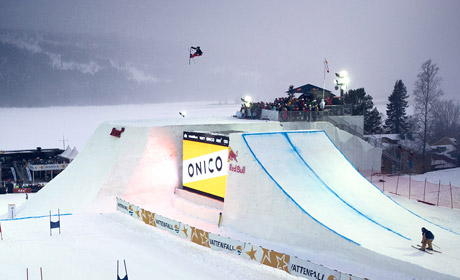 Once the crowd was whipped into a frenzy by the aforementioned death defying antics, it was time for finals to officially begin, where the eight skiers in contention were given five jumps each with their best two different tricks counting, as judges Laurent 'Lolo' Favre, Fridtjof Fredricsson and Pekka Hyysalo determined who would walk away victorious.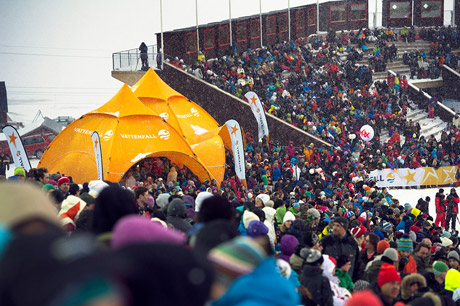 In eighth place was last year's winner Elias Ambuhl (who was awarded a wild card spot after Frej Jönsson tied for fifth place in qualifiers, which automatically earned him a spot in finals) with some perfect double cork 10's and attempted double cork 16's and 18's, while Bobby Brown took seventh after throwing an absolutely flawless and large and in charge triple cork 14, but crashed while attempting a switch double misty 12 and triple cork 16, which like Ambuhl left him with only one landed trick.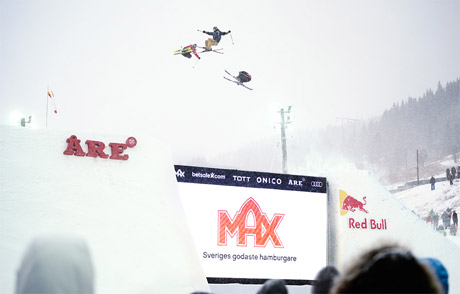 Sixth place went to Kai Mahler, who was able to stomp a switch double misty 12 along with a double cork 12 double japan, while Russ Henshaw placed fifth thanks to his triple cork 14 and a right side double cork 14, and just missing the podium in fourth (but getting the biggest props of the week from his fellow competitors) was Frej Jönsson with his unbelievable double cork 7 and double cork 9 safety to blunt.
 
The top three consisted of Alexsander Aurdal in third with a perfect switch double cork 12 and even more perfect switch double misty 12, Vincent Gagnier in second with a double bio 10 octograb and a switch double cork 16 mute, and Gus Kenworthy in first with his switch triple rodeo 14 japan and double cork 16 blunt.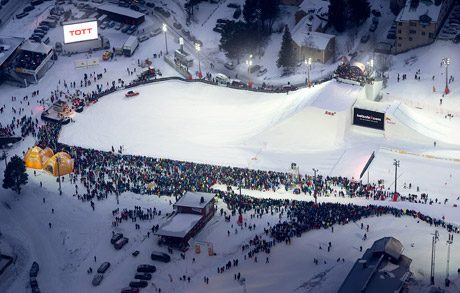 Once the event was all said and done and the alcohol stains and stinging hangovers from the turbulent after party at Bygget had subsided, it became more than apparent than yet again, Jon Olsson has succeeded in his quest to host the wildest event skiing has ever seen, and on behalf of everyone in attendance, I'd like to take the time to thank him and his crew (especially the amazing Peter Sidebo) for working so hard to give back to the sport we all love, and for all the good times those of us who were fortunate enough to be in Åre experienced over the past five days.
Words by Jeff Schmuck
NewSchoolers.com
Apr 8th 2012
 
Jon Olsson Invitational 2012 Results
 
1) Gus Kenworthy
 2) Vincent Gagnier
 3) Aleksander Aurdal
 4) Frej Jönsson
 5) Russ Henshaw
 6) Kai Mahler
 7) Bobby Brown
 8) Elias Ambuhl
 
Vattenfall Alpine Challenge 2012 Results
 
1) Calle Lindh
2) André Myhrer
 3) Mattias Hargin
 4) Jon Olsson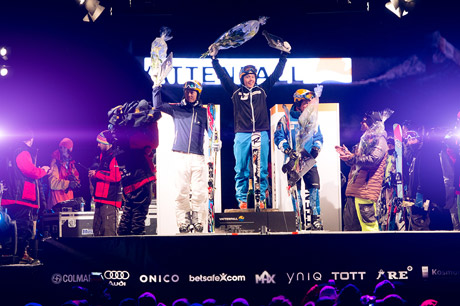 Kenworthy wins Jon Olsson Invitational 2012
The Jon Olsson Invitational this week in Åre, Sweden brought progressive skiing and perfect tricks, some of which had never been done inside or outside of the contest arena before. In the end, it was American Gus Kenworthy who walked away with the top score after landing a near perfect switch triple 1440, which scored a 96, followed up with a double corked 1620 capping and holding onto a tail grab the entire way.
"The Jon Olsson invitational is hands down the sickest big air that I have ever had the opportunity to be a part of," Kenworthy said. "Jon builds the best jumps in the world, and I felt super comfortable trying new tricks on it. Everyone was throwing down super hard and the atmosphere with the crowed and all the riders was amazing. I could not be more happy to walk away on top."
With only eight athletes qualified for the finals, it was a battle for the best two tricks in a five-jump format. In the second place spot Canadian Vincent Gagnier took a creative approach by first landing a double bio 1080 with an octo grab, then a switch double cork 1620. Although both of Aleksander Aurdal's tricks were similar, the amplitude and perfection of his switch double cork 1260 mute and switch double misty 1260 mute were enough to land him in the third place position.
First place qualifier Bobby Brown was unable to make the podium after stomping a flawless triple cork 1440 mute and getting the highest score of the day with a 97. Brown was unable to land a different second jump to count for the two best jump format and finished in seventh place.
Within the first hour of practice on the jump earlier this week, the athletes were already attempting triples. Russ Henshaw completed one on his fifth jump of the night. JOI judge Laurent Favre stressed in a riders' meeting prior to the event that triples would need to be fully grabbed and landed well to be scored high.
"It was a pleasure to judge this event," Favre said afterward. "It was one of the greatest experiences of my career and some of the best skiing I have ever seen. I will be back next year."
By Robin Macdonald
ESPN.com
April 8, 2012