AMERICA'S CUP. Race 14 of the 34th America's Cup was postponed today due to unsettled winds on San Francisco Bay.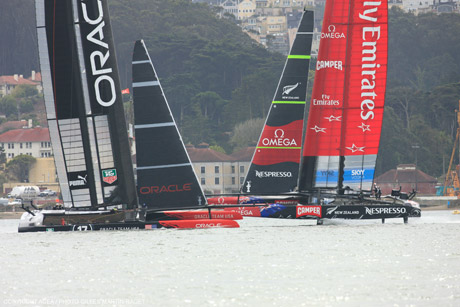 © ACEA / PHOTO GILLES MARTIN-RAGET
The race was officially postponed at 2:40 pm PT, the latest possible time to start a race. The wind was strong enough to race, but the direction was too far south from the desired direction of 230 degrees, just west of southwest.
"We saw this day coming a few days ago," said Regatta Director Iain Murray. "We got the teams together last night to talk about the possibility of a light and variable wind from the south today. We do have an alternate course that we offered up to the teams, but they weren't interested in sailing that course. They prefered to wait until the wind is back to the southwest on the normal racecourse.
"The racing that's left is extremely important and the teams don't want to chance something that they're not prepared for," said Murray.
Emirates Team New Zealand leads 8-3 and needs just one more victory to win the America's Cup for the third time (1995, 2000). ORACLE TEAM USA, on the other hand, needs to win six consecutive races to retain the trophy it won in 2010, after being penalized 2 points by the International Jury.
Race 14 is rescheduled for tomorrow at 1:15 pm PT, with Race 15 scheduled for 2:15 pm PT. In the U.S., the America's Cup Finals will be broadcast live on the NBC Sports Network. Replays will be available on the America's Cup YouTube channel.
Internationally, the America's Cup Final can be viewed in more than 170 territories. All racing is also live on America's Cup YouTube channel (subject to territorial restrictions).
America's Cup
San Francisco, Calif., 09/21/2013
34th America's Cup Standings (first to 9 points wins)
•Emirates Team New Zealand – 8
•ORACLE TEAM USA – 3
Upcoming America's Cup Schedule
•Sunday, Sept. 22: Race 14 (1:15 pm PT), Race 15* (2:15 pm PT)
•Monday, Sept. 23: Race 16* (1:15 pm PT), Race 17* (2:15 pm PT)
•Tuesday, Sept. 24: Race 18* (1:15 pm PT), Race 19* (2:15 pm PT)
(*If necessary)