SURFING. Santa Cruz, California (Thursday, August 18, 2014) O'Neill Team rider Jordy Smith has won stop number eight of the Association of Surfing Professionals World Championship Tour. Jordy Smith (ZAF) defeated John John Florence (HAW) in the final by a score of 16.50 to 15.87 in overhead surf at Lower Trestles.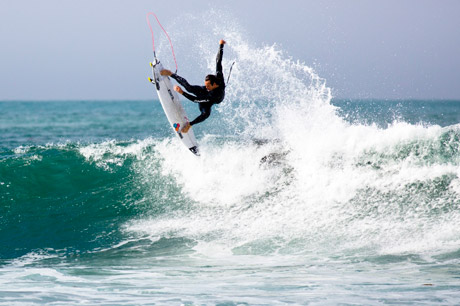 Jordy Smith free surfing Trestles, Photo credits: Kirstin/ASP
The Hurley Pro victory marks the fourth career ASP WCT event win for Smith. "I am overwhelmed," Smith said. "I just moved to town, I can't believe it." Recently relocated to San Clemente, just up the road from Trestles, Smith was still feeling the support from South Africa, "I want to thank my boys from home, they have been giving me every bit of support all week."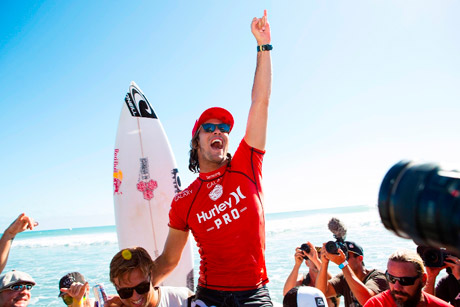 Jordy Smith wins The Hurley Pro, Photo credits: Kirstin/ASP
Previous to the win today, high expectations for Smith's 2014 season had not developed in to results. Smith's win moves him from 14th to 11th on the ASP ratings, but more importantly gets him back to a mindset we are accustomed to seeing from one of the world's best surfers. "This year hasn't gone as planned. Winning another CT event gives me the confidence once again that I have what it takes to contend for the world title."
Press Release
O'Neill
Thursday, August 18, 2014
ABOUT O'NEILL
O'Neill, the original California surf, snow and lifestyle brand, was founded in 1952 when a young man named Jack O'Neill took his unstoppable passion for surfing and used it to battle Mother Nature. Jack's initial vision of producing functional and innovative board riding products continues to lie at the core of everything the company does. From the first neoprene surf wetsuit and board leash to the world's first stitchless board shorts. O'Neill will always be committed to growing its reputation as one of the world's leading youth lifestyle brands based on being the First Name in the water.
While many things have changed since those humble beginnings, Jack's initial vision of producing functional and innovative board riding products continues to lie at the core of everything the company does. O'Neill's core values — innovation in style and technology — have seen the brand devote itself wholeheartedly to the evolution of the action sports lifestyle. From the first ever neoprene wetsuit and leash, to the world's first stitchless boardshorts and range of groundbreaking wearable electronics, O'Neill's progressive spirit will always drive the company forward. For more information, please visit oneill.com.

ABOUT JORDY SMITH
Regarded as one of the most naturally gifted and progressive talents of his generation, Jordy first signed for O'Neill as a 19-year-old World Junior Champion in 2007. Since then, the South African has become one of the standout performers on the elite ASP World Championship Tour.
After winning the World Qualifying Series title in 2007, Smith embarked on his maiden WCT season in 2008. Since then, he's racked up numerous career highlights.
Among his many achievements, the Durban native has secured top honors on the Transworld Surf Exposuremeter, starred in the game-changing surf film Modern Collective in 2009, snagged two WCT victories at his beloved Jeffrey's Bay, and finished runner-up on the World Tour in 2010.
More recently, Jordy starred in Lost Atlas as well as his own profile film Bending Colours. In 2013, Jordy won the inaugural X Games Real Surf contest before going on to finish 4th in the end-of-season World Tour rankings. With time very much still on his side, it would take a brave soul to bet against Jordy claiming surfing's biggest prize.