Kilian Albrecht achieved a historical victory for Bulgaria in Alpine Skiing. After an 18-year pause a Bulgarian skier once again made it in the top 15 of a World Cup event. The Austrian with a Bulgarian passport finished 13th in the slalom at the championship in Are (Sweden). This is the best achievement of a Bulgarian skier in this discipline at a World Cup event. In 1989 in Vale (USA) Lubomir Popov finished 15 after the second run.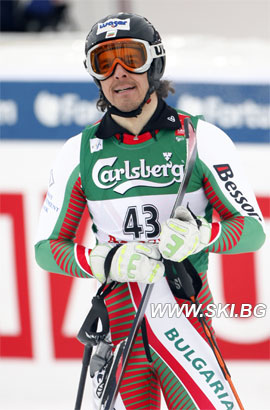 Kilian Albrecht (BUL) just finished 13th in Are, Photo: AP
ARE, Sweden (AP) - Mario Matt of Austria won the slalom title at the world championships Saturday, and Bode Miller strained his knee on the first run and was declared out of Sunday's team event.
Miller, who failed to win a medal in his second straight major championship, may have hurt his left knee in a turn. He didn't make his second run.
"It's a mild strain. He has a little swelling and definitely needs to rest it," the U.S. men's head coach Phil McNichol told The Associated Press. "He had good splits. He was doing OK but then he kind of jammed it in the turn where it looked like he pulled out. He asked for a doctor."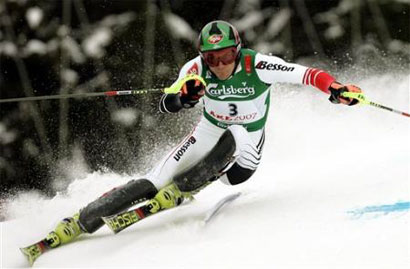 Mario Matt, of Austria, speeds past a pole on his way to setting the fastest time during the first run of the Men's Slalom, at the World Alpine Ski Championships in Are, Sweden, Saturday, Feb. (AP/THOMAS KIENZLE)
Matt was fastest in both runs, finishing with a combined time on the Olympia course of 1 minute, 57.33 seconds.
"You have to attack in slalom in order to be fast," Matt said. "I knew the others behind me were going to risk everything."
Manfred Moelgg of Italy moved up from sixth after the first leg to earn the silver medal, 1.81 seconds behind, and Jean-Baptiste Grange of France was third, 2.21 back.
Miller skied off course, splitting a gate and coming to a stop toward the bottom of the first run.
The 29 year old, who was expected to race next weekend in Germany, has finished just one slalom in the last 13 months. He was trying to become the first male skier with world titles in all five events.
Miller didn't make it down to the finish area to speak with reporters.
Both Moelgg and Grange earned the first medals of their careers. Grange's bronze was France's first medal of the championships, and it came in the final individual event.
Olympic and defending world champion Benjamin Raich finished fourth, 2.24 out, after making a few minor errors in his opening leg.
The 27-year-old Matt is third in the World Cup slalom standings this season with two runner-up finishes and two third places in January. He won a World Cup super-combi in Wengen, Switzerland, last month and has five career World Cup slalom victories, the last coming two seasons ago in Lenzerheide.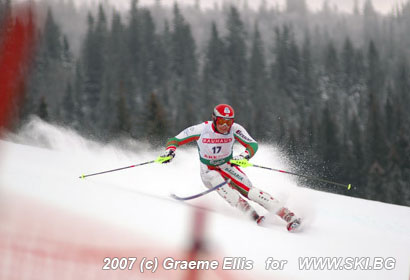 Dean Todorov (BUL) during slalom qualification in Are. Photo: Graeme Ellis
"My form has been sensational since January," said Matt, who also won silver in combined in St. Anton.
Miller was one of many favorites who skied off course in the first run.
Jens Byggmark, Giorgio Rocca, Ted Ligety, Reinfried Herbst, Marc Berthod, Rainer Schoenfelder and Aksel Lund Svindal each had major problems with the first leg. Thirteen of the first 30 skiers did not finish.
Felix Neureuther, who sat second after the first leg, fell in his second trip down. Other skiers that went out in the second leg included Andre Myhrer, Kalle Palander, Ivica Kostelic and Markus Larsson.
Byggmark, the 21-year-old who stunned the field with back-to-back wins at Kitzbuehel, Austria, before the worlds, lost control near the end of his first run and did not finish.
Byggmark said his skiing felt good, but that his skis just skidded away from him.
"I'm very disappointed. It would have been nice to show the crowd here I could win," he said. "I just went for it, and sometimes this happens."
Before watching the second leg in the stands with his Swedish fans, Byggmark said the lack of direct sunlight made it difficult to perceive depth.
"The course wasn't that difficult, but you couldn't see anything," he said. "The snow just melted together and all the contours disappeared."
Rocca, the reigning World Cup slalom champion, skied off course with only a few gates to go, hiked back up, and crossed the line more than 18 seconds behind in the opening run.
"I'm disappointed. It's a bad season for me," said Rocca, who has struggled with a knee problem and failed to win this season. "In the last gates, I just wanted to go straight, that was the temptation. I made the same mistake as Raich. I can't use my knee as an excuse today."
Ligety, the Olympic combined champion, fell down to his hip and went out on the top section, got back on course, then skied out again on the bottom and did not finish the first leg.
Berthod, the bronze medalist in the combined last week, and Svindal — winner of the downhill and giant slalom here — also fell victim.
"It's the world championships and everybody wants to do a medal and they risk a lot," Berthod said. "Some guys go out, some guys go fast. The snow is very aggressive and we don't see the ground, the terrain. It makes it difficult."
By ANDREW DAMPF, AP Sports Writer
Satarday, February 17, 2007, 2:38 PM ET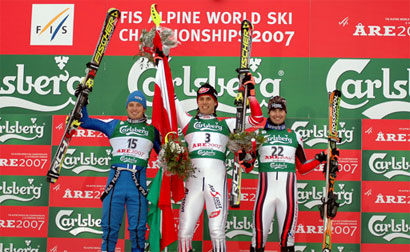 The winners. Photo: Graeme Ellis