SKI CLASSICS. After a thrilling start of the season in Pontresina, Visma Ski Classics moves to the second event, Sgambeda in Livigno Italy. Sgambeda is held on Saturday and this will be the first event of season VII with a mass start. The elite women starts at 10.00 CET and the elite men at 10.30 CET.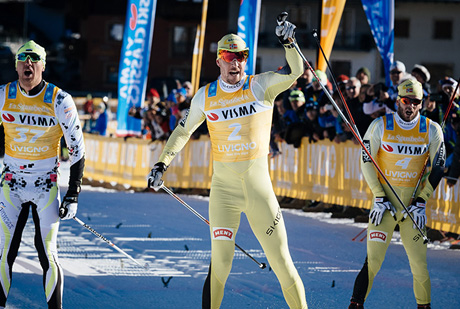 Photo © Magnus Östh / Visma Ski Classics
Despite the warm weather the organizers have managed to complete a 6km loop that will be skied five times.
"The organizers have done an impressive work with the course during the week. In four days' time they have extended the loop from 3,3km to 6km. And with five laps we're close to the original distance of 35km", says David Nilsson CEO Visma Ski Classics.
At the starting line we will have the current leaders of the yellow Champion bib presented by Hertz in the front. In the men's competition Petter Eliassen, Team LeasePlan and in the women's competition Katerina Smutna, Team Santander. We will also see the current leaders in the pink youth competition. On the men's side Oscar Persson, Lager 157 Ski Team, and on the women's side Kristin Antonsen, Team Synnfjell.
Sgambeda is also the first event of the season where sprint points will be handed out. There's one Visma Ski Classics sprint along the course, after 6km, where the seven fastest men and the three fastest women will collect sprint points in the green sprint bib competition. Starting with the green sprint bib on Saturday is defending sprint champion Andreas Nygaard from Team Santader. And as this is the first season with a sprint competition for the women, Britta Johansson Norgren, Lager 157 Ski Team, currently ranked second in the champion competition, will start with the green sprint bib.
Surprising everyone in the Pro Team competition last weekend was Team Gel Intérim Rossignol. This is the first time the Pro Team competition is led by a French team and they will not let go of it easily.
If you want to hear latest news from the athletes and top Pro Team directors, make sure to watch the live press conference at the Visma Ski Classics Facebook page, starting tomorrow at 16.00 CET. And then the live broadcast from Sgambeda in the SC Play app, starting Saturday 9.45 CET.
Official start lists is available in the Visma Ski Classics live centre.
press release
Visma Ski Classics
Thu, December 1, 2016