The leading Bulgarian ski center Bansko will help the 20-millionth Beijing in preparation for the Winter Olympics in 2022 This happened after the signing of a Memorandum of Cooperation between the municipality, Bulgarian Ski Federation, the concessionaire company "Ulen" AD and Executive Vice President of the organizing Committee of XXIV Winter Olympic games and Vice Mayor of Beijing Zhang Jiandong.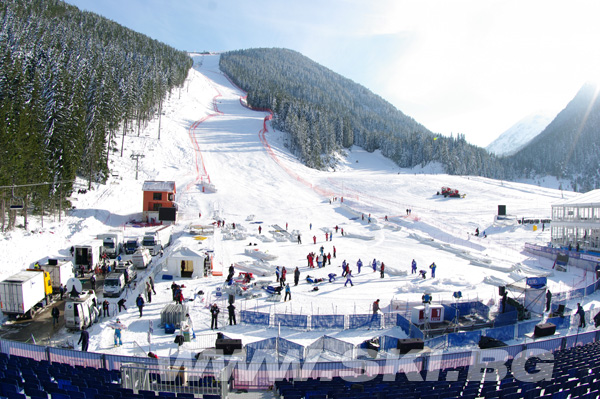 On the recommendation of FIS and IOC he and Ambassador of the most populous country in the world Zhang Haizhou brought in resort №1 six member state delegation. They got acquainted with the organization of the ski area as infrastructure and expertise and successful practices in managing her not only as a tourist center but also as a host of sports competitions and events of the highest rank. After meetings during the day the Chinese delegation wished to submit in January 2018 a group to be included as learning in the work of our teams in FIS Snowboard World Cup in Bansko, and it can be affixed with an official document. The creation of staff for the Olympics will continue in the coming years is expected even direct participation of specialists from Bansko and BFSki in building and processing facilities in Beijing. The chief of previous five FIS Ski World Cups in Bansko - Valentin Stefanov, will almost certainly be asked to be responsible for the races at the Games in China, having already gained experience in Sochi in 2014 and will carry out the same functions in Pyongchang 2018.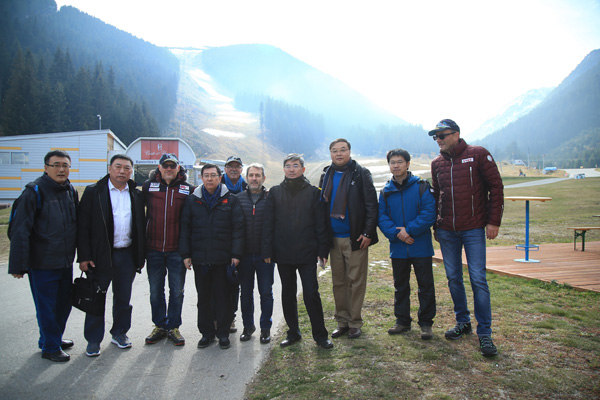 The Chinese delegation together with the management of the Bulgarian Ski Federation, Bulgarian Olympic Committee and representatives of "Ulen" AD at the foot of the legendary ski track "Alberto Tomba" at "Banderishka meadow" in Bansko
"Китай като мащаб е нещо почти необятно и трудно сравнимо с България и Банско, но в ски индустрията и зимния туризъм се развива в момента. На най-високо ниво в държавата е взето решение в следващите 4–5 години да се обучат 300 млн. скиори. За тях трябва да се създаде и съответната инфраструктура, която липсва, и за нея ние можем да бъдем полезни. Освен това за Олимпиадата ще са им нужни над 2800 души подготвен персонал, час от които ще дойдат да трупат опит и знания на място", заяви председателят на БФСки Цеко Минев. Той сподели, че видяното в Банско е надминало очакванията на гостите.
"Ангажираните с подготовката на Олимпиадата оглеждат и други световни курорти в желанието си да открият най-добрите практики, за да не пропуснат и най-малкия детайл и да направят перфектното спортно събитие, защото знаете, че китайците са перфекционисти", заяви Минев.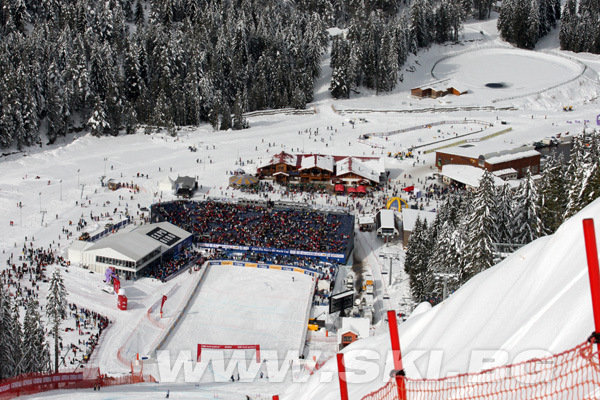 "Визитата е голямо признание за общината, за БФСки и за всичко, което се случи тук през последните години. Тя е резултат от високото ниво на световните събития, които се провеждат в ски зоната. И Банско има всички основания да се гордее с постигнатото", коментира генералният секретар на Българския олимпийски комитет Белчо Горанов, който също бе с делегацията в ски зоната и при градоначалника.
Кметът Георги Икономов определи посещението като емблематично и начало на дългосрочно сътрудничество с Китай в областта на туризма. Всъщност основите за това бяха поставени още през февруари, когато той посрещна за първи път в кабинета си посланик Джан Хайджоу. Сега Икономов призна, че е сериозно амбициран да работи за това само 1% от бъдещите 300 млн. китайски скиори да изберат Банско за зимна ваканция.
"Това ни е напълно достатъчно и е реално да се случи, след като днес зам.-кметът на Пекин лично се ангажира да лобира за нас и да ни рекламира като курорт. Договорихме и представянето на Банско на най-голямото международно изложение за зимни спортове там още следващата година", каза Икономов.
Заедно със зам.-кмета на Пекин под връх Тодорка бяха и Ю Дебин – генерален директор "Обслужване на игрите", Ли Сен – зам.-директор "Общо планиране Пекин 2022", и Пан Зиуеи – зам.-директор "Международни отношения". От българска страна присъства вицепрезидентът на БФСки Георги Бобев, а ски зоната ни бе представлявана от маркетинг директора на "Юлен" Иван Обрейков.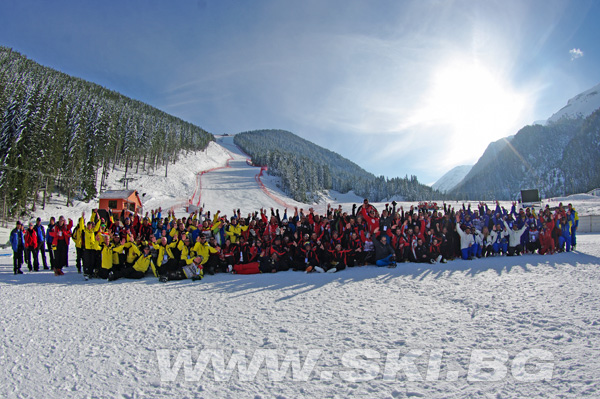 Целият български екип по организацията на Световната купа по ски в Банско през 2011 г.
Предложенията за ноу-хау и обмяна на опит, описани в Меморандума, са следните: обучение на ски и сноуборд учители с издаване на професионална диплома; образователна програма за обработка и поддържане на писти; програма за подготовка на писти за професионални състезания по алпийски ски; опит и умения в организирането на спортни събития с пълния комплект услуги; програма за организиране на зоните за фенове и за ВИП гостите.
Пламен Вълков
пресаташе на БФСки
08 ноември 2017 г.