СНОУБОРД СВЕТОВНА КУПА БАНСКО 2018. Звездата ни в сноуборда Радо Янков отново вдигна на крака трибуните в Банско. 28-годишният ас с лекота се класира на четвърто място във втория паралелен гигантски слалом за Световната купа и показа, че е в топ форма за предстоящите ХХIII олимпийски игри в Пьонгчанг (Кор).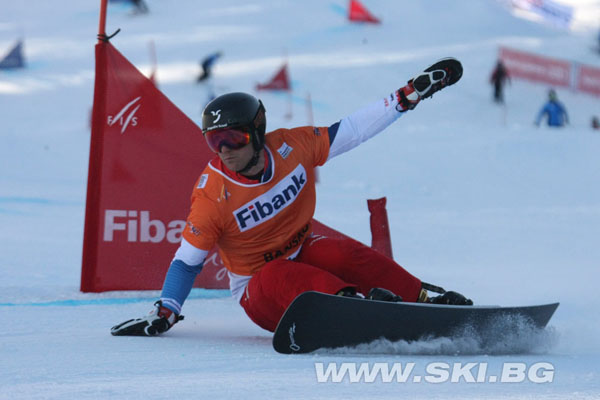 Лидерът в класирането а Световната купа Nevin GALMARINI (SUI) спечели победата във втория PGS в Банско 2018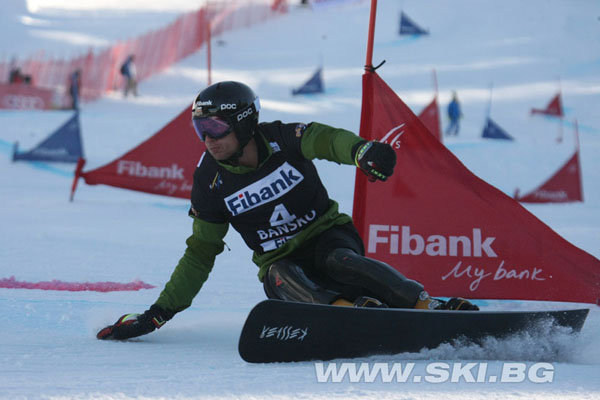 Изключителният Radoslav YANKOV (BUL)
Специално за Янков Бъндеришка поляна се изпълни с хиляди негови фенове. Трибуната пък се оказа тясна, за да ги побере. Така на всякъде около финала на трасето имаше фенове на Радо, които му даваха положителна енергия.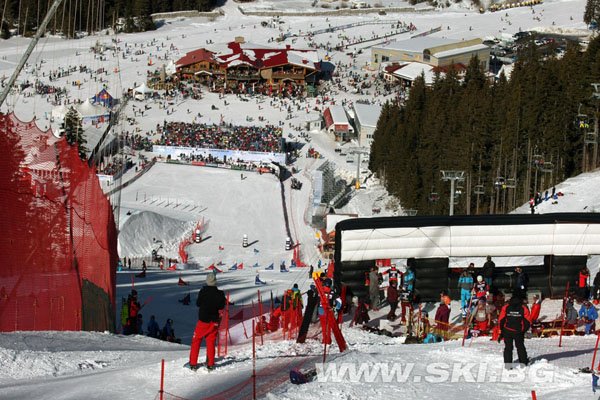 В квалификацията Янков даде седмо време и така си осигури добра стартова позиция за осминафиналите. Там българинът би Каспар Флеч (Швейц), а след това за място на полуфинала се справи и с Рок Маргуч (Слвн). На полуфинала Янков бе спрян от Едвин Корати, който заради по-доброто си представяне в квалификацията имаше възможност да избере по-бързото червено трасе.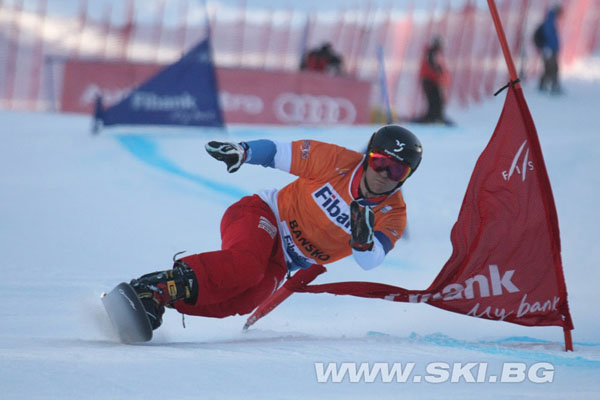 Nevin GALMARINI (SUI)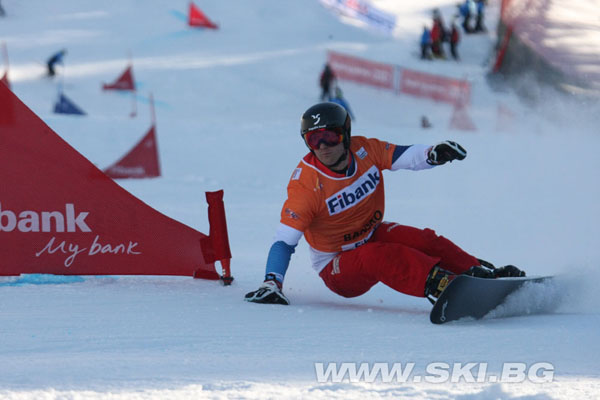 Nevin GALMARINI (SUI)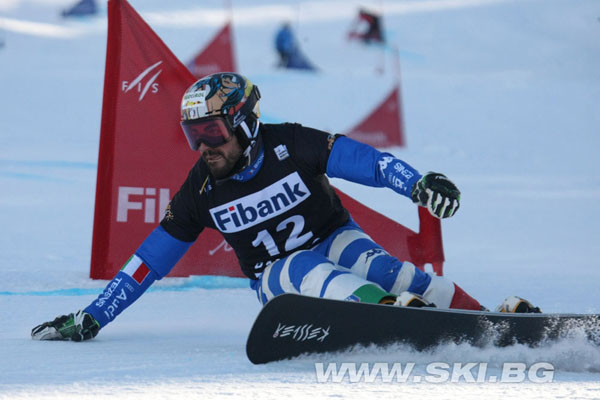 Edwin CORATTI (ITA)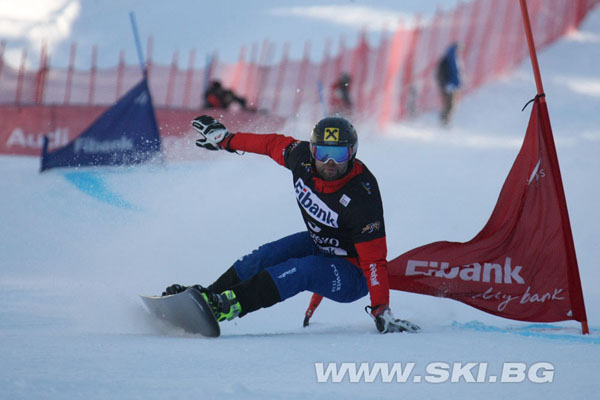 Andreas PROMMEGGER (AUT)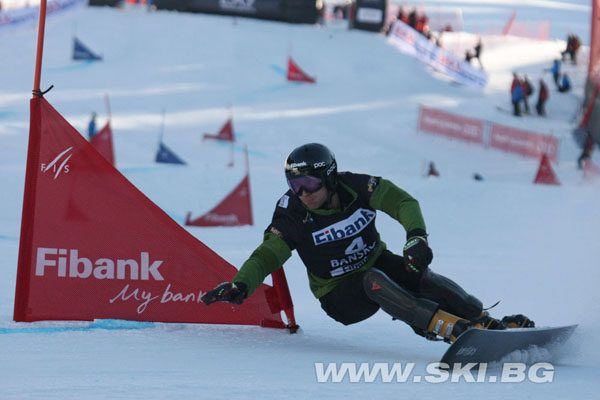 Radoslav YANKOV (BUL)
В малкия финал Радо загуби от двукратния световен шампион Андреас Промегер, който също имаше шанса да кара на червено трасе. Шампион при мъжете стана лидерът в генералното подреждане за СК Невин Галмарини (Швейц).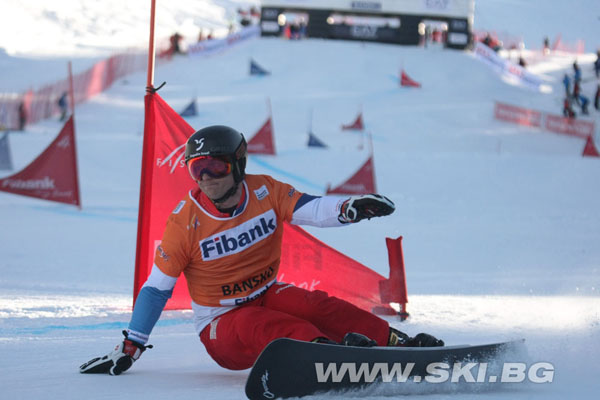 Nevin GALMARINI (SUI)
Със спечелените точки той почти си осигури и голямата световна купа. Радо е шести за СК и четвърти за малкия трофей в паралелния гигантски слалом. До края на сезона остават още 3 старта, които са след Олимпийските игри.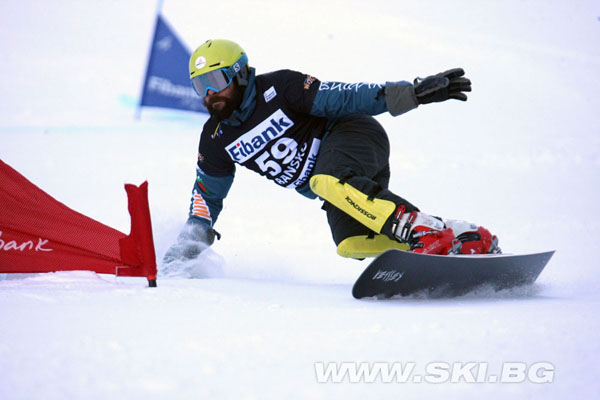 Уникален кадър на Stanislav VANGELOV (BUL)
При дамите първа е Юлия Дуимовиц (Ав), която надви на финала Рамона Хофмайстер (Гер). Нашата Теодора Пенчева зае 25-о място.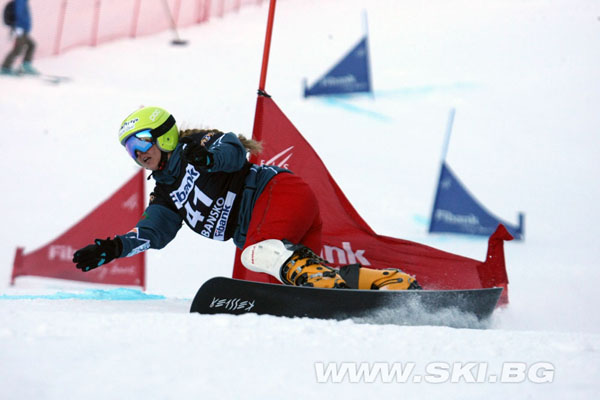 Българката Teodora PENTCHEVA (BUL), която преди броени дни официално получи право за участие на Зимните Олимпийски игри в Пьонгчан, Република Корея и стана 20-тата състезателка в българския Олимпийски отбор 2018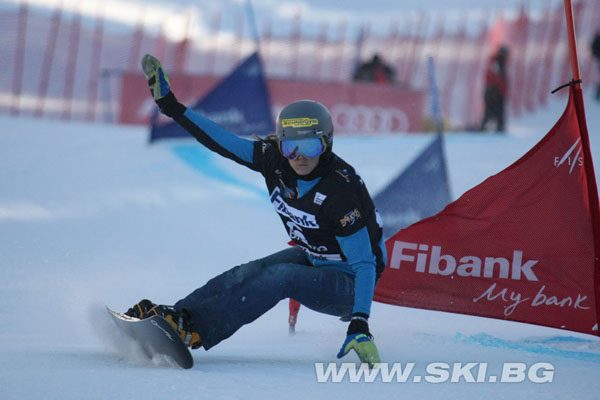 Победителката при жените Julia DUJMOVITS (AUT)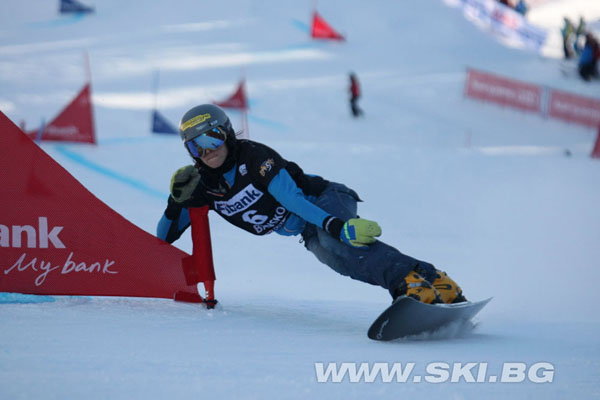 Julia DUJMOVITS (AUT)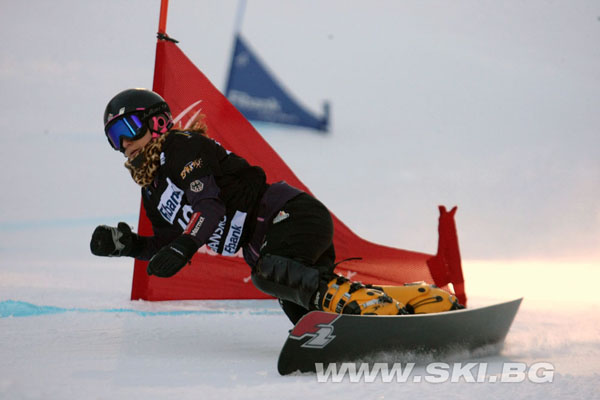 Втората при жените Ramona Theresia HOFMEISTER (GER)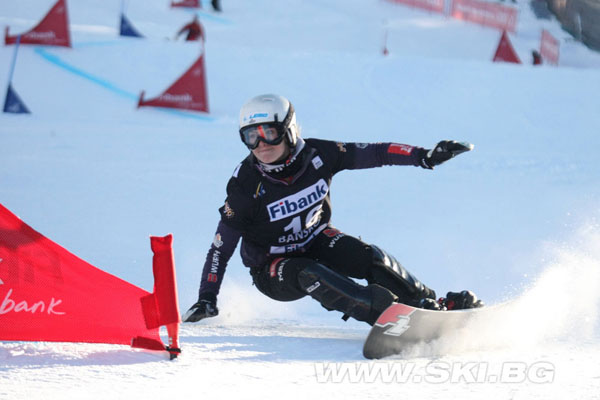 Третата при дамите Selina JOERG (GER)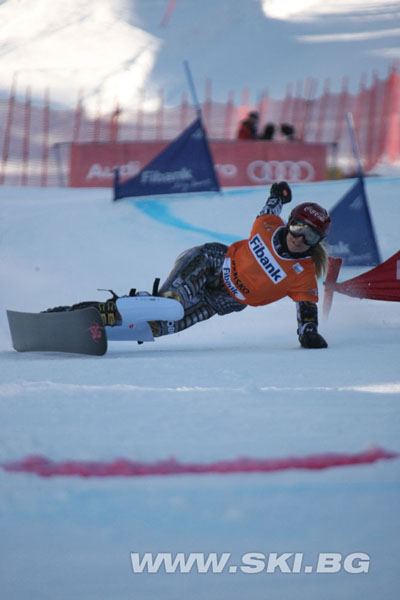 Грешката на Ester LEDECKA (CZE), с която тя загуби своя полуфинал и така остана извън подиума
Призьорите получиха наградите си от министъра на младежта и спорта Красен Кралев и кмета на Банско Георги Икономов. Изненади за призьорите имаше и от Fibank и Мтел. Водещият български телеком награди с мобилен телефон и Радо за четвъртото място.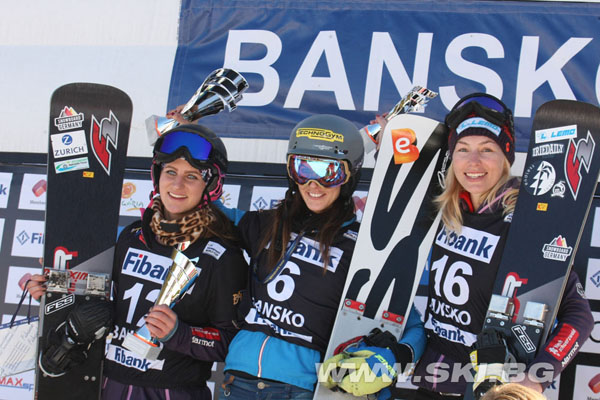 2. Ramona Theresia HOFMEISTER (GER), 1. Julia DUJMOVITS (AUT) and 3. Selina JOERG (GER)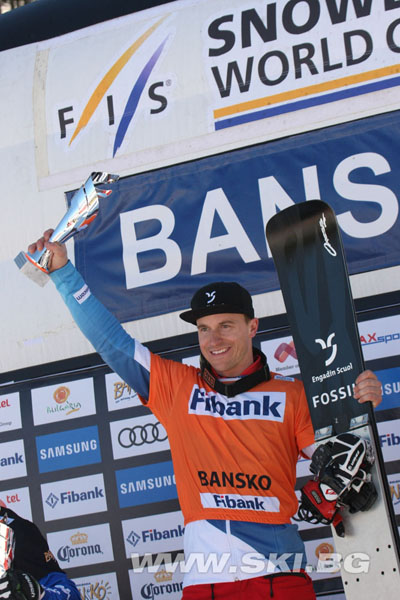 The winner Nevin GALMARINI (SUI)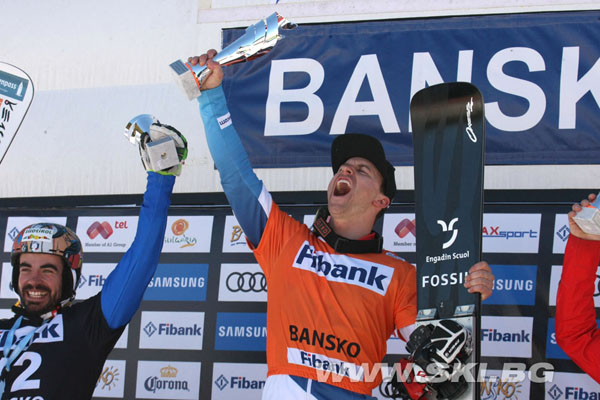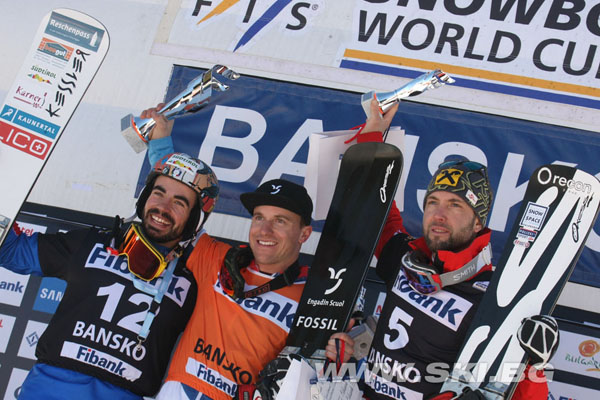 2. Edwin CORATTI (ITA), 1. Nevin GALMARINI (SUI) and 3. Andreas PROMMEGGER (AUT)
"Доволен съм от класирането си в Банско, коментира след малкия финал Радо Янков. - Трасетатата никъде не са еднакви и за това не мога да се сърдя. Важното е, че на олимпийските игри в Пьонгчанг с мен ще имам физиотерапевт и екипът ми вече е пълен. Преди година не успях да се представя добре в Корея, но сега ще е различно", коментира след състезанието Радо Янков. Той лети за ПьонгЧанг на 7 февруари, като до тогава ще използва да си почине в Чепеларе, където ще тренира.
Пламен Вълков, Владимир Симеонов
Стандарт нюз
28.01.2018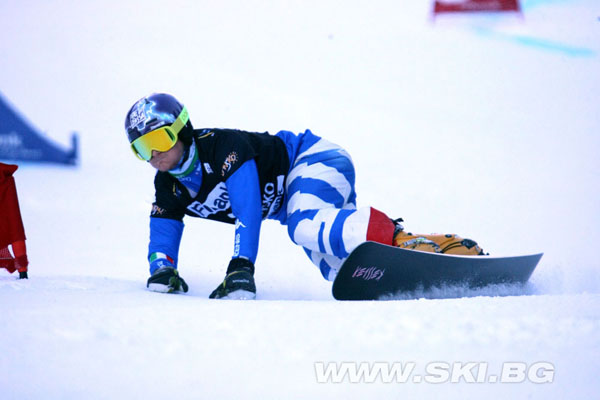 #2handsCarving на Mirko FELICETTI (ITA)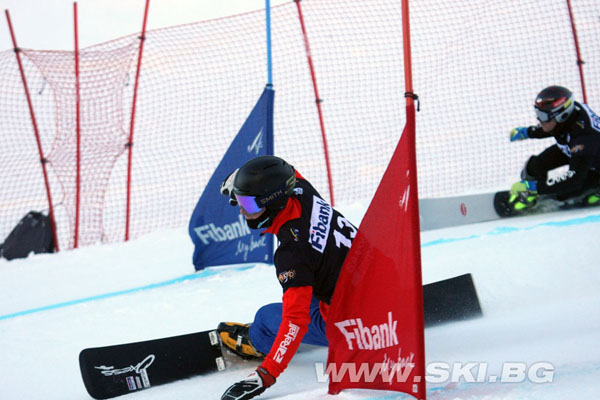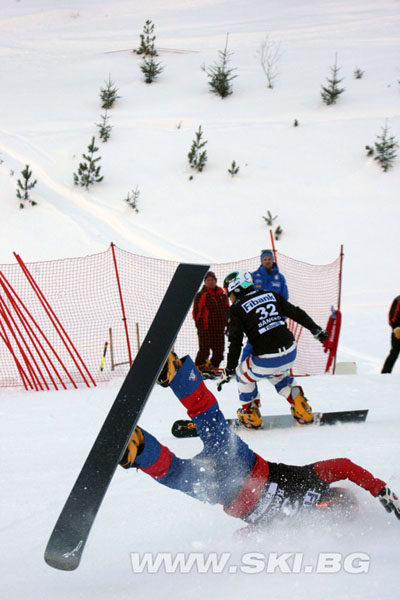 Най-тежкото падане за деня беше за корееца Bogun CHOI (KOR)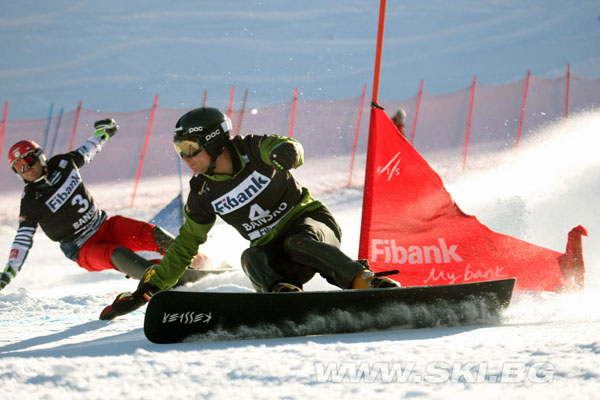 Министър Кралев: Радващо е, че Радо Янков и Сани Жекова показаха добра форма преди Олимпиадата
Министърът на младежта и спорта Красен Кралев награди победителите при мъжете и жените във втория паралелен гигантски слалом от Световната купа по сноуборд в Банско – Невин Галмарини (Швец) и Юлия Дуймовиц (Ав). Радослав Янков остана на крачка от качване на подиума, след като загуби малкия финал за третото място от австриеца Андреас Промегер. Янков намери място в директните елиминации след 7-ма позиция в квалификацията.
"Получи се фантастично състезание, както за публиката, така и за участниците. Много добро време и отлична организация. За пореден път БФСки и Банско показаха, че България може да бъде перфектен домакин на такива стартове. Тук се събра целият световен елит в сноуборда, за които това беше последна проверка преди Олимпийските игри. Радостно е, че двете ни големи надежди за добро представяне в Пьонгчанг са в много добра форма. И Сани Жекова, и Радо Янков показаха отлична форма и зарадваха всички привърженици в Банско. Имахме шансове и за по-добро класиране, но нека да не сме максималисти. Надяваме се големият късмет да бъде с тях на Олимпийски игри", заяви Кралев пред БНТ.
Министърът пожела на Янков да бъде максимално концентриран в Южна Корея и да се абстрахира от големите очаквания, които всички българи имат към него.
"Както за него, така и за Сани големият момент е на Олимпиадата. Но там всичко може да се случи. От разговорите си с Радо виждам, че има самочувствие и ако излезе спокоен и максимално концентриран, нещата ще се получат", допълни Кралев.
При мъжете, другите трима българи не успяха да достигнат до елиминациите. Станислав Вангелов се нареди 46-и, Михаил Кръшняк е 47-и, а Димитър Ганичев остана 52-и. При жените Теодора Пенчева финишира на 25-о място.
"Доволен съм от 4-ото място. Можеше и по-добре, но имаше резерви в квалификацията, което не ми позволи да избирам трасе до края. Въпреки това съм доволен и вече гледам към Олимпиадата", каза Радослав Янков.
В съботния ден Александра Жекова спечели малкия финал и се нареди на 7-мо място в спийдбордеркроса.
Sportal.bg
28 януари 2018 | 18:41
Dujmovits and Galmarini top second Bansko PGS
Julia Dujmovits (AUT) and Nevin Galmarini (SUI) have won the second parallel giant slalom race of the World Cup stop in Bansko, Bulgaria and therefore the final form test prior to the 2018 Olympic Winter Games.
Just like the last couple of days, Mother Nature was once again in favour of snowboarding offering perfect conditions with a blue bird sky and a snow layer as hard as compact like riders love it to set those fine sharpe turns.
And with the enthusiastic spectators in the stances also turning the final knock out rounds into a madhouse the atmosphere was how it should be at the ultimate race prior to the season's pinnacle event, too.
In the women's competiton, Austria's Julia Dujmovits finally earned her season's first beating Ramona Hofmeister (GER) in the big final therefore achieving one of her season's main goals:
"I wanted to become ready for the Olympics and be well prepared, and I guess I'm where I wanted to be," she said.
"It's unbelievable to walk away with a win from here. I really love this place, it's always such a great atmosphere and vibe here."
However, the 2014 PSL Olympic Champion also benefitted from a mistake of her rival in the women's final when Hofmeister tried to keep the pressure high on the blue course which seemed to be a little bit harder to handle in the last section.
But despite being thrown the German racer, who currently enjoys a streak of four podium results in six races in 2018, thought that it was still "an amazing race."
Especially as the 21-year-old from Bischofswiesen had managed to become the first rider this season to beat this winter's dominating athlete Ester Ledecka (CZE) in a parallel giant slalom.
Before, the undisputed World Cup leader had celebrated five wins in five starts.
"My qualifiers weren't ideal that's why I was facing Ester in the quarter finals already. But I was able to show that she is not unbeatable. That is for sure the icing on the cake."
However, Ledecka is still comfortably leading the women's World Cup rankings.
Hofmeister's teammate Selina Joerg (GER) rounded out the women's podium having the whip hand over Gloria Kotnik (SLO) in the battle for third.
Over in the men's event, Galmarini extended his World Cup lead with his second win this winter dominating the final heat against Friday's third ranked Edwin Coratti (ITA).
The Swiss racer had impressed from the first qualifier session on claiming that top spot in the knock out heats and keeping the momentum through the course of the finals.
"It was unbelievable. I felt so confident today. I won the qualifiers, and then I just went on and on," he said.
"If I would be asked to describe a perfect snowboard day, then today was like it should look like. I'm super happy and so pleased with my season so far. It's fantastic."
Andreas Prommegger (AUT) finished in third position beating local favourite Radoslav Yankov (BUL) in the small finals.
The Alpine Snowboard World Cup tour will now take a break for the Olympics in Pyeongchang, South Korea before returning returning to Turkey on 3rd of March where a parallel giant slalom race will be staged in Kayseri.
FIS snowboard
28 January 2018 18:03
RESULTS
Bansko (BUL) 28.01.2018
World Cup - Men's Parallel GS
1 2 1514944 GALMARINI Nevin 1986 SUI 1000.00 1000.00
2 12 9290107 CORATTI Edwin 1991 ITA 800.00 800.00
3 5 1093190 PROMMEGGER Andreas 1980 AUT 600.00 600.00
4 4 1094969 YANKOV Radoslav 1990 BUL 500.00 500.00
5 8 9480495 SARSEMBAEV Dmitry 1997 RUS 450.00 450.00
6 13 9050029 KISLINGER Sebastian 1988 AUT DNF 400.00 400.00
7 9 9050042 PAYER Alexander 1989 AUT 360.00 360.00
8 6 7560012 MARGUC Rok 1986 SLO DNF 320.00 320.00
9 16 1054984 KARL Benjamin 1985 AUT 290.00 290.00
10 7 9290151 FELICETTI Mirko 1992 ITA 260.00 260.00
11 26 1514943 FLUETSCH Kaspar 1986 SUI 240.00 240.00
12 41 9480107 SHIPILOV Konstantin 1990 RUS 220.00 220.00
13 11 9320091 LEE Sangho 1995 KOR DNF 200.00 200.00
14 1 9480117 SOBOLEV Andrey 1989 RUS 180.00 180.00
15 21 9480485 WILD Vic 1986 RUS 160.00 160.00
16 18 9510316 CAVIEZEL Dario 1995 SUI 150.00 150.00
17 3 1560730 DUFOUR Sylvain 1982 FRA 1:17.41 140.00 140.00
17 24 9480632 LOGINOV Dmitry 2000 RUS 1:17.41 140.00 140.00
19 14 1209202 ANDERSON Jasey Jay 1975 CAN 1:17.43 120.00 120.00
20 22 1442390 BUSSLER Patrick 1984 GER 1:17.63 110.00 110.00
21 20 7538766 MARCH Aaron 1986 ITA 1:17.74 100.00 100.00
22 38 9430124 NOWACZYK Michal 1996 POL 1:17.84 90.00 90.00
23 37 9430120 KWIATKOWSKI Oskar 1996 POL 1:17.86 80.00 80.00
24 40 9560018 HAFNER Jure 1989 SLO 1:18.08 70.00 70.00
25 27 9300517 KAMINO Shinnosuke 1993 JPN 1:18.37 60.00 60.00
26 36 9100195 GARDNER Darren 1990 CAN 1:18.38 50.00 50.00
27 19 7300127 SHIBA Masaki 1986 JPN 1:18.47 45.00 45.00
28 25 9050095 MATHIES Lukas 1991 AUT 1:18.71 40.00 40.00
29 29 9100167 BEAULIEU Sebastien 1991 CAN 1:18.77 36.00 36.00
30 32 9320014 KIM Sangkyum 1989 KOR 1:18.97 32.00 32.00
31 39 9480116 KOTOV Konstantin 1991 RUS 1:19.15 28.00 28.00
32 15 1163127 FISCHNALLER Roland 1980 ITA 38.63 26.00 26.00
33 45 9690062 BELINSKYY Oleksandr 1995 UKR 39.93 24.00 24.00
34 35 9531136 BURNS Robert 1990 USA 39.97 22.00 22.00
35 33 7535029 TRAPP Michael 1988 USA 39.98 20.00 20.00
36 57 1124947 SUN Huan 1991 CHN 40.29 19.70 19.70
37 30 9290200 BORMOLINI Maurizio 1994 ITA 40.37 19.40 19.40
38 49 9320050 SHIN Bongshik 1992 KOR 40.87 19.10 19.10
39 34 1204999 BERGMANN Alexander 1987 GER 40.91 18.80 18.80
40 51 9320064 LEE Je Jung 1992 KOR 41.70 18.50 18.50
41 48 9040211 DE OLIVEIRA Christian 1999 POR 41.84 18.20 18.20
42 43 9100945 GAUDET Arnaud 2000 CAN 42.60 17.90 17.90
43 44 9530791 ROSENCRANZ Ryan 1994 USA 43.10 17.60 17.60
44 50 1473042 BRUZEK Viktor 1980 CZE 43.19 17.30 17.30
45 10 9560053 MASTNAK Tim 1991 SLO 45.00 17.00 17.00
46 59 1094937 VANGELOV Stanislav 1983 BUL 45.14 16.70 16.70
47 58 1094943 KRASHNIAK Mihail 1974 BUL 46.78 16.40 16.40
48 28 9480398 KOLEGOV Valery 1995 RUS 46.97
49 47 9690121 KHARUK Mykhailo 1999 UKR 47.50
50 54 9700022 BACO Matej 1992 SVK 48.58
51 55 1653656 TEODORESCU Adrian 1973 ROU 49.11
52 53 9090065 GANICHEV Dimitar 1994 BUL 1:00.65
Did not finish
17 9290025 MICK Christoph 1988 ITA
23 9200092 BAUMEISTER Stefan 1993 GER
31 9320041 CHOI Bogun 1991 KOR
42 9200093 HUPFAUER Christian 1993 GER
46 7537128 MACCUTCHEON Steven 1987 USA
52 1653462 MORTILA ZAHARESCU Toma-Andrei 1976 ROU
56 1684990 NAZGAIDZE Revaz 1985 GEO
RESULTS
Bansko (BUL) 28.01.2018
World Cup - Ladies' Parallel GS
1 6 1746485 DUJMOVITS Julia 1987 AUT 1000.00 1000.00
2 12 9205058 HOFMEISTER Ramona Theresia 1996 GER DNF 800.00 800.00
3 16 9205004 JOERG Selina 1988 GER 600.00 600.00
4 13 1569955 KOTNIK Gloria 1989 SLO DNF 500.00 500.00
5 14 1159979 LEDECKA Ester 1995 CZE 450.00 450.00
6 10 9055032 SCHOEFFMANN Sabine 1992 AUT DNF 400.00 400.00
7 2 1489930 ZAVARZINA Alena 1989 RUS 360.00 360.00
8 19 9485145 SOBOLEVA Natalia 1995 RUS 320.00 320.00
9 4 1004920 RIEGLER Claudia 1973 AUT DNF 290.00 290.00
10 1 9515082 ZOGG Julie 1992 SUI DNF 260.00 260.00
11 18 1489999 KHATOMCHENKOVA Ekaterina 1992 RUS DNF 240.00 240.00
12 8 9205057 LANGENHORST Carolin 1996 GER DNF 220.00 220.00
13 7 9515102 JENNY Ladina 1993 SUI 200.00 200.00
14 20 1699945 DANCHA Annamari 1990 UKR DNF 180.00 180.00
15 24 9295071 OCHNER Nadya 1993 ITA DNF 160.00 160.00
16 15 9485187 BYKOVA Milena 1998 RUS 150.00 150.00
17 30 9325017 JEONG Haerim 1995 KOR 1:24.70 140.00 140.00
18 26 9305144 SATO Emi 1990 JPN 1:24.73 130.00 130.00
19 23 9125001 GONG Naiying 1998 CHN 1:24.88 120.00 120.00
20 3 1543464 TAKEUCHI Tomoka 1983 JPN 1:25.03 110.00 110.00
21 28 9435005 KROL Aleksandra 1990 POL 1:25.19 100.00 100.00
22 17 7519960 KUMMER Patrizia 1987 SUI 1:25.45 90.00 90.00
23 32 9515154 GASSER Larissa 1997 SUI 1:25.46 80.00 80.00
24 29 9435030 BIELA Weronika 1991 POL 1:26.64 70.00 70.00
25 41 1605641 PENTCHEVA Teodora 1982 BUL 1:26.95 60.00 60.00
26 33 1129982 ZANG Ruxin 1994 CHN 1:28.08 50.00 50.00
27 35 9105175 GERENCSER Katrina 1993 CAN 1:29.41 45.00 45.00
28 9 1489922 TUDEGESHEVA Ekaterina 1987 RUS 1:30.00 40.00 40.00
29 25 9205050 LOCH Cheyenne 1994 GER 1:30.33 36.00 36.00
30 22 9485165 SALIKHOVA Elizaveta 1996 RUS 41.23 32.00 32.00
31 31 9205056 HOCHREITER Melanie 1996 GER 43.61 28.00 28.00
32 11 9055071 ULBING Daniela 1998 AUT 44.25 26.00 26.00
33 38 9535325 CARRIGAN Maggie 1996 USA 43.09 24.00 24.00
34 34 1439979 SZTOKFISZ Karolina 1989 POL 43.23 22.00 22.00
35 5 9055006 MESCHIK Ina 1990 AUT 45.22 20.00 20.00
36 37 9105144 FARRELL Megan 1992 CAN 45.26 19.70 19.70
37 40 9105244 HAWKRIGG Jennifer 1996 CAN 46.41
38 39 1329978 SHIN Dahae 1988 KOR 47.58
39 36 1129990 XU Xiaoxiao 1992 CHN 48.22
40 43 1469958 POPESCU SELEUSAN Ioana Dana 1989 ROU 51.36
Did not finish
21 9515066 MUELLER Stefanie 1992 SUI
27 7205013 KOBER Amelie 1987 GER
42 7519657 CHAMPAGNE Abby 1986 USA