St. MORITZ, Switzerland (Reuters) - Ivica Kostelic turned the Alpine skiing world championships into a family affair by emulating younger sister Janica with gold in the grand finale, the men's slalom Sunday. Inspired by Janica's triumphs in the women's combined event and slalom here, the 23-year-old made sure the gifted Croatian siblings became the first brother and sister to both win titles at a major Alpine skiing event in a fitting conclusion to the two-week festival.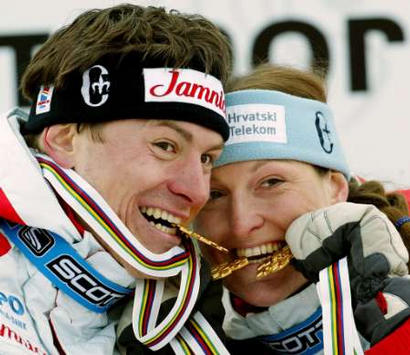 Ivica and Janica
"This is one of the greatest days in my life," Kostelic, whose career has been persistently plagued by injuries, said with a smile from ear to ear in the finishing bowl.
"I heard the commentator say that I was narrowly ahead at the last intermediate time. I realized I had lost time and I just went flat out. It paid off."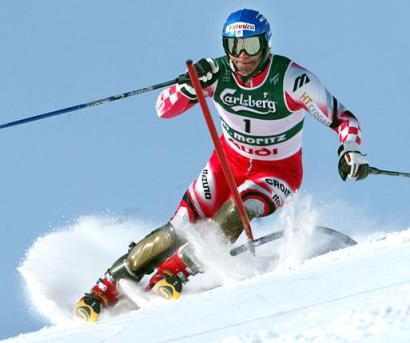 Ivica Kostelic
Two storming runs down the Corviglia piste enabled Kostelic to shrug off a brave challenge from Swiss outsider Silvan Zurbriggen, who was in seventh position after the first leg but delighted the home fans with a remarkable comeback for the silver medal, 0.33 seconds back.
"The first run was great but the second was just amazing," said the unheralded 21-year-old, a very distant relation of Pirmin Zurbriggen, one of Switzerland's best ever skiers.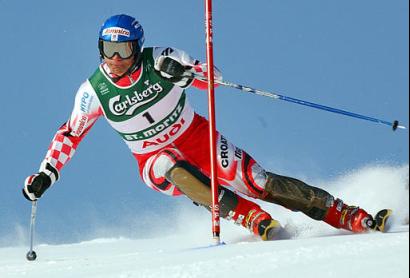 Ivica Kostelic
"I came here determined to do my best but I didn't think that would be good enough for a medal. I can't believe it."
TIGHT BATTLE
Italian Giorgio Rocca won a tight battle with Austrians Benjamin Raich and Manfred Pranger for the bronze, a slim 0.03 seconds behind the unexpected Swiss.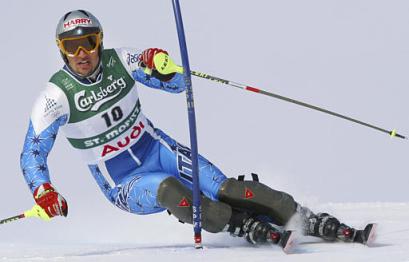 Giorgio Rocca
Raich and Pranger, second and third fastest after the first leg, finished fourth and fifth respectively, failing to add to an impressive overall performance from the mighty Austrian squad which has claimed nine medals.
American Bode Miller, trying to become the first man in 45 years to win three gold medals at a single world championships, lost a pole in the first leg and produced a trademark attacking run in the second but had to be content with sixth place.
"That's slalom for you," said Miller, who had already done enough to steal the show in St. Moritz with combined and giant slalom golds as well as super-G silver. "I don't have a medal but I can't complain."

Benjamin Raich
The elder Kostelic, who shared unpromising beginnings with Janica when the pair embarked on a bumpy road that took them from nowhere to sporting glory, held his nerve when it mattered.
One of the world's finest slalom racers, he had a point to prove after crashing out of the slalom at last year's Salt Lake City Olympics, where his sister made history with three gold medals and one silver.
BIG STAGE
Ivica was eager to shine on the big stage after being involved in controversy last month, issuing a statement to deny having Nazi sympathies following an interview published in a Croat weekly newspaper, in which he said his comments had been taken out of context.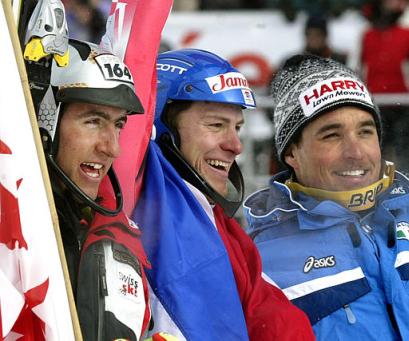 Silvan Zurbriggen, Ivica Kostelic and Giorgio Rocca
The winner of three races this season, although he failed to make the podium of the last two, Kostelic will now try to defend his slalom World Cup title after emerging at last from the imposing shadow of his sister.
Several big names struggled Sunday, notably Olympic slalom champion Jean-Pierre Vidal, who crashed out of the second leg, leaving France with no medal from the entire competition.
Mario Matt, the defending world champion, skied out in the first leg. His misfortune means not a single gold medallist from the previous world championships two years ago in St. Anton, Austria, could successfully defend his title here.
Miller, the merciless Austrians and the incredible Kostelic family will leave this chic resort with great memories, and plenty more to look forward to.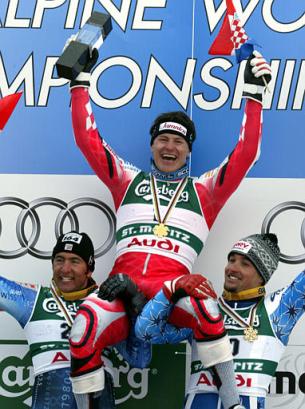 Silvan Zurbriggen, Ivica Kostelic and Giorgio Rocca
St. Moritz will now revert to its glamorous routine, with horses races on the frozen lake for the rich and famous and other unusual hobbies, but nothing compared to the excitement of the past fortnight.
By Patrick Vignal, Reuters, 16.02.2003