МАУТИНБАЙК. 21.07.2018 - 15:01. Завърши грандиозният маутинбайк маратон BIKE Transalp powered by Sigma 2018. С победа при мъжете в последния етап на състезанието германският отбор на Маркус Кауфман и Йохен Каес си осигуриха за четвърти път триумфа в престижната седемдневна байк епопея през сърцето на Алпите, със старт в Имст, през Наудерс в Австрия, по билото на границата с Швейцария, през Ливиньо и Бормио, Понте ди Легно, Вал ди Соле, Вале дел Киезе и финал в Арко на езерото Гарда в Италия.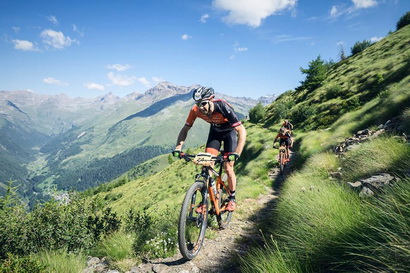 Трябва да отбележим и успешното участие в състезанието на българският отбор Янтра Исполин, в състав Ники Коев и Федя Драголов, които завършиха на достойното 106-то място в общото класиране от 258 финиширали отбора и 14-ти в групата Grand Masters от 51 завършили отбора. Поздравления за успеха и смелостта им при второто тяхно участие в това уникално байк събитие!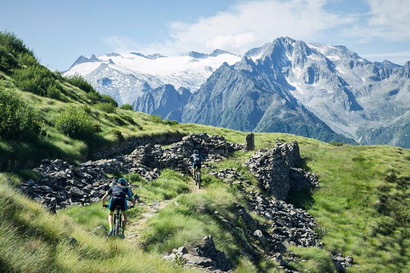 Следват подробности на английски език за епичното състезание >
https://bike-transalp.de/en/news/detail/markus-kaufmann-und-jochen-kaess-mit-etappensieg-souveraen-zum-vierten-titel-janine-schneider-und-ste/
MARKUS KAUFMANN AND JOCHEN KAESS TAKE FOURTH TITLE IN STYLE | JANINE SCHNEIDER AND STEFANIE DOHRN TRIUMPH IN WOMEN'S EVENT
21.07.2018 - 15:01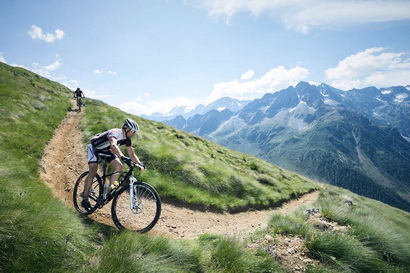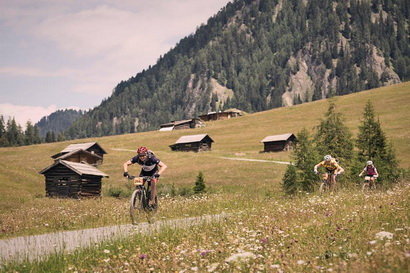 Earning their second stage win on the final day of the BIKE Transalp powered by Sigma 2018, Markus Kaufmann (GER) and Jochen Kaess (GER) have secured their career's fourth title at the seven-day mountain bike classic through the Alps.
Team Centurion Vaude mastered the route's final 60.41 kilometres and 2,309 metres of climbing, which led from Roncone to Arco today, in 2:48.13,6 hours.
In total, the triple winners of 2013, 2014 and 2015 pedalled 22:41.23,9 hours to make it via 505.88 kilometres and 18,167 metres of climbing from Imst to Lake Garda.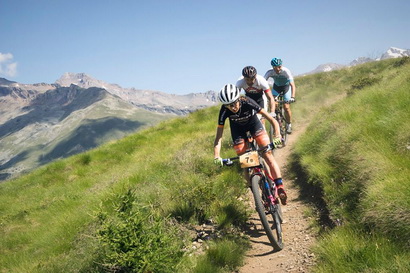 Urs Huber (SUI) and Simon Stiebjahn (GER) of Team Bulls 1 wrapped up the Transalp as second of the general classification (22:46.44,7) being forced to burry their hopes for a wonder on the final race day due to a technical defect.
Over the past days, the Swiss-German pair had controlled the fate with four consecutive stage wins therefore continuously reducing the gap to the yellow jerseys. But today, rank four (2:52.28,4) behind of Tony Longo (ITA) and Johnny Cattaneo (ITA) of Wilier Force 7C 1 (2:49.55,1) as well as two-time world champion Roel Paulissen (BEL) and Mattia Longa (ITA) of Cannondale Buonristoro RH Racing, who jumped on the podium as third for the first time this week (2:52.03,6), was the maximum Huber and Stiebjahn could get.
Rank three in the overall ranking went to Uwe Hochenwarter (AUT) and Gregory Brenes (CRC) of Wilier Force 7C 2 (23:09.56,1), who rolled over the finish line in Arco as fifth fastest team today (2:53.09,3).
Following a stormy night the final stage took place on partly muddy tracks promising the most thrilling duel for the title of the recent years after Team Bulls 1 had closed the gap on the top spot of the general classification to 1.06 minutes over the past four days.
As a result, the dominating duos of this year's Transalp had a game plan in store for the showdown across di Giovo Pass and Bocca di Trat as well as several technical very demanding single track downhills. However, Huber's and Stienjahn's dream burst like a bubble when Stiebjahn suffered a puncture in the first part of the race.
While Kaufmann and Kaess had opted for offence is the best defence, Stiebjahn had tried to break away with Longo and Cattaneo in the downhill from di Giovo Pass hoping that his teammate Huber would be able to power away from Centurion Vaude in the final climb of the 2018 Transalp. But other than expected, his back wheel queered his pitch.
"We had a puncture in the first downhill, and basically that was all about it," explained Huber. "But we are pleased with how the race week did unfold. It was more than we had been expecting. We were able to battle for the title until the end and also claimed five stages. Congratulations to Markus and Jochen who rode very strong and consistent. They both deserve the title."
Thanks to their victory, Kaufmann and Kaess, who both had placed second last year behind of their teammates Hermann Pernsteiner (AUT) and Daniel Geismayr (AUT), were able to extend their squads Transalp winning streak. Since 2013, a duo of Centurion Vaude has prevailed at the BIKE Transalp powered by Sigma.
"It was obvious that today would be like all or nothing with plenty of attacking by all teams. Team Bulls did try to break away a few times but we were able to maintain in control. In the end, we did benefit from Stiebjahn's technical defect," rounded up Kaufmann.
"This title means a lot to me. It's the sixth consecutive win for the squad. That Jochen and I were able to take home the win, especially after we had our problems two years ago, is amazing."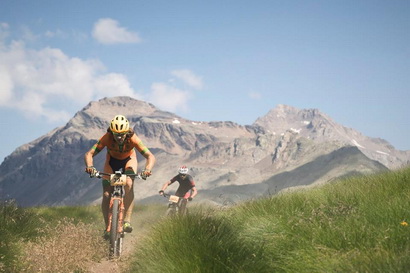 First title for Schneider and Dohrn
While the well-experienced men duo therefore clinched its fourth title within the last six years, Janine Schneider (GER) and Stefanie Dohrn (GER) earned their first in the women's event.
The mountain bikers riding for Team Nauders Canyon/Cube, who both participated in their respective second Transalp, concluded the race week with their sixth stage win (3:43.47,5) and a total time of 29:26.58,5 hours.
"It was really tough. We felt the pressure of being in the lead as you never know what your competitors are up to and still capable of. We tried to find the right balance of playing it safe and going full speed," recapped Dohrn.
In contrary, Massimo De Bertolis (ITA) and Dax Jaikel (CRC) of Wilier Force 7C have more experience leading through a long stage race.
Placing second today (3:11.05,0) behind of Sunshine Racers Nals team members Victor Paris (ITA) and Thomas Piazza (ITA),who earned their first stage win in 2018 (3:10.57,8), the former world champion and the leg-amputee from Central America not only defended their last year's title but also celebrated a title three-peat in the masters category (25:10.20,2).
In the grand masters class, Claudius Stoll (SUI) and Thomas Girardi (SUI) of Stoll Bikes brought home a well deserved title in the category reserved for the men teams with a combined age of 100+ (26:20.09,5) finishing off the finals stage as first (3:15.25,4).
In the mixed class, Verena Krenslehner-Schmid (AUT) and Philip Handl (AUT) of Imst Tourismus pulled off the rare feat of winning all seven stages to get their hands on the title (28:39.36,2) rolling in unbeaten again today after 3:43.09,3 hours.
Click here for complete results of stage seven as well as the general classification of the BIKE Transalp powered by Sigma 2018.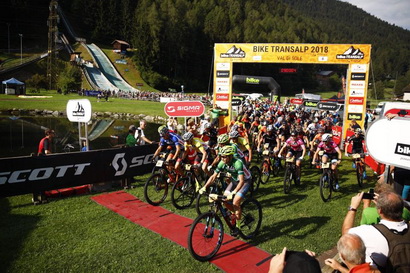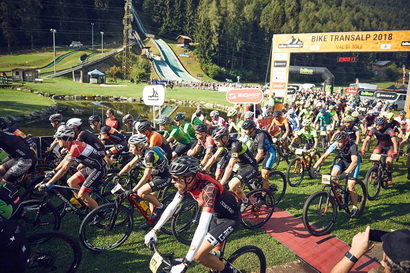 The BIKE Transalp powered by Sigma 2018 champions
Men: Markus Kaufmann (GER) / Jochen Kaess (GER), Centurion Vaude, 22:41.23,9
Women: Janine Schneider (GER) / Stefanie Dohrn (GER), Team Nauders Canyon/Cube, 29:26.58,8
Mixed: Verena Krenslehner-Schmid (AUT) / Philip Handl (AUT), Imst Tourismus, 28:39.36,2
Masters: Massimo De Bertolis (ITA) / Dax Jaikel (CRC), Wilier Force 7C, 25:10.20,2
Grand Masters: Claudius Thommen (SUI) / Thomas Girardi (SUI), Stoll Bikes, 26:20.09,5
U23: Simon Schneller (GER), Team Bulls 2, 23:38.00,5
BIKE TRANSALP POWERED BY SIGMA
Spectacular mountain bike trails, wonderful panorama, stunning passes, beautiful stage locations and participants from over 40 countries make this event a unique and unforgettable experience. Around 500 kilometers and more than 18.000 altitude meters are defeated in seven days. Pure adrenaline!
From July 15th to July 21st 2018 approx. 1.000 mountain biker will start again at the BIKE Transalp powered by Sigma – the most impressive mountain bike stage race of the world!
In 2018, the participants have to overcome seven daily stages. The riders will ride through the breathtaking Alpine landscapes to Arco at the beautiful Lake Garda.

IMPORTANT FACTS IN THE OVERVIEW
July 15th, 2018 – July 21st, 2018
21st Edition
Amateur team mountain bike race
7 daily stage: Imst (A) – Nauders (I) – Livigno (I) – Bormio (I) - Ponte di Legno (I) - Val di Sole (I) - Chiesetal (I) - Arco (I)
505,88 kilometers und 18.167 meters of altitude
approx. 1.000 participants from 40 nations
Professional event structure and organization with a team of 150 organizers and volunteers
Next to the normal starting place it is also possible to book hotel- and VIP packages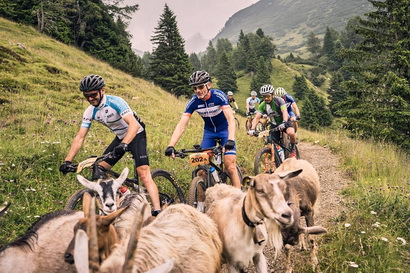 ROUTE 2018
MASSIVE ATTACK AT THE CENTRAL ALPS
The BIKE Transalp 2018 enters the rough mountain landscape between Ortler and Adamello. The mountains are enormous and the trails are ambitious. By driving next to the nearly 4.000 meter high glaciers you will discover everything from rarely used tracks to panoramic passes like the Gavia pass in about 2.621 meters high. Furthermore, we are going to pass some bike areas with great freeride fun trails. There`s a huge variety of mountain experiences but the BIKE Transalp 2018 is definitely the most worth of it.
However, let´s order it systematically: The BIKE Transalp 2018 starts in Imst and leads further on using the Via Claudia to Nauders, always viewing the Inn. The second stage is going to be the king´s stage as the way to Livigno feels like a small Transalp itself. Huge amounts of new trails are going to be entered like the Bergkastel in Nauders or the Valmora, always with focus on the Ortler. We´ve never been so early in Livigno.
For this reason, we do have five days to play with the route to Arco for example by using the enormous freeride trails at the Carosello 3.000. Hans "No Way" Rey opened the door for these trails by getting active as a consultant for Livigno. In addition, Ponte di Legno, which was a stage town in 2012, will offer a freeride trail. The Alta Via Camuna, a lonely forest path above all trees, will lead to Val di Sole to the Tonale pass.
Many new roads are waiting for all participants on the last two stages from Val di Sole to the Chiese valley and further on to Arco. There are some trails, which seem like there has never been any biker before. Trail treasures directly next to the Brenta at Madonna di Campiglio.
The BIKE Transalp 2018 offers everything mountain biking consists of.
STAGE ROUTE LEVEL KILOMETER ALTITUDE DIFFERENCE LINK
Stage 1 Imst - Nauders 5 88,90 2.942 to stage 1
Stage 2 Nauders - Livigno 5 101,82 3.512 to stage 2
Stage 3 Livigno - Bormio 4 67,98 2.239 to stage 3
Stage 4 Bormio - Ponte di Legno 4 57,66 2.393 to stage 4
Stage 5 Ponte di Legno - Val di Sole 4 49,66 1.967 to stage 5
Stage 6 Val di Sole - Valle del Chiese 5 79,45 2.805 to stage 6
Stage 7 Valle del Chiese - Arco 4 60,41 2.309 to stage 7
Total 505,88km 18.167m