SNOWBOARD CROSS. The Utah 2019 FIS Snowboard, Freestyle and Freeski World Championships opened in spectacular fashion on Friday at Solitude Mountain Resort, where an outstanding day of snowboard cross competition saw Eva Samkova (CZE) storm to gold in the ladies' competition, and the USA's Mick Dierdorff thrill the crowd by taking his first top-level international competition victory on home soil at the 2018/19 season's biggest stage.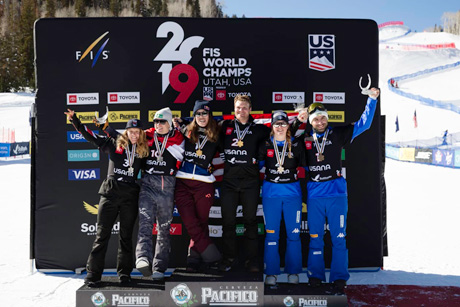 The ladies' and men's medallist of Utah 2019 SBX © Sarah Brunsson/USSA
Gold medallist at the Sochi 2014 Olympic Winter Games and a two-time World Cup crystal globe winner, Samkova had yet to earn a medal in her four previous world championships attempts.
That all changed this week at Solitude, however, as the 25-year-old took top spot in qualifiers on Thursday before winning her quarter and semifinal heats on her way to the big final medal showdown.
There, as she had done all day, Samkova jumped out to an early lead that she would not relinquish, celebrating before the line on her way into the finish area and her new role as the 2019 world champion.
"I just tried to do my best. I think it's almost better that I had to wait for this victory. My first world championships was in 2011, so it took a while to get this win, but it's good like this. I still believe that our sport isn't all about medals. You can have fun and have a great day of riding even without winning a medal. I tried not to put pressure on myself before the race and just try and enjoy it, and I think that's the good way to do it. But I was fifth in 2011 and then got worse and worse (at world championships) after that, so I'm happy that I made it today."
Charlotte Bankes would claim a historic silver, giving Great Britain its first-ever major snowboard cross competition podium result. Meanwhile, reigning Olympic champion Michela Moioli (ITA) would claim world championships bronze for the third-straight time. Just off the podium in fourth place was Moioli's Italian teammate Francesca Gallina.
USA's Dierdorff thrills home crowd
Mick Dierdorff came into competition at Solitude as something of an underdog on the personality-packed and heavily-decorated US squad, holding but two World Cup podiums to his name and no prior world championships experience.
However, on Friday the 27-year-old made good on his first world champs opportunity. Battling his way through some tough heats all the way to the big final, he put down a superb final run that saw him move from the back of the pack out of the gate into the lead by the first corner, where he would attempt to hold off a relentless challenge from Hanno Douschan (AUT) through to the finish.
As it became clear Dierdorff would claim gold on home soil, his US SBX teammates rushed into the finish area, mobbing the winner before he had even come to a complete stop and lifting him onto their shoulders as his family, friends and fans surrounding the finish area cheered on.
"I don't even know where my emotions are right now," said Dierdorff, fresh off his win, "I'm in the clouds and I'm not sure if this moment will ever sink in. This is craziest moment I have had in my life. This past year for me, I trained super hard with the ultimate goal of making it to the Olympics and I made that goal happen. After checking that box, I just thought, what's next, let's keep going. I know I'm one of the best out there and if I work as hard or harder than everybody I can end up on top. It's my first win on the World Cup level at the World Championships! I can't even comprehend all the support I have had and have here today. I tried to keep it loose up there, but then get in the zone once I got in the gate. I'm fired up that I ended up on top."
Like Dierdorff, Douschan came into Utah 2019 with only two World Cup podiums and no major victories to his name in a career that has been plagued by injuries. That all changed on Friday though, as he swept across the podium behind Dierdorff for the silver medal.
And, finally, rounding out the podium with the bronze medal was 32-year-old veteran Emanuel Parethoner (ITA), giving the Italian squad a pair of Utah 2019 snowboard cross medallists to wrap-up a hugely successful start to the 10-day championships for the squad in blue.
The men's fourth place finisher was Lucas Eguibar (SPA) who crashed over the final jump as he battled for the bronze with Parethoner.
The top men and ladies' of snowboard cross will be back on track come Sunday for a historic competition, as the first-ever international-level mixed team SBX event will take to the slopes of Solitude to close out Utah 2019 competition at the resort.
FIS snowboard
01 Feb 2019