ALPINE SKI WORLD CUP BANSKO 2019. The Bulgarian resort of Bansko hosted his last race of the 2019 edition today, with the 6th giant slalom of the season on the Alberto Tomba track. No big surprise came out of the first run, as the current three best giant slalom skiers Hirscher-Kristoffersen-Pinturault were occupying the Top 3 spots. But the outcome after the second run was slightly different, with Kristoffersen moving up to the win, Hirscher taking second and Thomas Fanara claiming third.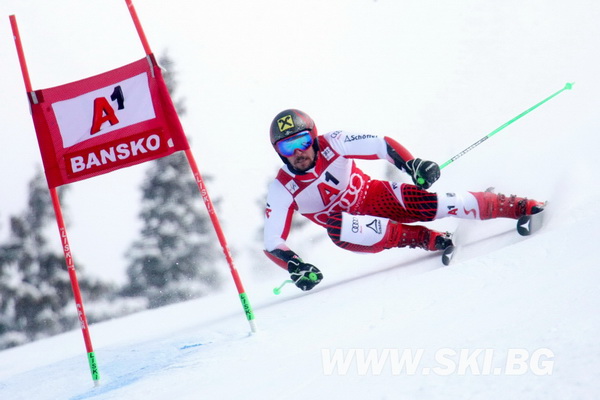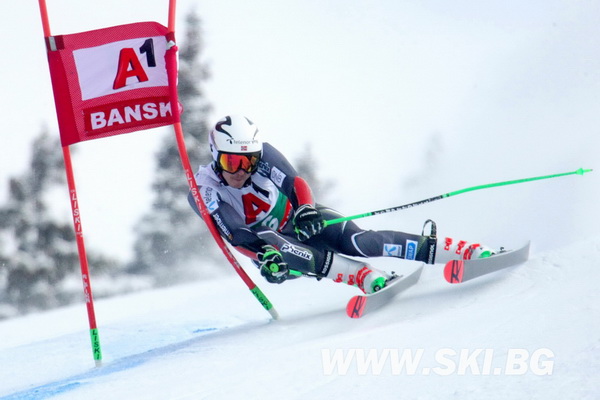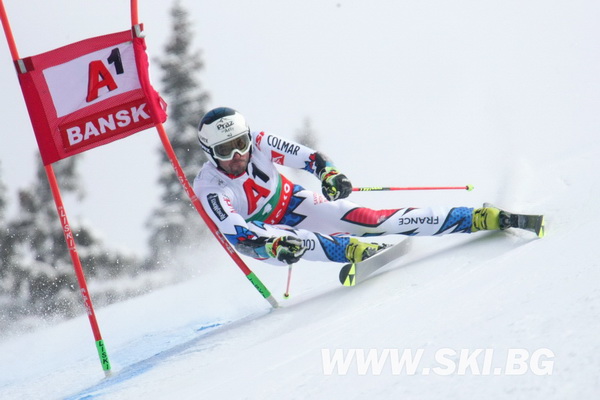 Henrik Kristoffersen started his career as a super talent in slalom, but over the years he improved his giant slalom skills a lot and he now has 17 World Cup podiums in that discipline. He won a World Cup race in Méribel in 2015, but never made it back to the very top until today in Bansko. This win followed up with the World Champion title he won in that discipline one week ago in Åre.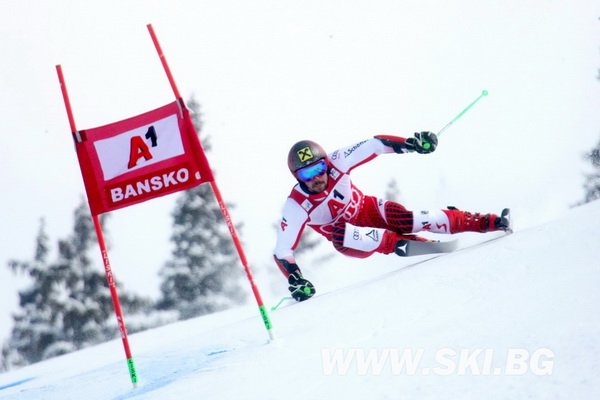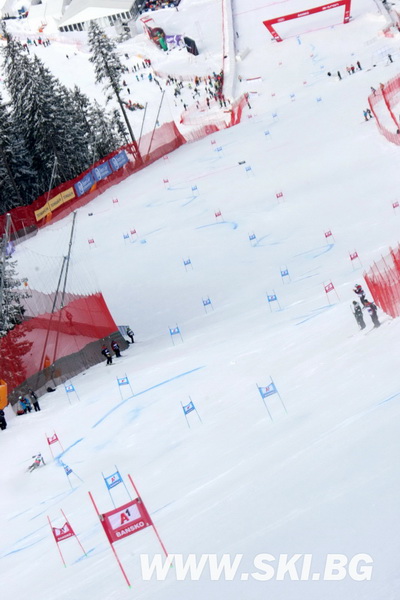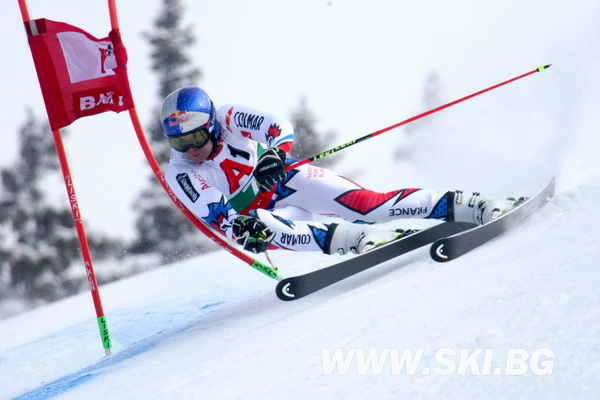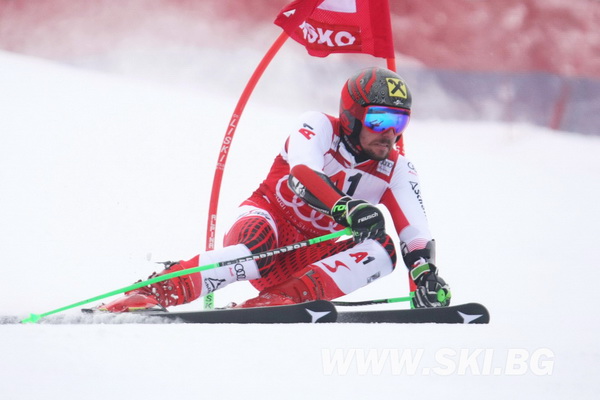 The discipline globe is out of reach though. With his second place in today's race, Marcel Hirscher earned the giant slalom globe for the 6th time in his career. He now has a total of 19 World Cup globes in his collection, as he also secured the slalom globe earlier this season. And is likely to claim the Overall as well, equaling the record of 20 globes set by Lindsey Vonn.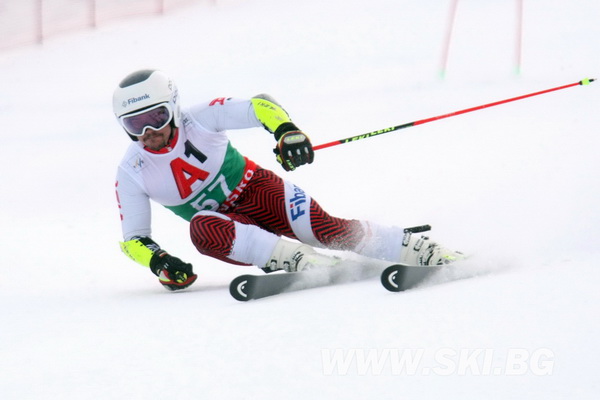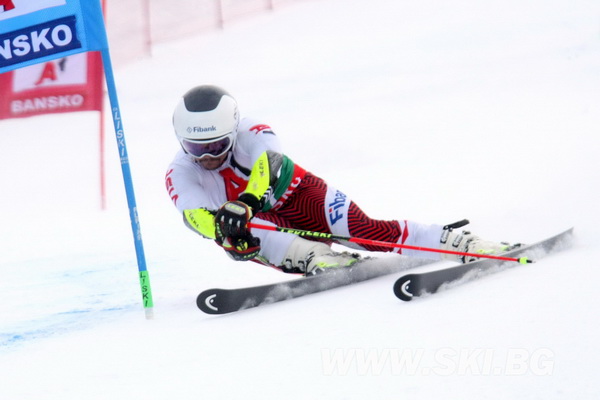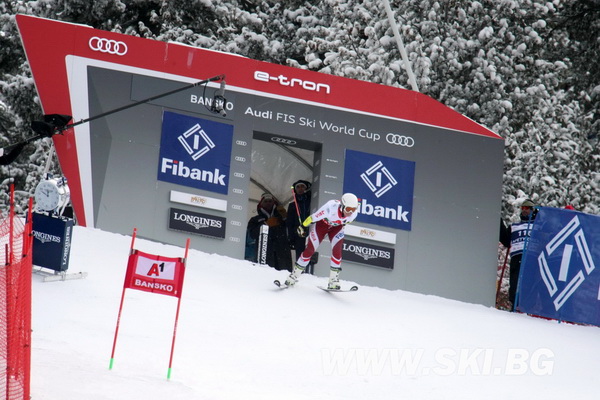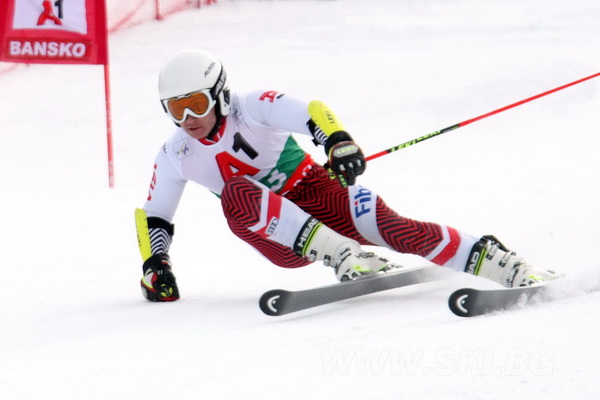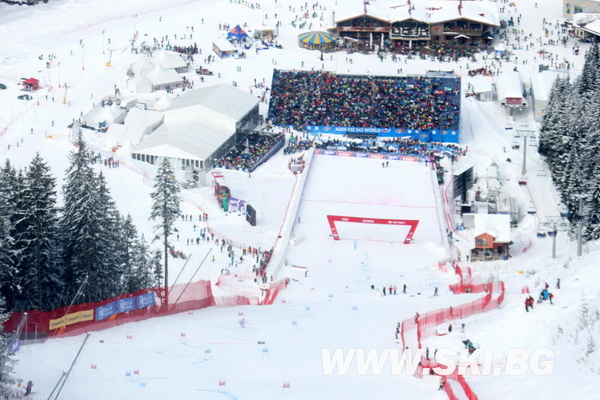 Frenchman Thomas Fanara is impressive this season. The almost 38 year old giant slalom specialist is enjoying his last season on the World Cup Tour and could celebrate not less than three podiums so far, in Alta Badia, Adelboden and now in Bansko. That brings him to 14 World Cup podiums in career, including one win at the World Cup finals in St. Moritz in 2016.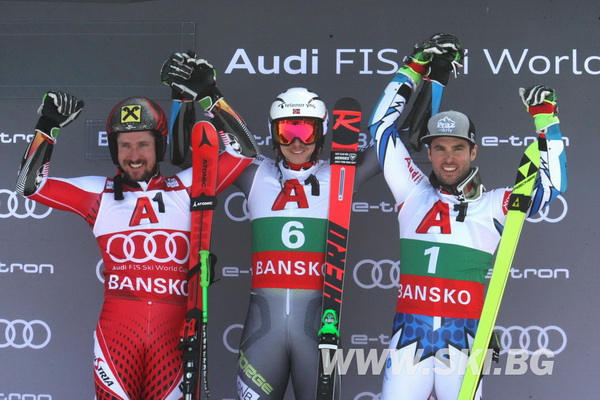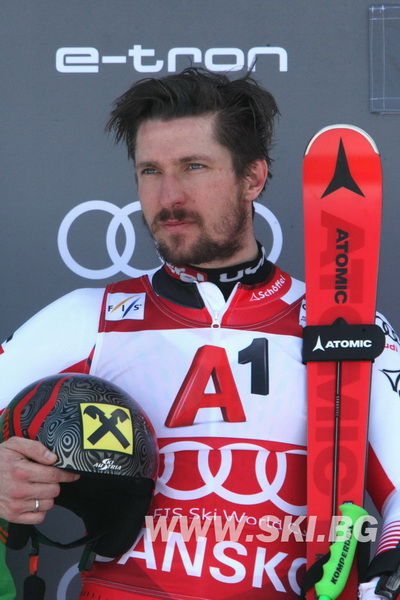 It's now turn for the speed skiers to resume their World Cup season, with the traditional race week-end in Kvitfjell, where two downhills and a super-g will be held on 1st-3rd March.
FIS alpine
24 Feb 2019
Henrik Kristoffersen | 1st place | Men's Giant Slalom | Bansko | FIS Alpine
Marcel Hirscher | 2nd place | Men's Giant Slalom | Bansko | FIS Alpine
Thomas Fanara | 3rd place | Men's Giant Slalom | Bansko | FIS Alpine
Henrik Kristoffersen | "I feel really good" | Men's Giant Slalom | Bansko | FIS Alpine
@BanskoWorldCup @Bansko Winter Resort @FIS alpine #BanskoWorldCup #bansko2019 #FISalpine #GS #men
AUDI FIS SKI WORLD CUP 2018/19
OFFICIAL RESULTS GS
Bansko (BUL)
Jury
FIS Technical Delegate PANOVSKI Bojan MKD
Referee WALDNER Markus FIS
Assistant Referee COUDER Emmanuel FIS
Chief of Race GICHEV Viktor BUL
Technical Data
Course Name Banderiza
Start Altitude 2060m
Finish Altitude 1610m
Vertical Drop 450m
Homologation Number 12429/10/17
Race Information Run 1
Course setter BERGANT Klemen SLO
Gates/Turning Gates 54/51
Start Time 10:30
Race Information Run 2
Course setter AGNELLET Jean-Michel FRA
Gates/Turning Gates 54/51
Start Time 13:30
Number of Competitors: 64 Number of NSA: 21 F-factor: 1010
Bib FIS Code Rank Name Year of Birth NSA Code Run 1 Time Rank Run 2 Time Rank Total Diff. Race Points Ski
1 6 422304 KRISTOFFERSEN Henrik 1994 NOR 1:15.17 (2) 1:11.70 (4) 2:26.87 0.00 Rossignol
2 2 53831 HIRSCHER Marcel 1989 AUT 1:14.95 (1) 1:11.96 (12) 2:26.91 0.04 0.28 Atomic
3 1 191750 FANARA Thomas 1981 FRA 1:15.73 (5) 1:11.53 (2) 2:27.26 0.39 2.68 Fischer
4 7 194364 PINTURAULT Alexis 1991 FRA 1:15.63 (3) 1:11.73 (6) 2:27.36 0.49 3.37 Head
5 3 561244 KRANJEC Zan 1992 SLO 1:15.76 (6) 1:11.77 (7) 2:27.53 0.66 4.54 Rossignol
6 5 501324 OLSSON Matts 1988 SWE 1:15.72 (4) 1:12.15 (16) 2:27.87 1.00 6.88 Head
7 22 422278 WINDINGSTAD Rasmus 1993 NOR 1:17.00 (12) 1:11.54 (3) 2:28.54 1.67 11.48 Rossignol
8 19 512269 ODERMATT Marco 1997 SUI 1:16.82 (11) 1:11.89 (10) 2:28.71 1.84 12.65 Stoeckli
9 11 531799 FORD Tommy 1989 USA 1:16.57 (9) 1:12.19 (17) 2:28.76 1.89 13.00 Head
10 9 421669 NESTVOLD-HAUGEN Leif Kristian 1987 NOR 1:18.05 (26) 1:11.00 (1) 2:29.05 2.18 14.99 Rossignol
11 21 202597 SCHMID Alexander 1994 GER 1:17.37 (17) 1:11.77 (7) 2:29.14 2.27 15.61 Head
12 4 512182 MEILLARD Loic 1996 SUI 1:16.40 (7) 1:12.76 (25) 2:29.16 2.29 15.75 Rossignol
13 14 194495 FAIVRE Mathieu 1992 FRA 1:17.07 (13) 1:12.30 (20) 2:29.37 2.50 17.19 Head
14 20 291318 TONETTI Riccardo 1989 ITA 1:17.42 (19) 1:12.14 (15) 2:29.56 2.69 18.50 Blizzard
15 13 193967 MUFFAT-JEANDET Victor 1989 FRA 1:17.18 (14) 1:12.39 (22) 2:29.57 2.70 18.57 Salomon
16 26 6530319 COCHRAN-SIEGLE Ryan 1992 USA 1:17.55 (20) 1:12.06 (14) 2:29.61 2.74 18.84 Rossignol
17 29 103865 PHILP Trevor 1992 CAN 1:17.67 (21) 1:11.99 (13) 2:29.66 2.79 19.19 Rossignol
17 10 990116 de ALIPRANDINI Luca 1990 ITA 1:16.42 (8) 1:13.24 (27) 2:29.66 2.79 19.19 Salomon
19 8 54063 FELLER Manuel 1992 AUT 1:17.37 (17) 1:12.51 (24) 2:29.88 3.01 20.70 Atomic
20 45 511867 NOGER Cedric 1992 SUI 1:17.99 (23) 1:11.92 (11) 2:29.91 3.04 20.91 Nordica
21 15 292491 MOELGG Manfred 1982 ITA 1:17.86 (22) 1:12.25 (19) 2:30.11 3.24 22.28 Fischer
22 25 103729 READ Erik 1991 CAN 1:18.42 (30) 1:11.70 (4) 2:30.12 3.25 22.35 Fischer
23 17 511852 CAVIEZEL Gino 1992 SUI 1:17.22 (15) 1:12.91 (26) 2:30.13 3.26 22.42 Dynastar
24 41 422073 NETELAND Bjoernar 1991 NOR 1:18.38 (29) 1:11.78 (9) 2:30.16 3.29 22.62 Fischer
25 24 380335 ZUBCIC Filip 1993 CRO 1:18.04 (25) 1:12.22 (18) 2:30.26 3.39 23.31 Atomic
26 49 700879 ZAMPA Andreas 1993 SVK 1:18.22 (27) 1:12.39 (22) 2:30.61 3.74 25.72 Salomon
27 31 54093 STROLZ Johannes 1992 AUT 1:18.25 (28) 1:12.38 (21) 2:30.63 3.76 25.86 Head
28 18 511638 TUMLER Thomas 1989 SUI 1:18.02 (24) 1:13.58 (28) 2:31.60 4.73 32.53 Fischer
29 12 534562 LIGETY Ted 1984 USA 1:17.24 (16) 1:15.33 (29) 2:32.57 5.70 39.20 Head
DID NOT FINISH RUN 2: 1 competitor
23 54027 BRENNSTEINER Stefan 1991 AUT Fischer
DID NOT QUALIFY FOR RUN 2: 25 competitors
28 54031 LEITINGER Roland 1991 AUT 1:18.62 (31) Fischer
57 92720 POPOV Albert 1997 BUL 1:18.68 (32) Head
37 990051 BOSCA Giulio Giovanni 1990 ITA 1:18.70 (33) Blizzard
39 561322 HADALIN Stefan 1995 SLO 1:18.77 (34) Rossignol
27 511741 ZURBRIGGEN Elia 1990 SUI 1:18.77 (34) Voelkl
48 194935 FAVROT Thibaut 1994 FRA 1:18.84 (36) Dynastar
30 202462 DOPFER Fritz 1987 GER 1:18.90 (37) Nordica
33 60261 MAES Sam 1998 BEL 1:19.07 (38) Rossignol
56 481103 ANDRIENKO Aleksander 1990 RUS 1:19.09 (39) Rossignol
34 481327 TRIKHICHEV Pavel 1992 RUS 1:19.15 (40) Rossignol
43 290095 BALLERIN Andrea 1989 ITA 1:19.18 (41) Fischer
36 6291430 MAURBERGER Simon 1995 ITA 1:19.34 (42) Blizzard
42 422469 SOLHEIM Fabian Wilkens 1996 NOR 1:19.35 (43) Rossignol
60 202765 NORYS Frederik 1996 GER 1:19.36 (44)
38 54144 MEIER Daniel 1993 AUT 1:19.36 (44) Rossignol
55 54359 FEURSTEIN Patrick 1996 AUT 1:19.37 (46) Rossignol
44 221213 RAPOSO Charlie 1996 GBR 1:19.42 (47) Rossignol
46 202265 STAUBITZER Benedikt 1990 GER 1:19.65 (48) Blizzard
53 180666 TORSTI Samu 1991 FIN 1:19.77 (49) Nordica
51 180732 NIEMELA Arttu 1994 FIN 1:19.80 (50) Augment
63 92721 TODOROV Yoan 1997 BUL 1:20.08 (51) Head
58 990048 BORSOTTI Giovanni 1990 ITA 1:20.12 (52) Salomon
50 400237 MEINERS Maarten 1992 NED 1:21.00 (53) Rossignol
40 410364 FEASEY Willis 1992 NZL 1:21.53 (54)
62 304139 SHIN Masanori 1993 JPN 1:21.57 (55)
DID NOT FINISH RUN 1: 9 competitors
16 422139 KILDE Aleksander Aamodt 1992 NOR Head
32 6530500 McLAUGHLIN Brian 1993 USA Head
35 54104 WALCH Magnus 1992 AUT Rossignol
47 6530486 KRAUSE Nicholas 1993 USA Head
52 422507 HAUGAN Timon 1996 NOR Rossignol
54 501898 ROENNGREN Mattias 1993 SWE Head
59 303097 ISHII Tomoya 1989 JPN Fischer
61 202451 STRASSER Linus 1992 GER Rossignol
64 230651 ANTONIOU Ioannis 1995 GRE
Forerunners:
Run 1 F1-ZLATKOV Kamen BUL F2-STOILOV Konstatin BUL F3-TOMOV Anton BUL
Run 2 F1-ZLATKOV Kamen BUL F2-LYAPEV Kristiyan BUL F3-SEMERDZHIEV Nikola BUL
Conditions on course:
Run 1 MOSTLY CLOUDY Snow: HARD Temperature - Start: -11°C Temperature - Finish: -8°C
Run 2 MOSTLY CLOUDY Snow: HARD Temperature - Start: -7°C Temperature - Finish: -5°C