SKI CLASSICS. Visma Ski Classics, the long distance ski championship, just finished off its ninth season. The tour consisted last winter of 12 live broadcasted events from south to north of Europe. Before the Visma Ski Classics 10th anniversary the tour now add the name Pro Tour and launch the new Challengers series, which opens for an unlimited number of events worldwide to be part. The Pro Tour and the Challengers will have a dynamic relationship where events may move between the tiers over time.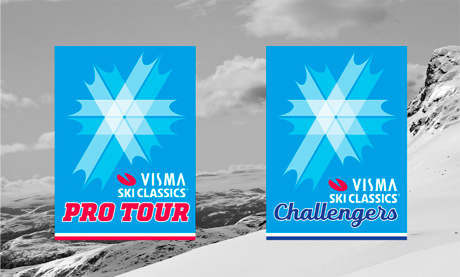 " The Launch of the Challengers is a milestone for Visma Ski Classics and the long distance skiing sport in general. The Pro Tour has a physical limit of 10-13 events per season, and all take place in Europe. The reason for the limit is that we want all pro team athletes stars to be able to start at all events, and the events are very tough and an athlete can not do infinite number of races. To be part of the Pro Tour events also need to have an expensive media production in place. To be able to welcome all events that are showing interest in being part of Visma Ski Classics we now launch the Challenger series. It is free of charge for events worldwide to be a Challenger.
Pro Team athletes will also be able collect important points for the yellow champion bib, we hope that this motivates them to ski in their local events, where they are heroes, increasing the interest for the Challengers event and long distance skiing in general. Visma Ski Classics will also help to promote the Challenger events through its marketing and social media channels. This is our way to take a stronger responsibility for the development of long distance skiing into the future! " says David Nilsson CEO Visma Ski Classics
The Challengers serie also opens up for an integration between pro team athletes and recreational skiers. Pro Team athletes may count the best Challenger event result per season in the Yellow Champion bib race, and also collect important ranking points.
The launch of Challengers will include the introduction of a new gender neutral ranking system opening up also for recreational skiers to compare themselves to friends and colleagues taking part in all Visma Ski Classics events. Men and women skiers will be in the same ranking list, where points are collected depending on the time gap percentage from the events winning athlete of an athlete's gender. Recreational skiers may also on the new My Pages section on vismaskiclassics.com to collect results, interactive diplomas and digital pins from completed events. More information about the new SC ranking will be launched in the fall in front of the upcoming Season X 2019/2020.
For more information about Challengers contact:
challengers@skiclassics.com
www.vismaskiclassics.com
Visma Ski Classics Pro Tour X (2019/2020) is launched May 15th 2019, stay tuned!
Press Release
Visma Ski Classics
Tue, April 16, 2019 1:04 pm