БИАТЛОН. Главният треньор на националния отбор на Санкт Петербург Александър Касперович, който има предварително съгласие да работи в Българската федерация по биатлон, все още не е напуснал работата си, потвърди днес пред "РИА Новости" президентът на петербургската федерация по биатлон Дмитрий Василиев.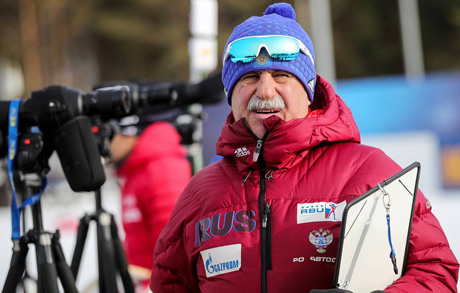 Alexander Kasperovich, head coach of the Russian national biathlon team, during a training before the start of the 2017/2018 Season IBU Biathlon World Cup meeting in Tyumen, Russia on March 21, 2018. Sergei Bobylev/TASS
Тази новина оборва "сензационните" твърдения в някои български медии, че имало скандал в Русия по отношение на бъдещия старши треньор на българските биатлонисти Касперович и че специалистът вече бил уволнен от петербургската федерация по биатлон.
Преди няколко дни Касперович, който е личен треньор на звездата на руския отбор по биатлон Александър Логинов, заяви пред "РИА Новости", че се е съгласил да ръководи българския отбор, и каза, че в понеделник на среща с Василиев в присъствието на главния треньор на петербургския тим Сергей Башкиров ще обсъдят и решат всичко.
"Нямаше нищо особено на срещата, всичко вървеше редовно, обсъждаха се работни въпроси. Засега той не ни напуска, първо трябва да отиде в България и да уговори всичко окончателно. Формално погледнато Касперович ще трябва да напусне нашата федерация, тъй като основната му месторабота ще бъде Федерацията по биатлон на България. Но той каза, че ще продължи да ни помага. Струва ми се, че е рано да говорим за бъдещето", коментира Дмитрий Василиев в разговор по телефона с кореспондента на "РИА Новости" Сергей Астахов.
Според Касперович, когото президентът на БФБиатлон Екатерина Дафовска обяви преди наколко дни като бъдещия страши треньор на националния ни отбор по биатлон, българските биатлонисти са способни да спечелят медали на Олимпийските игри, като особено обещаващ според него е отборът за смесената щафета.
SKI.BG
27 май 2020 г.