TOURISM. Are you looking for a holiday that will be fun for the little ones and also delight teenagers and grown-ups? Then Tirol is the perfect holiday destination: 17 Tirol Family Nests and 19 child-friendly farmsteads focus on their little guests by providing facilities suitable for children, a high-quality adventure programme, and the support of a busy bee.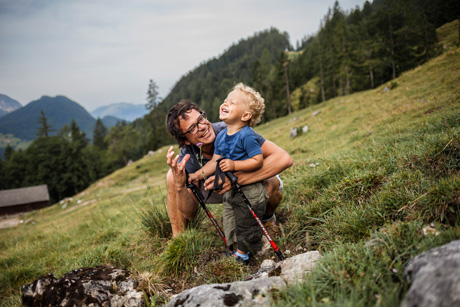 Family Holidays at Wilder Kaiser, photo © Robert Rupeter
So, what is the connection between a busy bee and a summer holiday in Tirol? It's very simple: The little bee Biene Line is the mascot of the Tirol Family Nests this year. She accompanies the children and teenagers on their holiday adventures – and there are plenty of adventures in the programme offered by the partner regions! Each year, a new close-to-nature summer programme is created and is led by around 100 fully trained childcare experts and youth leaders. All the activities are free of charge – all you pay is a small contribution towards expenses. In total, already 17 Tirolean regions are part of the network of Tirol Family Nests, and every summer between June and the beginning of September, up to 30,000 children participate in the programmes.
The Tirol Family Nests are particularly suitable for families due to the 300 family-friendly accommodations customised for the needs of parents and their children: several outside and indoor playing opportunities, ideally equipped dining areas, and spacious family rooms.
In addition to the diverse weekly activity programme, there are several highlights to explore in the Tirol Family Nests: the Spruce Tree Castle, the Amusement and Adventure Park, and the Ice Cave. These are the perfect destinations for a family day out in nature.
Find out more about the Tirol Family Nests: www.tyrol.com/family-experts
Farmstead Holiday in Tirol
Not only the Tirol Family Nests but also the Farmstead Holidays are a front-runner when it comes to extraordinary family time. In Tirol, 19 quality-approved and child-friendly farmsteads make this time-out in nature unforgettable. Their facilities are suitable for children, and the family-friendly locations are in quiet areas. However, the children will be most impressed by the activities on the farm: Jumping in the hay, petting animals, riding along on the farm tractor, running around barefoot, or milking the cows are just some of the fun activities on the daily holiday to-do list. Does this sound perfect? Of course it does!
Find out more about Farmstead Holidays in Tirol: www.tyrol.com/farm-holidays
Press Release
Tirol Werbung
27.08.2020