CINEMATOGRAPHY. Ski Racing Media, in association with POC and Jalbert Productions International, is pleased to announce the upcoming release of "American Downhiller," Ski Racing's first feature-length documentary.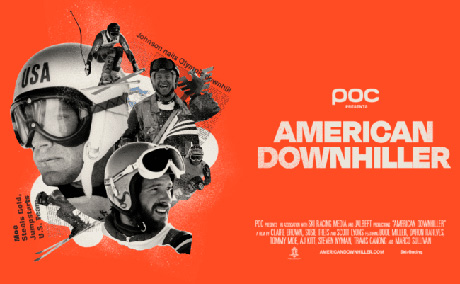 Produced by Ski Racing's Claire Brown and Susie Theis, along with former NBC researcher Scott Lyons, "American Downhiller" is a tribute to the legacy of the U.S. downhill brotherhood, distilled from five years of interviews and archival footage that walks audiences through the legacy of the U.S. men's downhill ski team. Featuring legends, such as Tommy Moe, Bill Johnson, AJ Kitt, Daron Rahlves, Bode Miller, and many more, the film reveals the stories behind a culture that spans several generations of American Downhillers.
"This was really a labor of love for our team," said Brown. "We thought this was an important project to tell these stories before they are forgotten — or maybe they've already been forgotten. The bond between the generations of American Downhillers is really inspiring. The early guys, like Buddy Werner and Bill Johnson, paved the way for the more modern racers, and it has been a fascinating process to explore the lives and history of these incredible athletes while revisiting the origin of the sport."
Narrated by American Downhiller and alpine ski racing broadcaster Steve Porino, "American Downhiller" is set to debut at a sold-out advanced showing in Park City, Utah on Sept. 20. It will be fully released and available to the public Friday, Oct. 2. on SkiRacing.com. Thanks to the generosity and support of POC, the film will be presented to audiences free of charge.
"We were lucky to live, travel and experience, not only (the athletes') avocation and their desire to be downhill racers, but them as individuals and human beings and that was really for me personally one of the great rewards of our work in general," said executive producer Joe Jay Jalbert Sr. of Jalbert Productions. "It's one thing to be in Kitzbuehel or Wengen or Birds of Prey or Val d'Isere … But it's a real treasure of ours and mine, in particular, to have befriended these young men that we are still very close to and dear friends today."
Long before retired Olympic speed skier Marco Sullivan coined the term "American Downhiller," there existed a band of brothers, a team culture that manifested throughout years of competition, sacrifice, and perseverance on the world stage, far from home. In the early days of the World Cup, the U.S. men were well aware that they weren't welcome in this European game, but they invited themselves anyway, fighting tooth and nail in the toughest away game imaginable.
Fast forward to today and the American Downhiller ethos has transformed into an entire brand, one that hosts speed camps for young athletes in an effort to preserve the knowledge and skill obtained by both current and retired athletes on the men's and women's World Cup tours.
"This movie shows the roots of ski racing and what it's like to just wanna be one of the fastest guys down the mountain," said Sullivan. "It's not about if you're getting paid or if it's the most glamorous thing. It's all about the fun and the thrill of the whole deal. These legends, they were doing it because it was the most badass thing to do."
Throughout the years, the U.S. men have earned 110 World Cup podiums, eight Olympic medals, nine World Championship medals, and won 38 World Cups. The one thing left on the table is the elusive downhill title.
"If we can inspire more young kids to wanna strap 'em on, and go to Europe and compete in somebody else's sport, and go dominate, and go 'plant the flag' in the finish line, that's where I really think this movie can take people who watch it," said World Cup downhill winner AJ Kitt. "I'm hoping that what it results in is that somebody goes and wins the men's downhill title. This is the icing on the cake, this is the one piece of the puzzle that we're missing."
Previous episodes of "American Downhiller" developed by Brown, Theis, and POC acted as deep dives into specific aspects of the American downhiller culture, but the film itself ties individual stories together through an overall timeline, tracing back to Buddy Werner and the origins of World Cup ski racing. What began as a mission to persevere and share the history of the U.S. men's downhill team — their successes and failures — through an episodic series available on YouTube has evolved into what Steven Nyman describes as a "a call to arms."
"We've got an amazing platform now to tell the story and bring awareness to the American downhiller team and hopefully help enable them to perform at their best and keep this brotherhood going," says POC's Chief Marketing and Digital Officer David DeMartini. "We can help enable the skiers to inspire that next generation by being a megaphone, but ultimately it's the ADH movement that is so inspiring and we're happy to just play a role in helping facilitate telling that story. That's the goal, to keep contributing to the sport in a positive way and this was an opportunity to do that."
The premiere itself is sold out in Park City. But for fans who are interested in the story of the American Downhiller, a digital version of the documentary will be available on SkiRacing.com Friday, Oct. 2.
And stay tuned for more in-depth stories about the making of "American Downhiller" on www.SkiRacing.com.
Ski Racing Media
September 18, 2020