VISMA SKI CLASSICS. On Saturday, January 16th, it's time for the long-awaited start of Visma Ski Classics season XI. The 65 km mass start race starts at 08:10 am CET with the women's race followed by the men's start at 08:40 am CET.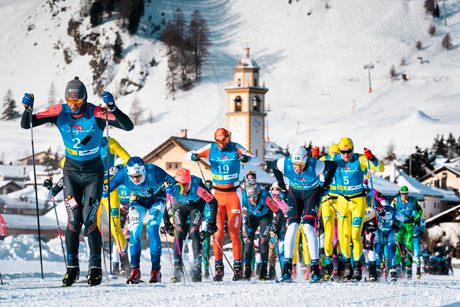 photo by Magnus Östh / Visma Ski Classics
It's been snowing a lot in the Engadin valley the last days. But the weather forecast on Saturday predicts sunny weather and a temperature between -16 and -8 degrees Celsius. In case of avalanche risks, a plan B is prepared.
The course runs from Zuoz via La Punt and Celerina to the lake of St. Moritz, then over the lake of Staz to Pontresina, the Engadin airfield back, and to Zuoz. Usually, the race ends with a climb up to the finish in the village of Zuoz. This year the finish will be at the starting area to not get too crowded with people considering Covid-19.

The course has no climb points, but there are two sprint competition points; the first one at 16 km in Samedan and the second one at 22 km in St. Moritz.

Due to the later start of Season XI, many athletes are uncertain about their shape but are very excited to get started.

THE FACTS - ENGADIN LA DIAGONELA
LOCATION: Zuoz, Switzerland
DATE: Saturday, January 16th 2021
START TIME: Women CET 08:10, Men CET 08:40
DISTANCE: 65 km Classic Technique
VISMA SKI CLASSICS SPRINTS: Samedan: 16 km, St. Moritz: 22 km
VISMA SKI CLASSICS CLIMBS: 0 climbs
NO OF SERVICE STATIONS: 7
WEBSITE: www.ladiagonela.ch
press release
Visma Ski Classics
Thu, January 14, 2021