FIS. Председателят на Българската федерация по ски г-н Цеко Минев беше избран за член на Съвета на Международната федерация по ски (FIS). Това стана по време на 52-ия конгрес на ФИС, който се проведе днес. Кандидатите за 16-членния Съвет на ФИС (FIS Council) бяха 19.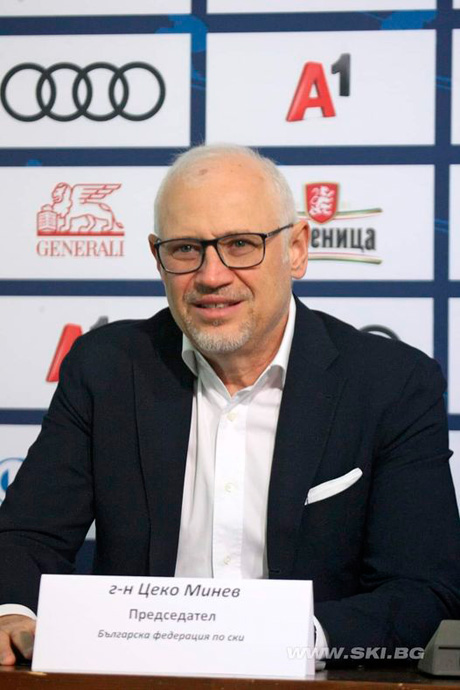 Г-н Минев влиза в историята като първият българин член на най-висшия ръководен орган, който управлява зимните спортове. За президент на Международната федерация по ски беше избран Йохан Елиаш. Той поема поста от Джанфранко Каспер.
"Благодарен съм на колегите от целия свят за гласуваното ми доверие да стана член на Съвета на ФИС. Изборът ми е резултат от упорития труд в последните 20 години, чрез който успяхме да върнем България на картата на световните ски, да станем водеща дестинация, както и да постигнем изключителни успехи в зимните спортове. Това е и признание за всички, които подкрепят българските ски – състезатели, треньори, деятели, спонсори и зимните ни курорти. Надявам се, че с колегите от новия Съвет на ФИС ще допринесем за следващото ниво на световните ски", коментира г-н Минев.
Пламен Вълков
пресаташе на БФСки
The new FIS Council Member Mr. Tzeko Minev
Tzeko Minev (*1960) has been member of the FIS Sub Committee for the Alpine World Cup since 2006 as well serving as a member of the former FIS Commission of European Questions.
Minev was a member of the Executive board of Bulgarian Olympic Committee from 2005-2019, when he has been elected as a Vice-President, responsible for the winter sports development.
For the last 18 years, since 2003, Mr. Minev has served as the President of the Bulgarian Ski Federation. He also served as a chairman of the LOCs of all 11 Alpine and Snowboard World Cups held in Bulgaria since 2007.
He has enjoyed a remarkable career in banking and investments, and is the founder and one of the majority shareholders of Fibank. He stands behind the development of Bansko ski resort and other big-scale investments projects in ski sports.
A holder of a Master's degree in Economics, he is married, with one son and lives in Sofia. He is a passionate skier, tennis player and former player from the Bulgarian national water-polo team.
FIS
02 Jun 2021