ATHENS, Greece (AP), By ELENA BECATOROS and NICHOLAS PAPHITIS. A severe snowstorm disrupted road and air traffic Monday in the Greek capital of Athens and in neighboring Turkey's largest city of Istanbul, while snow blanketed most of Turkey and Greece, including several Aegean islands.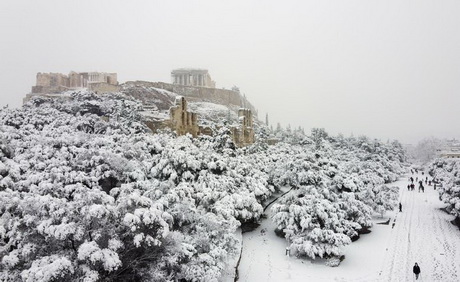 The ancient Acropolis hill is covered with snow in Athens, Greece, Monday, Jan. 24, 2022, (c) Reuters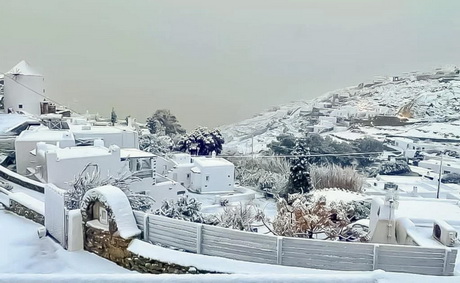 Mykonos Cyclades snow, Credit: Greek Reporter/Stacey Papaioannou
Heavy snowfall has disrupted air traffic in the Greek capital of Athens and in neighboring Turkey's largest city of Istanbul, while several Aegean islands and much of Turkey are blanketed by snow.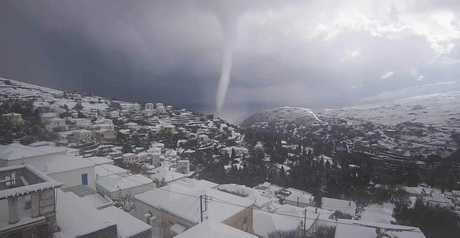 Andros, (c) meteology.gr

The Greek government declared a holiday Tuesday in the greater Athens area, parts of central Greece and the islands to keep people from leaving home. Key branches of the civil service as well as food stores, gas stations and pharmacies will stay open.
"We ask citizens to avoid leaving their homes. It will be a difficult night," Climate Change and Civil Protection Minister Christos Stylianides said. "The height of the snow is unprecedented in some areas."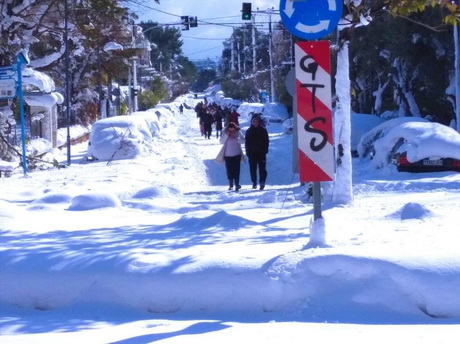 Vrilissia, Credit: Greek Reporter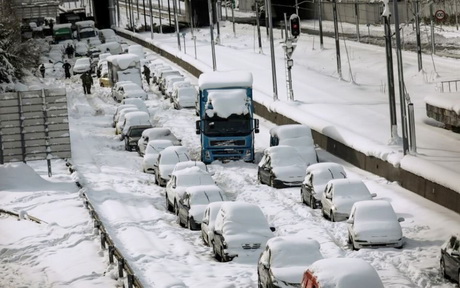 Attiki odos, Credit: Intime

The storm snarled traffic in Athens and put most public transport out of action. Army and fire service teams were deployed late Monday to extract hundreds of motorists trapped for hours in snowed-in cars, taking them to rented hotel rooms. Some people abandoned their vehicles and walked home in the snow.
Rail transport was also affected, and state ERT TV reported that three people were lightly injured when an engine accidentally crashed into a stuck train with about 200 people on board that it had been sent to extract. The accident occurred near the town of Livadia in central Greece.
Turkish authorities in Istanbul, a metropolis of 16 million people, suspended intercity bus service and temporarily blocked travel to the city from Turkey's Thrace region. People stranded on roads abandoned vehicles to walk home or crowded subway and other public transportation. Schools across Turkey are closed for a winter break, but universities halted classes for two days. Public offices and shopping malls closed early.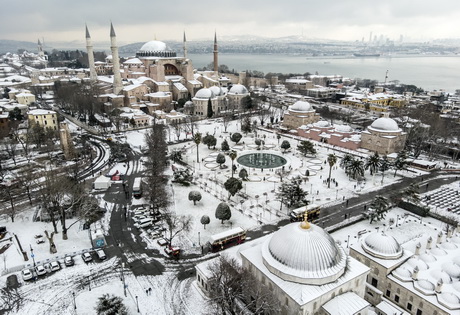 Istanbul , Credit: AP Emrah Gurel
The Istanbul governor's office announced that civil servants would be allowed to stay at home Tuesday, except for those employed in security, health and transportation sectors.
"It is a difficult night," Istanbul Mayor Ekrem Imamoglu declared. He urged people not to leave their homes. Snow had reached 80-85 centimeters (31-33 inches) deep in some parts of Istanbul, he said.
Flights in and out of Istanbul Airport were suspended until 4 a.m. Tuesday. Authorities worked to clear runways and a road leading to the airport, where the roof of a facility used by Turkish Airlines' cargo department collapsed from the weight of snow. No one was hurt.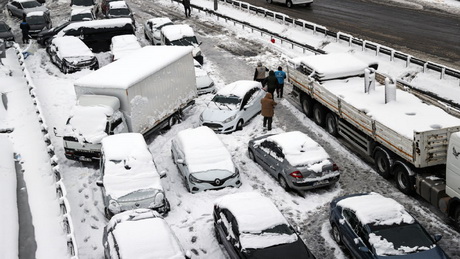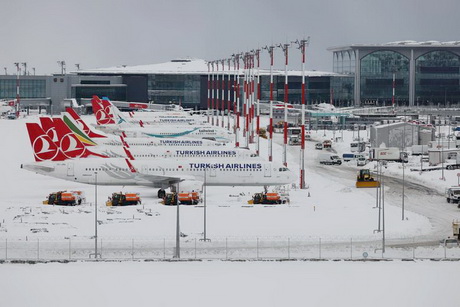 Flurries were forecast to continue over the next few days in Istanbul and Greece.
In Greece, schools in many areas were closed. Government spokesman Giannis Oikonomou said more than 46,000 school classes were being held online.
The snow came down thick and fast throughout the day in central Athens, settling on the marble temples of the ancient Acropolis.
Snow chains were mandatory for cars on many roads, while trucks were banned from the main highway heading north from Athens. Nevertheless, the icy conditions and lack of snow chains on some vehicles left some drivers reported being stuck in their cars for more than five hours on the Greek capital's roads.
Power cuts occurred in parts of Athens and nearby areas as well as the island of Evia in the evening, knocking out heating systems.
Several domestic and international flights to Athens airport were canceled, while subway service to the airport was partially suspended. COVID-19 vaccination centers in the wider Athens region and Evia were closed Monday and would remain closed Tuesday.
Snow is common in the Greek mountains and in northern Greece but is less frequent in central Athens and on Aegean islands. Last year, a major snowstorm caused severe problems in the capital, knocking out power for days. Thousands of trees collapsed from the weight of the snow and ice.
apnews.com

Rare Sight as Mykonos and all Cyclades are Covered by Snow
By Tasos Kokkinidis
January 23, 2022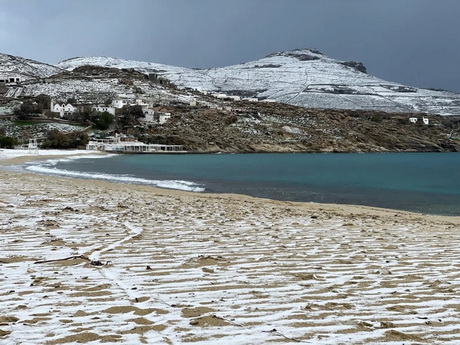 Mykonos on Sunday is covered in a thick layer of snow. Mykonos Cyclades snow, Credit: Greek Reporter/Stacey Papaioannou
Mykonos woke up on Sunday covered in snow, a rare event on the cosmopolitan Greek island.
Locals say that the last time this amount of snow fell on Cyclades was decades ago.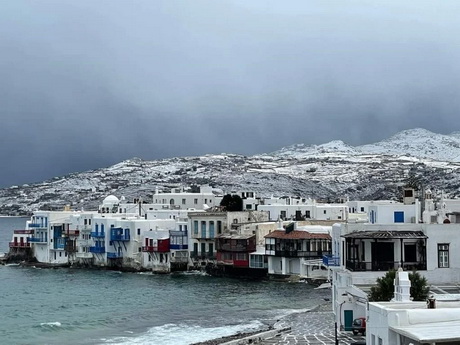 Mykonos Cyclades snow, Credit: Greek Reporter/Stacey Papaioannou
Locals captured the fairytale scenes as snow covered the famous beaches of the island, such as Psarou, Super Paradise, and Elia.
Mykonos snow
The famous beaches of Mykonos are covered in snow. Greek Reporter/Stacey Papaioannou
Snow in Mykonos and in most of Greece
As forecasted in an emergency bulletin released by the National Meteorological Service on Friday, snow fell even on the Aegean islands, which is a rare phenomenon.
Extreme weather conditions are expected in areas of Greece on Saturday and Monday, as the "Elpis" weather front brings low temperatures, heavy snowfall, and gale-force winds.
Temperatures throughout the country will gradually fall from Saturday, with highs of no more than to 3 degrees Celsius from Monday to Wednesday. There will be a heavy frost, especially in the central and northern regions of the country.
Macedonia and Thrace can expect snow from Saturday, followed by Thessaly, eastern Central Greece and Evia. By Saturday night, there will be snowfall in the Aegean and on Monday in eastern the Peloponnese, Crete and the Dodecanese. Much of the country will experience heavy snowfall on Tuesday, too.
"On Sunday the color white, which indicates a high probability of snowfall, covers most of the Aegean islands, most areas of Crete and the northern Dodecanese even at a low altitude," meteorologist Sakis Arnaoutoglou said.
Schools across Attica are expected to remain closed on Tuesday due to the weather front according to a statement by Attica Regional Governor George Patoulis on Sunday.
"I believe that schools will definitely be closed across Attica on Tuesday," said Patoulis in an interview with SKAI network.

The governor also mentioned that he has called an emergency meeting with all of Attica's mayors to deliberate on the situation for Monday, and estimated that the official announcements will be made on Sunday afternoon.

Greek Islands Are Covered in Snow in Rare Weather Event
By
Tasos Kokkinidis
January 24, 2022
Greek islands snow
The Island of Amorgos is covered in white. Credit: Facebook/Dimitris Tholaria
The Greek islands have been completely covered in snow since Sunday in a once-in-a-lifetime weather event. Locals say that the last time this amount of snow fell on the Cyclades was decades ago.
Syros, Naxos, Tinos, Andros, Mykonos, Santorini, and the other islands of the Cyclades are covered in a white veil of snow as the storm "Elpis" hits Greece, including the mainland.
The heavy snowfall has caused many problems in the islands that lack the infrastructure to cope with such weather events.
In Naxos many mountain villages have been cut off from the rest of the island, despite the continuous efforts of snowplows to keep roads open.
Reports from naxostime.gr say that the fire service had been called to free citizens from their cars.
According to cyclades24, Andros Island was hit hardest by the snowfall.

Greek islands snow
Andros Island is covered in thick snow. Credit: Cyclades24
Syros Island
Greek islands snow
Syros Island
Mykonos woke up on Sunday covered in snow, a rare event on the cosmopolitan Greek island.
Locals captured the fairytale scenes as snow covered the famous beaches of the island, such as Psarou, Super Paradise, and Elia.

Schools on Greek islands hit by snow close on Monday and Tuesday
Following the heavy snowfall, schools of all levels in the Cyclades will remain closed on Monday the 24th and Tuesday the 25th of January.
By the decisions made by the Municipalities, the operation of the school units was suspended for 48 hours in most of the Cycladic islands, until there is an improvement of the weather.
Schools are closed not only on all major islands, including Syros, Naxos, Paros, Tinos, Andros, Mykonos, Santorini, but also on the smaller isles such as Amorgos.
According to instructions from the Ministry of Education, teaching hours will not be lost, however, as the e-learning system is implemented, as was the case during the lockdown period.
Snow will cover large part of mainland Greece Monday and Tuesday
Snow will cover a large part of Greece, even at the lower elevations, on Monday.
The second and most severe part of the storm known as "Elpis" is in progress on Monday all across the country. Severe weather conditions started hitting Greece on Saturday.
According to the National Meteorological Service (EMY), the main characteristics of the second wave will be very low temperatures; heavy snowfall — even in lowland areas of northern and eastern Greece as well as in the Aegean islands — while northerly winds of 8 to 9 Beaufort are expected to blow in the area.

The extreme weather will affect Greece on Monday and Tuesday when snow is expected even in the plains of the country, including the Attica region.
Fishing boats covered in snow in Edipsos on Evia Island, Greece on Jan 24, 2022 Credit: A. Makris / Greek Reporter
Schools will remain closed throughout Attica on Monday and Tuesday, January 24-25, due to the extreme weather conditions for precautionary reasons and taking into consideration the safety of students and professors.
The state has advised citizens to avoid any unnecessary travel.
The Civil Protection Ministry has sent an SMS using the EU-wide 112 emergency number to residents of parts of Central Greece warning of "dangerous snowfall in your area over the next 48 hours" and counseling them to avoid unnecessary trips.

Snowstorm in Athens Worst in Fourteen Years
By
Anna Wichmann
January 27, 2022
"Elpis" was the worst snowstorm to hit Athens in 14 years. Credit: Greek Reporter
The snowstorm "Elpis," which brought about such a heavy snowfall that Athens was brought to a halt, was the worst such storm in the Greek capital in 14 years, according to data from the Hellenic National Meteorological Service.
Elpis caused around 20 cm (7.87 inches) of snow to fall in Athens when it hit the city on Monday. The heavy snow, which is quite uncommon for the city, coupled with low temperatures and heavy winds, caused a great many disturbances throughout Athens.

Thousands of motorists were stuck on the Attiki Odos, the major ring road of the city, for hours due to the blizzard, and many areas of the city were left without power.
Grecian Delight supports Greece
Greece declared Tuesday and Wednesday as public holidays for private and public workers so that the would not have to go in to work due to the risks of traveling through the city.
The storm ranks just below one that hit the city 14 years ago in 2008, when 25 cm (9.8 inches) of snow blanketed Athens. "Medea," the snowstorm that hit Greece in February of last year, brought about 15 cm (6 inches) of snow to Athens.

The worst snowstorm to ever impact the city occurred in February of 1911 when an astounding 150 cm (59 inches) of snow covered Athens. Yet such heavy snowfall was not as frequent in those days.
"Climate change is here," scientist warns after heavy snow hits Greece
In the wake of the storm, a top Greek scientist warned that Greece could expect more heavy snow in the future due to climate change.

Dr. Christos Zeferos, Professor of Physics and Meteorology at the Academy of Athens, stated to television network MEGA that snowstorms such as "Elpis" will become more and more common due to the changing climate.
"There are people who say that all of this is natural. The fact that the frequency and intensity of these meteorological events are increasing is not random. It is happening within a few decades. Climate change is here, it is with us, and we need to learn how to live with it," he stated.
Heavy snowfall, which was once quite rare in many parts of the country, hit last winter as well. Yet this most recent storm caused chaos around the country, particularly in Athens, where thousands of motorists were stranded on the city's main ring road for hours due to snow.
Snow is common in the mountainous regions of Greece, but such heavy snowfall is rare in Athens and the Cyclades Islands, which were covered in snow for days.

The disruption the snowfall caused in the country led the government to declare Tuesday and Wednesday as national holidays, shutting down schools and shuttering private businesses and public offices in afflicted areas.
"Such snowstorms used to happen ever 40 to 50 years (in Greece), but they will occur much more frequently, and it would be good for us to begin to adjust to these new circumstances… We are at the point that whenever experts warn us that a major meteorological event will happen, we must quickly apply the appropriate measures," Zeferos continued.
The professor then mentioned the disaster on the Attiki Odos, where drivers were stuck in their cars for hours, stating that he "doubts that the Attiki Odos has the right machines to face a phenomenon of this magnitude."
greekreporter.com