Many people don't know that a large majority of World Cup skiers have VIST plates under their bindings. The plates are the product of a small Italian firm that started making these specialty items for competitors. Most true race skis are manufactured "flat" (without bindings) and the right plate makes a big difference in the performance of the final package. For the ultimate tuning of high performance equipment many skiers turn to VIST for their plates. There are two basic versions: universal (for any ski/binding), and Speedlock plates that are machined to accept VIST's unique binding series. Some plates are level but many feature a step where the toe is slightly higher than the heel.
When shopping for specialty plates, VIST is a world leader so it's worth noting that they have two technical concepts for most high-performance plates.
Concept 1 (found on World Cup Race Series)
For "hard" skis, allows proper flexing of stiff skis and shorter arcs
The plate has an elastomer center to absorb compression and attachment screws at the toe and heel. In addition, there are three layers of material between the plate and the ski. The middle layer amplifies the ski's elasticity allowing it to spring back more quickly. This configuration concentrates pressure at the center of the ski for maximum grip.
Concept 2 (found on World Cup Air Series )
A less aggressive setup that makes it possible for strong skiers to properly handle a "soft" ski.
This plate is actually two separate risers joined by a bridge for the toe and heel piece. The only fixed attachment is at the toe while the rear portion slides in a guide to allow free ski flex. The fixed distance between the bindings eliminates unwanted release in extreme situations and VIST says this configuration distributes loads evenly and promotes a more natural bending of the ski.
SPEEDLOCK SERIES
Speedlock refers to plates that have been machined with holes to accept VIST bindings that clips in with no need for tools. Pins on the bindings fit tightly into the holes and flipping a toggle locks the binding securely. An additional benefit is that the bindings can be quickly and easily moved independently to tune boot placement on the ski. Notice that there are two levers on each plate. One is to secure the binding once positioned and the other is to secure the first lever to prevent accidental opening.
Speedlock Pro collection (fixed at toe only)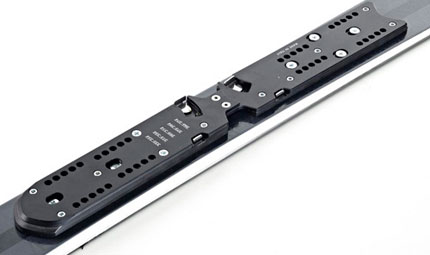 Vist Slockinsc14104 (New)
14mm at toe, 10mm at heel
Slockpr 15 – SL and GS plate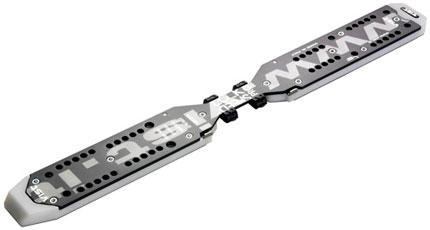 Vist Speedlock Pro Light
(fixed at toe only) – 16mm level plate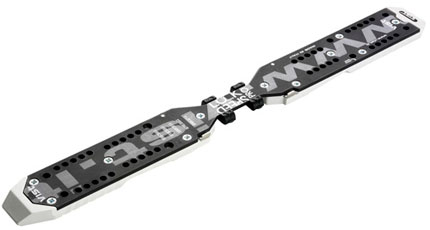 Vist Speedlock Pro Super Light
(fixed at toe only) – 16mm level plate
Speedlock Race collection
(fixed at heel and toe in true World Cup fashion)
These plates have an elastomer in the center that causes pressure to be focused at the center of the ski. Designed for SL and GS skis.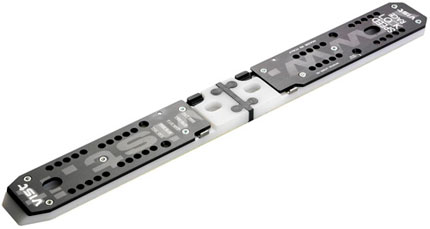 Vist Slockrasc1915bnn9bi
(Speedlock Race with 19mm toe, 15mm heel)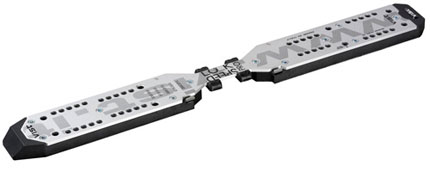 Vist Slockra15
(Speedlock Race 15)


Vist Speedlock TT collection
... is targeted at all types of skiing such as all-mountain, carving or freeride.
They are light and functional. 16mm level height.

X-STEP SERIES
X-Step is a light plate fixed at toe only that features at slightly raised toe. VIST says the higher toe changes stance and has several advantages: effortless skiing, easy turn initiation and equal weight distribution along the ski.


Vist X-Step 1513
X-Step 1513

UNIVERSAL PLATES
(to be used with any binding brand other than VIST)
World Cup Race Series (fixed at toe and heel)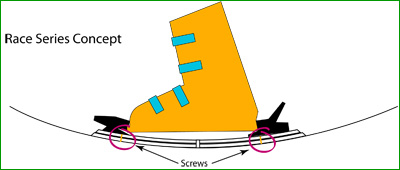 Vist World Cup Duo
(18mm toe, 14mm heel)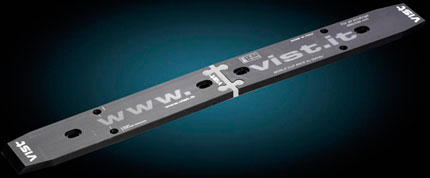 Vist World Cup Race
(plastic material)


Vist World Cup Race
(aluminum plate)
World Cup Air Series (fixed at toe only)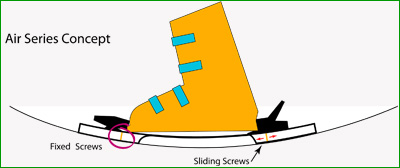 Vist World Cup Air Pro
target: FIS or Masters racer. Extendable according to boot size.


Vist World Cup Air
target: club level racer in SL and GS
ABSORBER SERIES


Absorber is a 10mm riser that uses rubber to reduce unwanted vibration. It is aimed at beginner to advanced skiers.
By Martin Olson
rockymountaingearguide.com
*** About the VIST Company ***
VIST products (Plates, Bindings, Skis and apparel) are all hand made in Italy. One of the few snow sports companies with a complete line of apparel and skis, plates and bindings.
Their Specialties
All products are hand made in Italy. The best, most sophisticated plates in the business. Patented SpeedLock System, allowing a customer to move their bindings forward, back or to another ski with a Speedlock plate without tools.
Some Products This Season
V 1018 Elite Binding - for extra tension if needed.
V 210 - one of the lightest bindings available
Speed Lock System - Allows you to move the binding mounting point according to your personal needs (speed, race, powder, freeride) to find the best solution for skiing at the highest levels.
Services
Introduction of the first all sensory ski experience. AURUM is the old Roman word for GOLD. The Aurum package for a customer includes a Gold/carbon Ski, a special Gold binding and plate. A five piece outfit that includes 24 carat Gold in the textile. A treasure chest that includes an Italian specialty desert wine and Italian soaps to finish the full sensory experience.
skisite.com