SNOWBOARD. At SnowWorld Landgraaf, the 27-years-old  Russian residing in Tashtagol, clinched her career's fourth World Cup win only 20 days prior to her next birthday by edging off Austria's Heidi Neururer to the runner-up position. In the battle for third, another Russian enjoyed the rubber of the green: Alena Zavarzina crossed the finish line only 49 hundredths ahead of reigning World Champion Fraenzi Maegert-Kohli from Switzerland. On the men's side, Andreas Prommegger also celebrated his career's fourth World Cup win. The 29-years-old gave South Tyrolean Roland Fischnaller (ITA) no chance in the finals. Aaron March, another Italian, rounded out the podium as third. Rok Flander (SLO) came in fourth.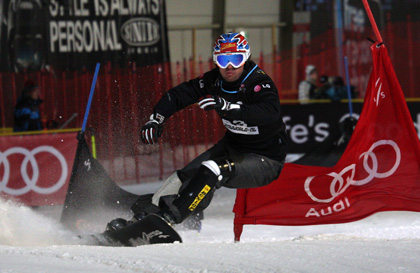 Ingemar WALDER (AUT), photo (c) FIS / Oliver Kraus
Due to the victory of Andreas Prommegger and the second rank of Heidi Neururer, the sole indoor World Cup competition of the international contest series seems to remain a race made for Austrians. After Grabner (2005 and 2006) as well as Karl (2008 and 2009) had won twice each, Prommegger added the fifth triumph out of eight races in Landgraaf.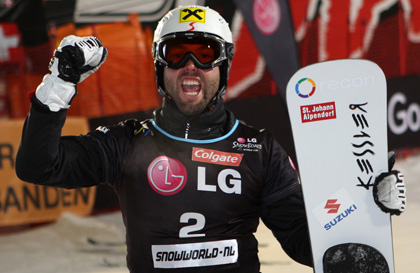 Andreas PROMMEGGER (AUT), photo (c) FIS / Oliver Kraus
But although the Austrian team seems to be spoilt by success at SnowWorld, no one of the red-white-red squad had really thought of the Salzburg countryside's resident to take the top spot. "I only made it once in the K.o. round of the top 16 here in Landgraaf. That was at the first contest here in 2003. Normally, I dropped out in the qualifiers. Landgraaf never was my most loved race," the boarder stemming from St. Johann summed up his feelings.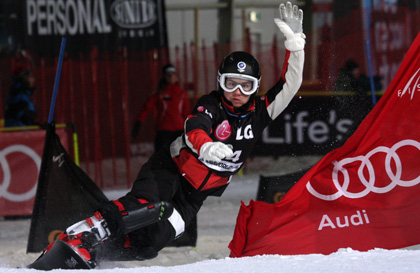 Ekaterina TUDEGESHEVA (RUS), photo (c) FIS / Oliver Kraus
However, the fact that he also took over the World Cup lead for the very first time in his career, after a competition at the so far unbeloved "mountain of Holland", was the icing on the cake and the perfect wrap up for an outstanding performance in which he had won every single run on the 250 metres long course with its 21 gates. "This is unbelievable, just insane! I'm always motivated for competition, but now, I have an additional stimulant to do well in the next two races. I'm not willing to let go the Yellow Bib easily."
Break of two months till next parallel event
The next two parallel races are scheduled in two months. On December 10th and 11th, 2011, the race boarders get their next chances to showcase their carving skills in both, a parallel giant slalom and a parallel slalom, being hosted in Limone Piemonte, Italy.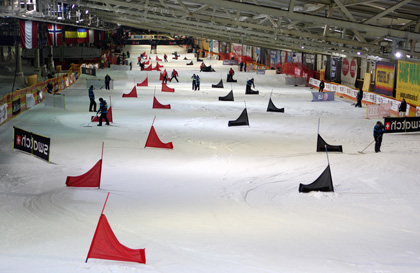 Race slope in SnowWorld Landgraaf, 260 metres in length, photo (c) FIS / Oliver Kraus
Maybe Roland Fischnaller then will benefit from the home field advantage finally clinching his career's first ever World Cup win. The rider from South Tyrol jumped on the podium nine times so far, including six second ranks. "I turned 30 last month and I for sure don't want to wait for my first victory until I turn 40," Fischnaller said with a twinkle in his eye. "I'm pleased with the result. It was a good start into the new season, for me, for my team and a perfect debut for our new head coach Erich Bramsohler."
FISsnowboard.com
Sunday 10 October 2010