After two and a half years Kalle Palander (FIN) goes for his comeback at the World Cup in Sölden. In February of 2008 Finnish ski racing star elected to undergo surgery to correct a stress fracture of his right leg, an injury he had been skiing on. Two and a half seasons later, at age 33, the 1999 World Champion in slalom and the 2003 World Cup slalom champ is launching a comeback.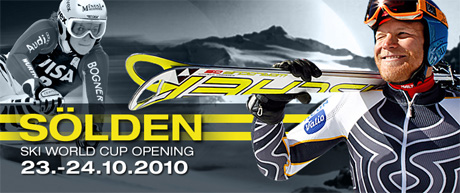 His ski company, Fischer, produced an interview with the likable Palander. In an exciting interview the experienced athlete narrates about the long way back, his feeling for snow and his wish to return to the point on which he's already been: the top of the World Cup!
How are you after this summer and your decision to continue skiing?
I started skiing in August. We went to Zermatt and I called Sami Uotila to see if he would come with me because I needed a person to honestly say if it's actually possible to come back. And the second day after ten months' break I wasn't confident. It was a terrible feeling. But Sami said: no, no, no, it doesn't look that bad actually. Let's give it another day! Then it started to get better and better. Already on the fifth day I started skiing in the course. First I was about three seconds behind the guys. Then in the second camp I wasn't behind the others at all. That was when I felt, OK, it's possible. I'll go for the comeback.
You didn't have a high number of training days. In such situations racers take painkillers to have efficient days. Did you?
We had 25 days skiing in really good conditions. But in the second camp for example I skied two runs on the first day. I said no, it's not happening. Let's take the next day. That's the difference to last year. There I was always pushing although I had pain. I was eating painkillers. I didn't feel pain in my leg, but after the training I always had big, big troubles with the leg. But now it's totally different. I don't need any painkillers at all.
Did you get plenty of advice for your recovery?
I tried so many things and I got so many calls and emails. You should try this or that. I spent so much money on all kinds of crazy stuff. Even from the doctor's side. And also from the natural approaches. Finally I said to everybody: stop it! I know people mean well. But they don't understand that if you have a fracture and even if it looks ready for some kind of sports, it's not ready for skiing. Because the pressure on the legs is so high.
But it is now possible to ski at full power?
Yeah, like in the past week there was only one run and I just had a little problem. I got a hit and I lost the power for a while. Of course, the muscle is still three centimetres smaller than the other one. That shouldn't take so much time actually but it happened so many times in two and a half years. And every time after surgery you start to build up the muscles again. That takes time.
And how's the feeling on snow? Is it the same as before your injury?
Yes, otherwise I wouldn't ski. That was the thing on the first camp this summer. After four or five days I didn't feel as if I hadn't been skiing for such a long time. But the next thing is that I don't know how it will be in a race.
So, do you think you're ready for the World Cup in Sölden?
Yes, I would already be ready now. I would like to have the race now because I know I'm far readier than the others. Sölden is always too early for everyone. So that's why I think I have good chances there. OK, Sölden is not my favourite place, although I was on the podium twice.
What is your emotion? Is there some kind of fear or are you nervous?
I don't know yet, I will see it on the start. But I wouldn't go if I feared that I'd break something or that I wasn't so good. If I ski as normal I think it's possible even to make it into the top ten, maybe. I know that if I'm in the top ten, everything is possible. Perhaps even a better result. But I need to be realistic for the first races that I won't get back under the top three like this (snaps fingers). I need to take everything step-by-step.
So what is your goal for this season?
To get back my start number under the top ten in Giant Slalom again and top twenty in Slalom this season. And then for the next season it will be a completely different situation.
I will go for two years now and then maybe two more, for the Olympics. An Olympic medal is still missing!
Did you have second thoughts about your comeback?
Yes, constantly. Even if you're not injured, you're always scared that the feeling has gone. But I felt it right away after a couple of days. That's the most important thing really.
You're coming back after a long break, more than two and a half years. And the feeling is there. Is this a question of experience?
It's totally different what I'm doing now, you cannot compare it to a race. I'm more than happy if I can do that in a race, that's what skiing is all about. I cannot say now that I have really come back. But normally I'm stronger in the race and I believe that it's possible.
Where do you take the power from for your restart after such a long break?
I wouldn't go if I weren't hungry for results and winning again. It's the amazing feeling when you win a race and you cross the finish line. Those ten seconds - you cannot get them anywhere else in life. I get the power because I'd like to show myself that it's possible on the one hand and on the other of course I'd like to show it to everyone else. I still believe that I can achieve the nearly impossible and become a winner again.
Was the injury a kind of learning process?
There have been times when I felt as if there must be an easier way to make a living. In August, when I started to ski again, I realised: oh what a nice job! It's the thing I used to dream about as a kid. But when I skied well I forgot all those things and skiing started to become too much work.
In the past I went to the podium and never even really saw all the trophies. And now I stare at them, thinking back to those great moments, like in Shigakogen.
What was the greatest moment, looking back at those times of success; was it the world championship title?
I have to put the world championships in perspective. I wasn't ready for it all, it came too quickly. I was achieving better results every year. And then there were the championships, but that was too early. Then after that, when I had two really difficult years - I had to start with bib number 37 in Slalom - I was really close to quitting skiing. In Schladming 2001 I finished something like 46th. My trainer was screaming at me: Kalle! Even the guy from Holland is faster than you! Then I started again at a much lower level with my father. And after two years training, when I won my first race in Kitzbühel, that was one of the greatest victories. Also because it is one of the most important Slalom races of the season and it is Christian's, my trainer's home. There were many things that made that moment special.
Thank you Kalle! All the best for your comeback and make sure you stay fit and healthy!
Fischer press
Sunday 17 October 2010