ALPINE SKI WORLD CUP. BEAVER CREEK, Colo. – Though Ted Ligety has won an Olympic gold medal and landed the World Cup giant slalom title, he had never won a World Cup on his home hill at Beaver Creek … until Sunday.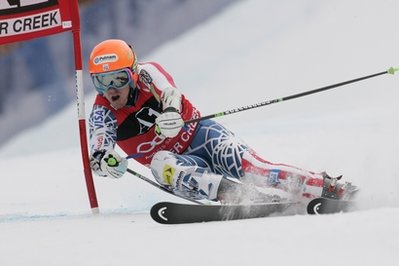 U.S. ski racer Ted Ligety of Park City, Utah skis the second run on his way to winning the men's World Cup giant slalom ski race in Beaver Creek, Colo., on Sunday, Dec. 5, 2010. (AP Photo/Nathan Bilow)
The American who was 0.01 seconds away from the giant slalom win at Beaver Creek in 2008 and fourth last year made it happen with a vengeance this time around to become the 2010 Beaver Creek GS champion.
Leading the first run by almost four-tenths, Ligety held his speed in the second, handily beating second place Kjetil Jansrud by 0.82 seconds as Marcel Hirscher rounded out the podium, 1.24 seconds back.
"It just came together today," Ligety said, right after crossing the finish line, seeing that he nailed the win and taking a victory tour around the inside of the fence before collapsing happily on his back. "A couple years ago I was leading by a lot after the first run but then I kind of took it easy. And I learned from that. I just kept risking in the second run and was going as hard as I possibly could. If I let up and was fifth, I'd be way more mad than if I was winning and I blew out. So I'm psyched at how it went."
As a light snow began to fall during the second run after a day of grey skies, Ligety said he was able to stay calm in the start gate because he was joking around with Jansrud and Askel Lund Svindal (who ended up fifth).
"It's nice when you're friends with your competitors," Ligety said. "Jansrud and I were joking around at the start and it was a fun atmosphere. That kept me relaxed. The first time I ever won a first run, I asked Aksel what I do when I'm in the lead and he said, 'just ski man.' And that's what I did. So I was psyched to get down pretty much mistake free. It's very rare I make it down two runs without any mistakes."
Jansrud, who was also second place after the first run, felt like he, too, held his speed together well all day, even if it wasn't good enough for the win.
"Last year I was usually slow in the first runs and very fast in the second run. So being second after the first run was a new experience," he said. "I felt I skied good on top and I felt I was pushing it. I felt like this was a good run. After the second split, I was like, this is interesting. But Ted, beating me by eight tenths … he's in his own league today. I always say alpine skiing is an individual sport form start to finish. Of course I would have liked to be on top today. But in the sport, you get what you deserve. If I [had] won, I'd have to ski way better than I did."
A tech specialist, Hirscher had never done better than 15th at Beaver Creek and was very happy with his performance Sunday, especially because he was 0.85 seconds off the lead time going into the second run.
"I think it's very hard for me here at Beaver Creek," Hirscher said. "I'm very happy with this situation. The second run was especially good in the middle part, then I lost a lot of time in the flat part. The second run was a bit more turny, so it's easier for me to push it harder. I did it and yeah, it was quite a good run."
As for the uncharacteristically large gaps that separated the finish times of the top three racers, Hirscher could only congratulate Jansrud and Ligety.
"They skied better than me and very good," he said. "So I have to train more and maybe in two weeks we are on the same time."
Ligety set the large gaps in the first run, nearly four tenths ahead of Jansrud with only five other competitors within a second of his time. Thus, some racers were charging with reckless abandon to try to make up time in the second run. Young Swedish racer Matts Olsson was one of these. He held the lead in the second run for several racers before being replaced by France's Thomas Fanara, who led all the way up until the final eight racers, when compatriot Cyprien Richard – who led the season-opening GS in Soelden before the race was canceled – took the lead.
Hirscher then hit the second run course on fire only to be outdone by Jansrud and Ligety. Fellow Austrian Romed Baumann came very close to the podium in fourth, 1.27 seconds off the winning time; Svindal was fifth, 1.37 seconds out; Richard sixth, 1.49 back; Massimiliano Blardone seventh, 1.63 seconds back and Fanara held on for eighth, 1.79 seconds out.
Olsson ended up 12th behind Didier Cuche, who made a few mistakes in both runs and was 11th but still good naturedly executed his ski flip trick in the finish area, Ove Truis Karlsen was 10th and Phillipp Schoerghofer ninth.
Returning to the World Cup after 20 months of recovering following 2009's horrific crash in Kitzbuehel that rendered him comatose for several weeks, Switzerland's Daniel Albrecht was 21st Sunday.
Although racers said the snow was fairly consistent from top to bottom in the second run, a few racers blew out, beginning with Bode Miller, who nearly came to a full stop at the top of the course, but then went ahead and skied down anyway to gain a few points with a 27th place finish. (See what he had to say about his performance). Then Carlo Janka, who made a couple mistakes in the first run, slid onto his hip and missed a gate in the second. Kalle Palander and Manfred Moelgg also both crashed out but appeared to be uninjured.
Benjamin Raich, Austria's strongest GS skier, didn't start the race Sunday, as Saturday's super G aggravated a slipped disc in his back that has been plaguing him since last season.
by Shauna Farnell
FISalpine.com
Sunday 5 December 2010