OTO. Bode Miller has teamed with Swedish X Games champion freeskier Jon Olsson to drive the13th annual Gumball 3000 Rally, a Tour de France style auto race stretching from London to Istanbul beginning Thursday, May 26.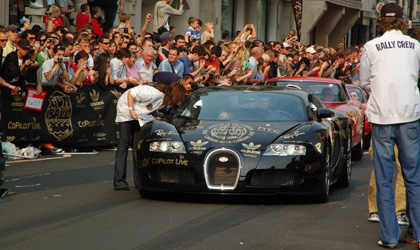 London Start, photo © Gumball 3000 Ltd
Jon Olsson's latest project Rebellion R1k was finished just in time for the Gumball 3000. Sadly there were some last minute problems and Jon Olsson doesn't want to risk being stuck on the back of a tow truck the entire Gumball 3000 so he is now driving his Nissan GT-R to London for the start of the 2011 Rally from London to Istanbul. This years rally stops this weekend in Jon's hometown Monaco for the F1 Grand Prix, the ideal location for the Rebellion R1k to celebrate its Gumball debut. Credits for the development of the Rebellion R1k go to Tokan.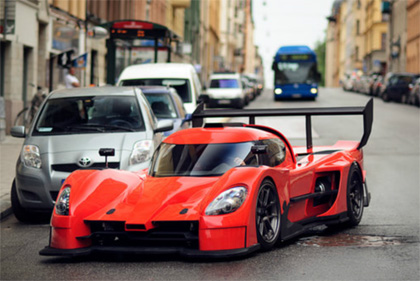 The Rebellion R1k that Jon Olsson and Bode Miller will be driving from London to Istanbul this year
"I have no idea what to expect, but I know it's going to be a cool experience," said Miller, "I've always loved that kind of model for auto racing – it's unique."
Created in 1999, what began as a group of friends rallying across Europe has evolved into a global lifestyle brand with crowds of over a million people attending last year's event. The 2011 edition will feature over 100 cars that will set off from London on a 3000 mile journey across 10 countries in seven days.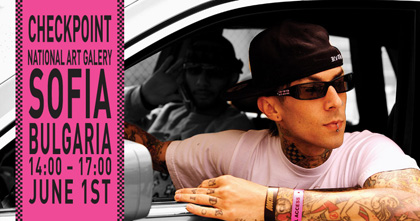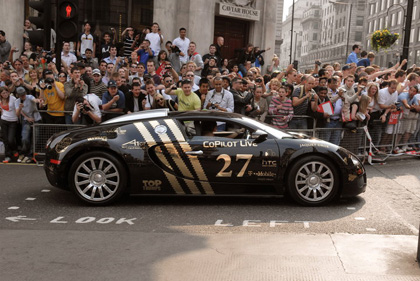 Gumball 3000 Rally 2007, A Buggati Veyron in Piccadilly, London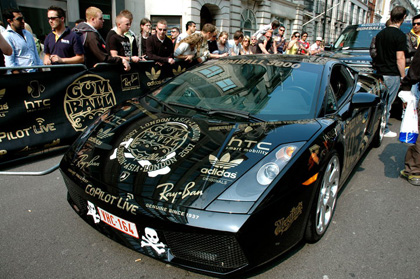 Gumball 3000 Rally 2007 A Black Gallardo getting eyed up in London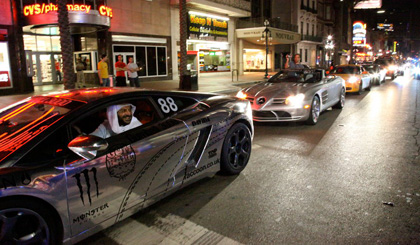 Gumball 3000 Rally 2009, Gridlock in New Orleans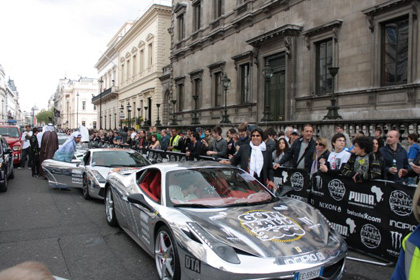 Gumball 3000 Rally 2010, Chrome Entry Grid, London
The Gumball is as much about the tricked out rally cars as it is about who's driving them. Participants this year include NFL stars Reggie Bush of the New Orleans Saints and Indianapolis Colts' linebacker Cody Glenn along with hip hop icon EVE and David Hasselhoff, who made his fame by driving the original supercar in the 80s Television hit Knight Rider.
"It's definitely going to be fun driving, but it's also going to be cool to check out all the other cars," said Miller, who drives an Audi RS6 between FIS Alpine World Cup tour events.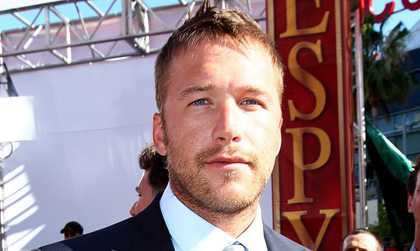 Bode Miller, photo © Alexandra Wyman/Getty Images/MTV Oy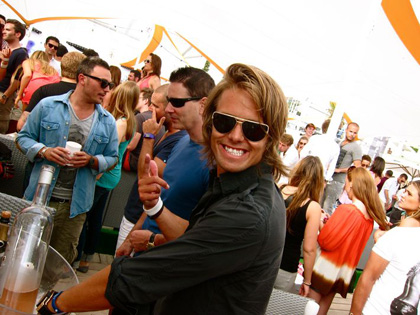 Jon Olsson in Cannes' Zanzibar bar: "If you are in Cannes, go check out Zanzibar, not a boring place at all!" photo © jon-olsson.com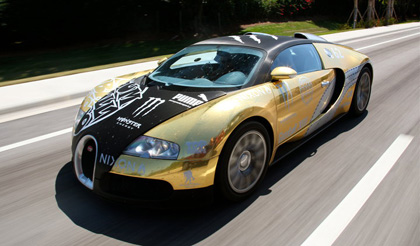 Gumball 3000 Rally 2009, Gold Buggati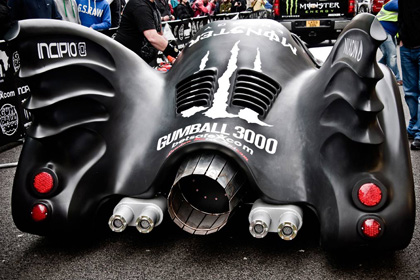 Gumball 3000 Rally 2010, Batmobile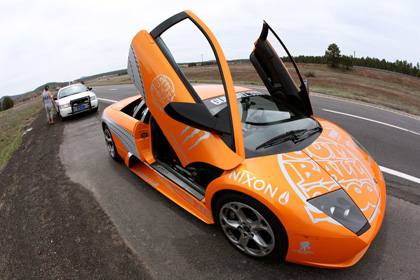 Gumball 3000 Rally 2009, Busted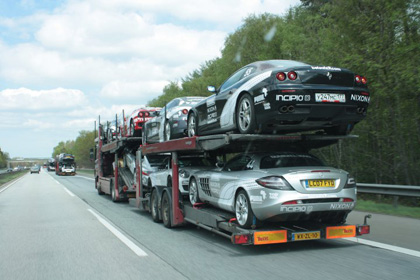 Gumball 3000 Rally 2010, 15 transporters, 120 cars, 1 autobahn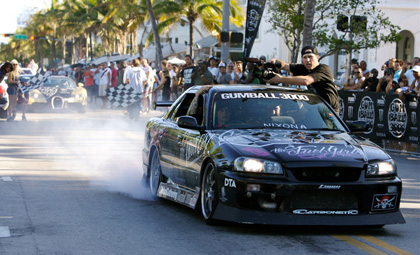 Gumball 3000 Rally 2009, Dirty Sanchez cross the finish line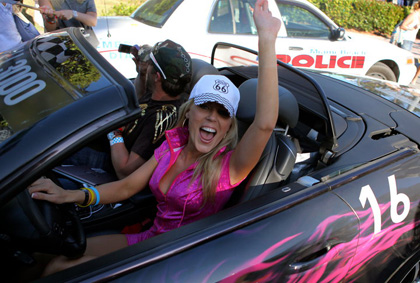 Gumball 3000 Rally 2009, Gretchen Rossi from Housewives of the OC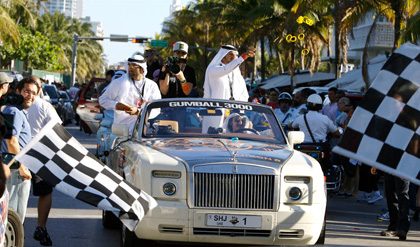 Gumball 3000 Rally 2009, The Sheikh's first over the line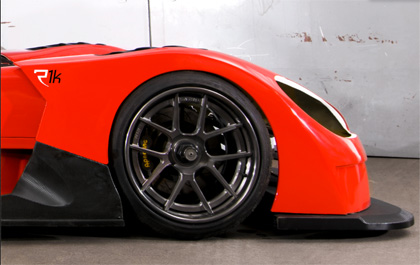 The Rebellion R1k that Jon Olsson and Bode Miller will be driving from London to Istanbul this year. "After six months of construction, the Rebellion took its first ride on the streets of Stockholm," Olsson wrote recently on his blog
The race will close roads and city centers following a route that incorporates Paris, Barcelona, Monte Carlo (attending the Monaco F1 race), Milan, Venice, Zagreb, Belgrade and Sofia before crossing the finish line in Istanbul on June 1st. The Gumballs last pit-stop will be in the Bulgaria's capital city of Sofia. Lunch will be enjoyed at Bulgarias National Art Gallery, which houses over 50,000 pieces of Bulgarian art.
For Miller, doing the race was all about timing. His entry started as a conversation with Norwegian alpine skier Leif Haugen and turned into a more of a possibility after training with Olsson and his brother Hans last summer in New Zealand.
"Both Jon and his brother ski on Head and have used some of my skis the last couple of years," said Miller. "So we started the conversation last summer while training in New Zealand. Jon has done the Gumball before and is really into it. Normally its one of those things you say you'll do and then it just doesn't work out. This time, it just worked out."
In addition to sports stars and celebrities, the Gumball also draws Sheikhs, entrepreneurs and dot com billionaires driving high end vehicles by Audi, Ferrari, Lamborghini, Rolls Royce, Bentley, Aston Martin, and Porsche, among others. This year's race will also feature over 20 eco and concept electric cars.
The race begins Thursday, May 26 in London's Covent Garden.
skiracing.com
Gumball 3000 Schedule
May 25th - Launch Party
May 26th – London, England Start
May 26th – Paris, France
May 27th – Barcelona, Spain
May 28th – Monaco, Spain - F1
May 29th – Monaco, Spain - F1
May 30th – Venice, Italy
May 31st – Zagreb, Croatia
May 31st – Belgrade, Serbia
June 1st – Sofia, Bulgaria
June 1st – Istanbul, Turkey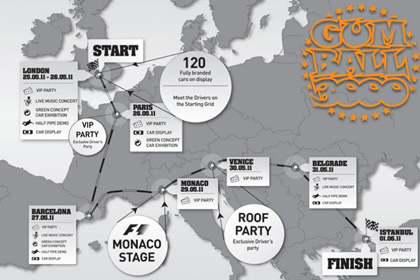 Find more about Gumball 3000 Rally at www.gumball3000.com