CROSS-COUNTRY SKI. The representative of the International Ski Federation (FIS) Mr. Emil Hechko from Romania made an inspection of the existing cross-country ski runway at Usana ski resort, Stara planina (Balkan mountain). Occasion of his visit was a request to FIS from the Bulgarian Ski Federation for homologation (Licensing) of ​​the cross-country ski track at Usana, so that it meets the requirements for the conduct of international events - European and World competitions for men and ladies.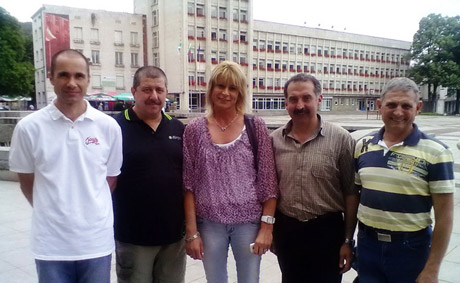 Emil Hechko, Vasil Shandurkov, Rosica Bakardjieva, Racho Sheytanov and Peter Pankov in front of the building of Gabrovo regional administration
От световната централа възложиха тази задача на г-н Хечко. Румънският специалист пристигна в Габрово вчера вечерта, а днес (30-ти юни) направи оглед в КК Узана и взе всички необходими данни. Г-н Хечко ще изготви препоръки за това, какво трябва да бъде направено и ако БФСки, заедно с местните деятели от клуба по ски бягане и биатлон "Узана 2007", успеят да се справят с изискванията и пистата бъде холомогирана до есента, през зимата Узана ще има шанса да приеме първата си международна надпревара по ски бягане.
"Това е един изключително хубав район. Природата е предоставила чудесно място, а в Габрово има хора, които могат да свършат доста и имат желание да работят за тази кауза. Ако можем с общи усилия да направим това нещо, ще бъде чудесно" – сподели ръководителят на Направление ски бягане към БФСки г-н Петър Панков, който придружаваше г-н Емил Хечко при огледа на трасето на Узана.
След това двамата, заедно с представителите на местния клуб "Узана 2007" г-н Васил Шандурков и г-н Рачо Шейтанов и директорката на "Общински спортни имоти" г-жа Росица Бакърджиева, проведоха среща с областния управител г-н Мариян Костадинов. Той гарантира безрезервната си подкрепа за каузата и пое ангажимент да съдейства за това пистата в КК "Узана" да бъде обособена като отделен имот – публична държавна собственост на Габрово, който да бъде предоставен на клуба с договор за стопанисване или на "Общински спортни имоти".
Г-н Рачо Шейтанов разкри, че по-дългосрочната перспектива е на Узана да бъде изградена и писта за биатлон, със съответното стрелбище, както и ролбан (асфалтов път за провеждането на лятно ски бягане и биатлон с ролери), така че КК "Узана" да се превърне в един сериозен ски център за целогодишно ползване.
Светозар Гатев
Общински Спортни Имоти Габрово
www.sport-gabrovo.com
30 юни 2011 г.