BIG AIR. London Freeze Big Air Festival organizers are proud to announce the 2010 champions will return in October to defend their titles. FIS world Cup winner Marko Grilc from Slovenia and Freestyle Ski Big Air winner Jacob Wester of Sweden are amped to come and attempt to retain the honours.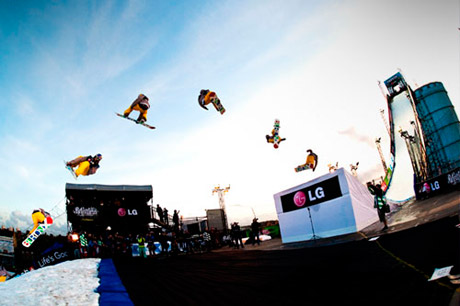 Elsewhere, Billy Morgan will also defend his Whitelines Battle Of Britain victory, whole commiserations go to Paddy Graham who will not ride due to rehab after surgery. He will be in attendance though so look out for the ever popular freestyling Brit. With Paddy's absence all eyes will be on X Games medallist Brit, James Woods, who has never let the Freeze crowd down.

Athletes Confirmed

FIS Snowboard World Cup
Marko Grilc
Seppe Smits
Arthur Longo
Ulrich Badertscher

Int Ski Big Air
Jacob Wester
Colby West
Gus Kenworthy
John Spriggs
Matt Walker
In addition, the sport schedule has also been confirmed today confirmed: (for music line up please visit www.relentlessfreeze.com)
Friday 28th October
1.30pm – 3.00pm – Whitelines Battle Of Britain Snowboard Comp
5.00pm – 7.30pm – FIS Snowboard World Cup practice
Saturday 29th October
12.00pm – 3.35pm – FIS Snowboard World Cup Qualifiers
4.15pm – 6.00pm – FIS Snowboard World Cup Final
Tickets are priced at £37 for a day pass, £60 for a season pass (2 days) and VIP day tickets for £58. Child day tickets are priced at £17 and a child's season pass at £28.