ALPINE SKI. Germany's Stephan Keppler clocked the fastest time in the first practice run held earlier today on the treacherous 'Stelvio' course at Bormio where the next men's downhill race is scheduled on Dec.29th – 2011. The 28-year-old Bavarian, a promising 6th in Super-G at Val Gardena /Groeden a week ago, beat by a few tenths of a second Matteo Marsaglia and his Italian teammate Peter Fill at the end of the delayed training session after missing a gate.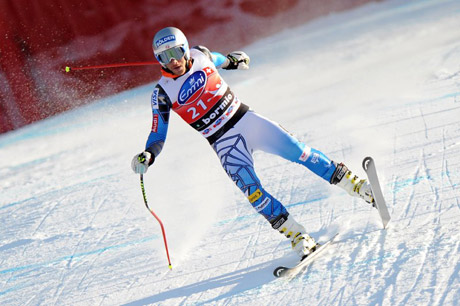 Bode Miller in action - Credits//francescopanunzio
Switzerland's Didier Cuche, 6th at 81/100 of second back, was the best of the established favorites of the day, just ahead of Austria's Klaus Kroell while Canada's Erik Guay was 8th in front of 2005 double World Champion Bode Miller.
Switzerland's Beat Feuz, the unexpected leader of the downhill World Cup standings and surprising Super-G winner at Val Gardena ahead of Miller, Norway's Aksel Lund Svindal, ended a far 25th at 2,42 seconds. France's Johan Clarey, the fastest man of the day at Val Gardena ten days ago prior the cancellation of the Italian 'World Cup Classic' skied out of the course while Christof Innerhofer, a winner here three years ago, didn't manage to train today because of a strong feaver.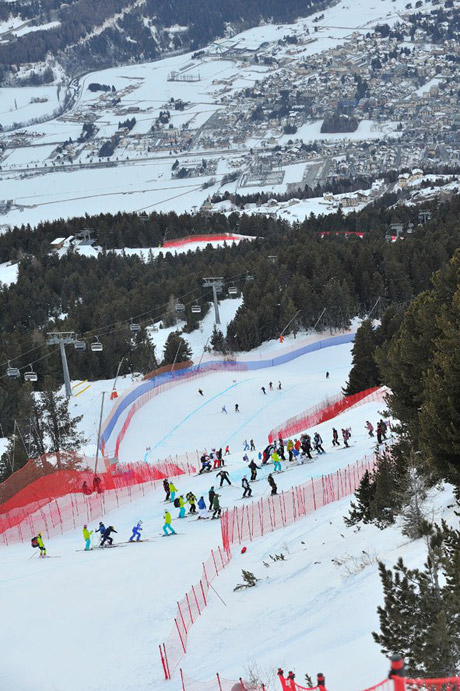 Course Inspection - Credits//marcoandreola
The training run, which started nearly an hour and a half later than scheduled because of a last minute course change in the upper part of the course, took place by superb weather conditions. Last year's winner, Austria's former World Champions Michael Walchhofer nearly regretted not to wear his racing suit at the start instead of being a 'mental and technical' advisor of the young Austrian speed specialists.

This is the point of view on the Stelvio Course of one of the forerunners - Andrea Ravelli. If you hear the racers saying that the course is bumpy… see for yourselves!
Most of the usual favorites were pleased to be skiing again on the 'Stelvio' which requires much determination and great physical shape. "It's for sure a tough and challenging course, especially after the Christmas break, but it's always pretty exciting to be here," Cuche told the press after his run.
"There is not so much snow in the lower part and you need to fight hard to stay focused on the fastest line," added the Swiss veteran who has started his World Cup career here back in December 1993.
Another training run is planned for tomorrow later morning.
by Patrick Lang
FISalpine.com
Tuesday 27 December 2011
Matteo Marsaglia set fastest time of the training race, because Stephan Keppler missed a gate
The fastest time of the training race is 2:01:49 by Matteo Marsaglia, followed by another Italian, Peter Fill (2:01.56) and by Patrick Kueng from Switzerland (2:01.63). The time by Stephan Keppler – first place in the results of the training race - is not valid because he missed a gate.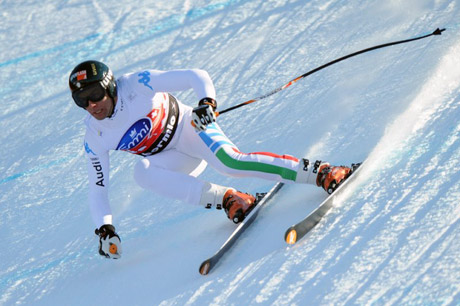 Matteo Marsaglia in action - Credits//francescopanunzio
Matteo Marsaglia: "I skied well but I think it's impossible to avoid mistakes while skiing on the Stelvio. There are a couple of spots where I need to refine the lines, especially on the Carcentina. The Stelvio slope is always difficult to face, I like it but I have never reached the finish area during the race so my first goal is to create a good impression. The low numbers will start with an advantage and I hope the bibs' draw is favorable."
Didier Cuche: "The Stelvio is always tiring and it's difficult to come back on a track like this after the Christmas break. I have always had good results in Bormio but I have never won. This is my goal! I debuted here in 1993 and I admit that the slope, year after year, has become more technical, but slower too."
Erik Guay: "I am not satisfied with my first training race, I thought I was three seconds late. It will be necessary to turn a bit more in San Pietro in order to lose speed and avoid a too long jump. The course is good and the snow is excellent. Considering the difficulties of this year, the organizers have been doing a great job. " Erik Guay is the spokesman of the athletes.
Funny exchange of views between Svindal and Bertrand. Svindal said: "It's not as hard as two years ago. I remember you were like crying!"
Bormio Online
worldcup.bormioonline.com
December 27, 2011
Lienz ready for more World Cup action
After a very brief holiday hiatus, the Audi FIS women's World Cup continues Wednesday and Thursday (28 and 29 Dec.) in Lienz, Austria, with giant slalom and slalom.
The women's World Cup tour first appeared in the small resort in the Eastern Tyrol region that borders Italy in 1969 and has stopped here every other year since 1997, alternating with races in Semmering, Austria. A layer of fresh snow has fallen in Lienz in recent days, the Hochstein slope has a 50-centimeter base and organizers say racing conditions have never been better.
The Lienz GS brought a rash of excitement during its last stop here two years ago, when German Kathrin Hoelzl (who is recovering from illness but is making a return to the World Cup in Lienz) edged Italian Manuela Moelgg on the technical, icy course by 0.05 seconds and France's Taina Barioz landed the first World Cup podium of her career in third, just 0.11 seconds back. The Italian team managed to put six racers in the top 20, dominated the 2007 stop and consider Lienz one of their "home" hills.
Denise Karbon won the 2007 giant slalom here, while her teammate, Chiara Costazza, landed her first and only (to date) Cup victory, flying past Nicole Hosp and Tanja Poutianen for the 2007 slalom win.
The Lienz slalom is one of the longest on the tour and typically has racers huffing and puffing at the finish. Marlies Schild has quite a history in Lienz. It was here that she started her slalom victory rampage after coming back from injury in 2009, having also won here in 2005, 2003 and 2001. Two years ago, she was nearly two seconds faster than second place Sandrine Aubert as Kathrin Zettel rounded out the podium.
The first run of the 2011 GS in Lienz is slated to kick off at 10:15 local time on Wednesday.
FISalpine.com
Tuesday 27 December 2011