TTR. Davos, Switzerland, Friday January 6, 2012 -- Norwegian, Stale Sandbech powers into finals with strong showing from Canadians, Mark McMorris and Antoine Truchon while compatriot and defending champion, Sebastien Toutant bows out in bizarre circumstances. Semi Final Friday here at the TTR 6 Star O'Neill Evolution will go down in snowboarding history as one of the most unique on record.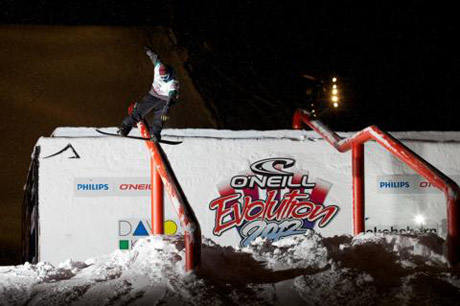 Fredrik Evensen (NOR)
Continued record heavy snowfall in Davos hit the contest for the sixth straight day, as a massive storm credited with breaking records across Central Europe continued to pound the area. The resort was closed Friday morning as controlled avalanche blasting attempted to dislodge the approximated 50cm of fresh overnight snow while the shaping crew once again undertook the monumental task of digging out the course. Organizers pushed Women's Qualification to Saturday morning with the hope of finishing Men's Qualification in the afternoon.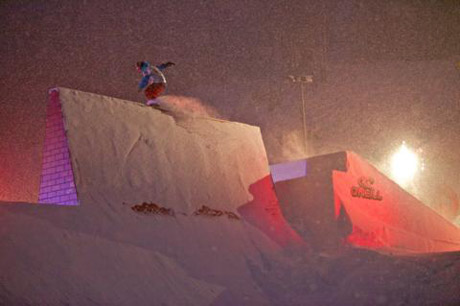 Antoine Truchon (CAN)
 Riders took the opportunity to head up as soon as lifts opened, all whom eventually returned claiming the best powder day ever. Continued snow and gusty periods saw training curtailed and a subsequent riders' vote that resulted in Qualifications merging directly into a single 46 rider Semi Final starting at 18:00 when event lighting would take effect and improve visibility.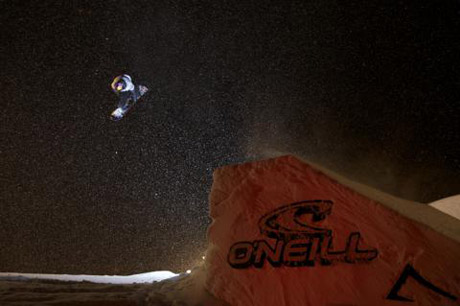 Mark McMorris (CAN)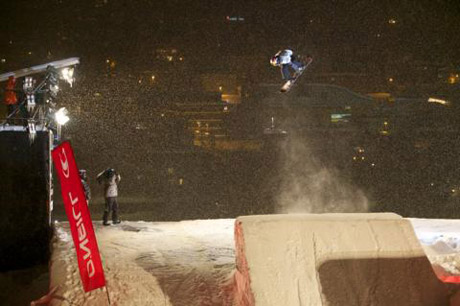 Mark McMorris (CAN)
While by no means perfect and with heavy snow continuing to fall, conditions eased somewhat and wind died sufficiently for the Semi Finals to commence on time. Making the 16-man cut in a two run, best run counts format was the single goal for competitors – waxing and speed as critical as trick selection. With the optional line to rails the only feasible option; riders attacked it with vigor, chasing major TTR Ranking points and a share of the $125,000 prize purse.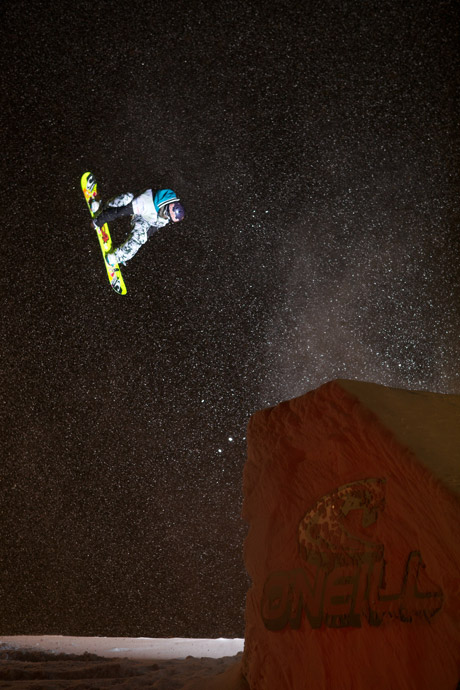 Seb Toutant (CAN)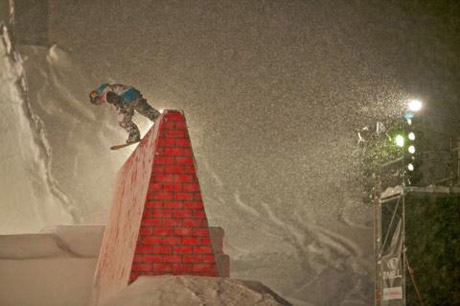 Seb Toutant (CAN)
 An almost perfect first run from defending champion Seb Toots (CAN) including a Double Cork 1080 Mute to cab 270 on the wall ride would have been enough to claim the run of the day were it not for his legs inexplicably letting him down on landing. Meanwhile solid first runs from Marc McMorris (CAN), and Charles Reid (CAN) put them into solid Top 5 territory while Stale Sandbech (NOR) stormed into the lead with a stomped frontside 1080 to frontside 270 to lipslide out. Current TTR Big Air leader, Roope Tonteri (FIN), posted solid points leaving him within striking distance of the top 10, while powder rookies, Jamie Nicholls (BGR) and Seppe Smits (BEL) continued the form that has been turning heads.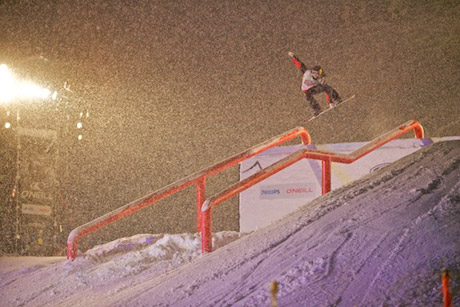 Jamie Nicholls (GBR)
With everything to play for in the second round, Werni Stock (AUT) powered into the Top 5 while the shock of the night arrived when pre-event favorite, Seb Toots, seemed to hang up on the coping of the kicker. Fortunate to avoid injury, the incident nevertheless resulted in Toots bowing out of the contest. Christian 'Hitch' Haller (SUI) made it inside the 16-man cut, only for Eric Willet (USA) to edge him back out in the 2nd last run of the night with a frontside Double Cork 1080 mute to backside lipslide on the down rail, enough to propel himself into 4th.
O'Neill Evolution
January 06, 2012
LIVE WEBCAST SCHEDULE SATURDAY 7th OF JANUARY
 12:45 - 13:30 Women Final
 17:20 - 18:50 Men Final
Watch it live HERE !