VIENNA (AP) — A major east-west railway route in western Austria was shut Saturday following heavy snow in the popular Alpine skiing region. Railway operator OeBB said the line between Oetztal and Bludenz — part of a route that connects Vienna and Innsbruck with Austria's western tip and Switzerland — was expected to remain closed until Sunday afternoon.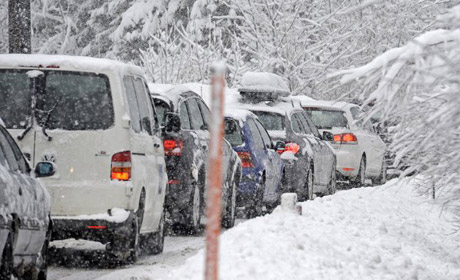 Cars queue on a snowy street near Fiss in Tyrol, eastern Austria, Friday, Jan. 6, 2012. Heavy snowfalls captured Austria and southern Germany and caused traffic problems. (AP Photo/Martin Meissner)
Two other rail lines connecting Tyrol province with southern Germany also were shut down. Overhead wires in the area have been damaged by falling trees.
Heavy snow has blanketed Tyrol and neighboring Vorarlberg, Austria's westernmost province, over recent days, leading to several road closures and an elevated risk of avalanches.
A military helicopter was brought in Saturday to pick up 52 people who had been stranded for two days at a mountain refuge in Vorarlberg, provincial government official Erich Schwaerzler told the Austria Press Agency.
Schwaerzler said they had been unable to make the descent from the Lindauer Huette refuge, which is 5,720 feet (1,744 meters) above sea level, by any other means because of the avalanche risk.
AP
January 7, 2012
Heavy snow causes Austrian transport chaos
Heavier than usual snowfall and high winds have caused chaos on roads and railways in many areas of Austria. About 1.2 metres of fresh snow has fallen, closing sections of highway and isolating some towns since Thursday. Avalanche risk is extreme as more snow is forecast in the coming days.
Snowfall trapped some 15,000 tourists at ski resorts on the Arlberg Mountain on Friday, and while some roads are open there, others remain closed, the BBC said.
To prepare itself for any potential disasters, the Austrian army has put helicopters on alert.
High winds are also whipping the alpine nation, the International Business Times (IBT) reported.
The most snow has fallen in the western states of Tyrol and Vorarlberg. A government official in Vorarlberg said 52 people were rescued by an army helicopter there.
An important rail line that connects Vienna and Innsbruck with western Austria and Switzerland was to be closed until Sunday, the IBT said. Two rail lines that connect western Austria with Germany were also closed.
AAP
January 8, 2012, 9:13 am
"Andrea" brings high winds and a mantle of heavy snow
Heavy snow across most of the Alps
A serious winter storm ('Andrea'), has brought high winds and heavy snow to most of the Alps. Visibility has been extremely difficult in the falling wind-driven snow. The best US snowfall has been in the east, but the best cover is in Big Sky, Montana. Canadian Banff and Whistler also have excellent skiing after 44cm of new snow. Conditions in Scotland have improved with fresh snow.
In France, Chamonix (210-370cm) and Avoriaz (200-240cm) had the best of the new snow while the Pyrénées were clear and sunny for good visibility on existing cover. A number of Swiss lifts were closed by high winds but skiing should be good soon on new snow in Les Diablerets (90-350cm, 30cm of new snow) and Saas Fee (70-345cm, 10cm new). Italian Sauze D'Oulx (80-100cm) has fresh snow as does Cervinia (125-270cm), albeit with some lifts closed by wind. Austrian Lech (135-240cm) should be excellent when the winds drop, but snowfall in the Arlberg was more modest.
The worst of storm Andrea is yet to come today, with Swiss Wengen/Jungfrau area forecast to receive winds of 120mph. High winds and snowfall should abate over the weekend. By Monday Italian Val Senales should have 70cm of new snow. Resorts in Austria and Switzerland expect some 100cm of new snow over the weekend. Canadian Whistler is forecast to receive 60cm, with Colorado expecting a much-needed 10-15cm.
guardian.co.uk
Thursday 5 January 2012 22.30 GMT