FWT2012. Lutry, SUI, 12th January, 2012 – In a growing collaboration between the Swatch Freeride World Tour, the Subaru Freeskiing World Tour and The North Face Masters of Snowboarding which brought together one of the strongest rider fields ever assembled, North Americans dominated both the ski and snowboard competitions. With its vast ski and snowboard options, warm hospitality and consistent annual snowfall, few destinations in North America can rival Revelstoke - all the signs point to Revelstoke becoming a mainstay on the Freeride World Tour.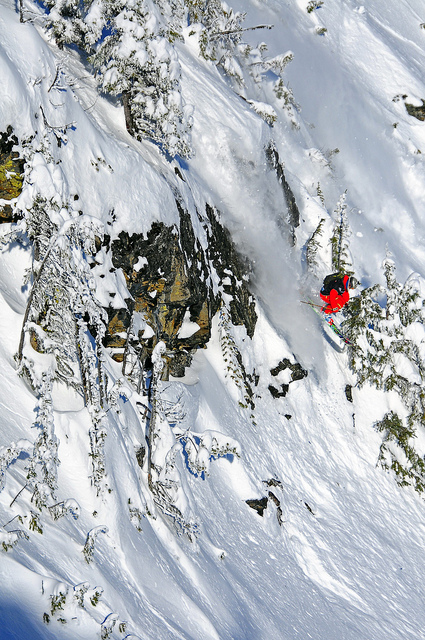 Photo © freerideworldtour.com
Ski Contest
On what could become an iconic competition face on the Freeride World Tour, the North Americans swept the podium in both men's and women's ski competitions.
A perfect bluebird day in deep pow on the giant Mac Daddy face in the heart of the Revelstoke back country - it was a classic big mountain Freeride competition. Leading after day 1, Canadian Kye Petersen tightened his grip on the field with an effortless looking ride on this steep and highly exposed venue. Clean, crisp and balanced throughout Kye's run had a ominous ring to it. If he maintains this level, the 21-year old Canadian is clearly going to be very difficult to beat this year. Kye remarked: "I just wanted to get to the bottom and stay on my feet. This is the best a competition can be, with the best skiers from North America and Europe, I'm excited to come out on top." Second place went to US rider Oakley White Allen who impressed the judges with his super fluid line. With a giant smile on his face White-Allen stated: "I followed my same approach from day one and that was to ski a line that is fun to ski, I think that comes out in your body language so that's what I did today. Rounding out the top three was Drew Tabke who weaved his way across the technical face jumping and stomping almost non-stop in the lower section.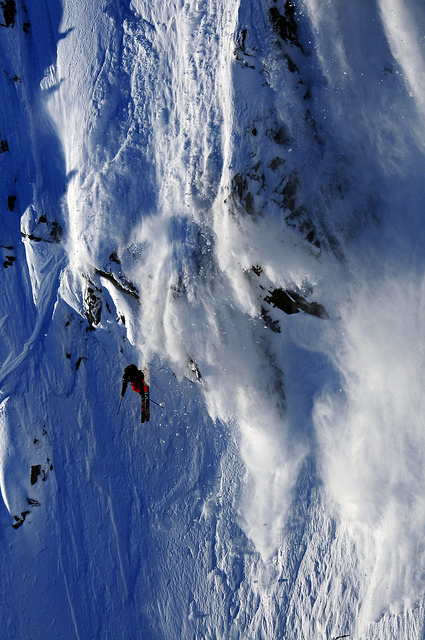 Photo © freerideworldtour.com
French riders Adrien Coirier and Jeremy Prevost just missed out on the podium finishing 4th and 5th respectively. Germany's Basti Hannemann continued his good early season form with another solid performance finishing in 9th position. Other leading European contenders Aurelien Ducroz and Samuel Anthamatten both crashed out attempting huge drops.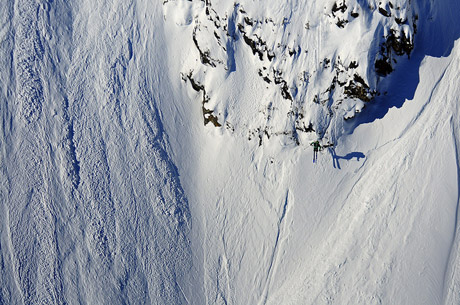 Photo © freerideworldtour.com
In the women's contest Angel Collinson proved again what a truly world class performer she is. Absolutely rock solid on the highly exposed top section of the face, balanced and fluid in the technical sections she finished her run with a fully stomped cliff. Freeride World Tour runner-up in 2011, Angel has already put her marker firmly in the snow for 2012. "My day was already made when I woke up to bluebird skies this morning. I was really excited to ski that awesome face with tons of options and I felt I had a strong run today," said Collinson. In second place was Crystal Wright who hit one of the biggest drops of the day for the ladies and completing the US 1,2 3 was comeback kid Jesse McMillan who straight-lined the bottom section.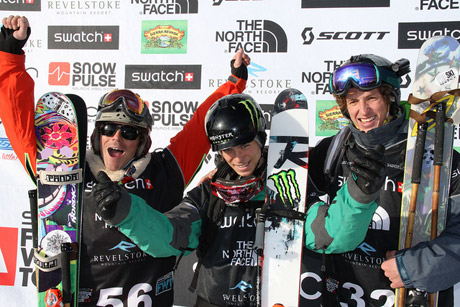 Photo © freerideworldtour.com
Germany's Pia Widmesser was Europe's top placed female rider in 5th position and looks set for a strong season.
Presented to the winners were Howitzer Shell trophies, courtesy of Swatch. These awards represent shells used in avalanche control work-necessary to ski a venue like the "Mac Daddy".
Snowboard Contest
The "Mackenzie Face" played host to the world's best big mountain snowboarders in a one-run winner takes all contest.
American Ralph Backstrom earned the highest score of the day, with a 92.67 out of a possible 100 points. On the notoriously challenging "Mac Face," Backstrom was aggressive from the outset, starting with a very technical entrance and finishing with a solid double cliff drop. Backstrom said: I stayed on my feet, I went really fast, pretty fluid, I kind of white-roomed myself once or twice. My line had some nice features. I am really stoked – we had really good snow."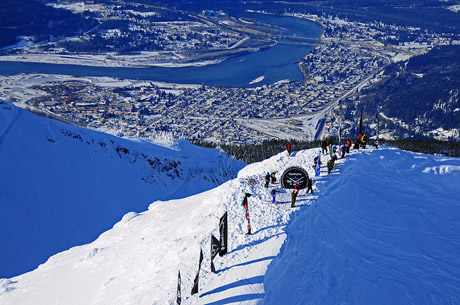 Photo © freerideworldtour.com
In second place was Jonathan "Douds" Charlet from Chamonix. The French snowboarder stomped three cliffs with his fast and fluid style, earning a score of 91.67. After his run Douds said: "I am very happy. I changed my line at the last moment, popped a big cliff on the right, it was much bigger than I thought, nice landing – really good powder." Rounding out the Men's podium was US rider Blair Habenicht with a score of 90.00.
Of the six women invited to compete, Maria DeBari topped the talented field with a score of 80.67; twenty-five points ahead of the next competitor. Honing her skills on Mt. Baker's big mountain lines, DeBari chose a smart line, allowing her to ride fast and flawlessly down the steep face. Maria explained: "I rode that skier's right panel up against the cliff because it looked like the coolest thing when I was looking at it."
Finishing second was France's Margot Rozies "I was really nervous up there, because I was the first to drop in and it is my first Freeride World Tour Competition. The snow was really sluffy and I had to wait a bit before I could jump, but it was really exciting and I had a great run." In third place was American Shannan Yates, with a score of 43.33.
The Swatch Freeride World Tour now moves on to the Freeride Mecca of Chamonix Mont-Blanc for the weekend of 21-22 January. With heavy early season snowfalls in Europe and the Mont Blanc as a back-drop the scene is well and truly set for another great competition.
FreerideWorldTour.com
12th January, 2012