FREERIDE WORLD TOUR.  Verbier, March 24, 2012 - In front of more than 8500 astounded and cheering spectators, and over 40 000 viewers on the live feed on internet, the top-level athletes put on their highest game today to tackle freeriding's most illustrious competition, the 17th edition of the "Xtreme Verbier".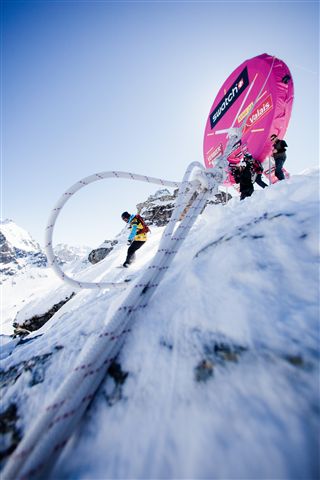 Rider MARIA DE BARI - USA, Swatch Freeride World Tour Xtreme Verbier 2012, Photo © Tero Repo / FWT
On the infamous north face of the Bec des Rosses, at 3222 metres, in Verbier, Switzerland, the skiers and snowboarders were challenged by a 500 metre steep, rocky, and technical face, testing even the very best. This is why only the very top-ranked riders qualified for this final and decisive competition of the six event Swatch Freeride World Tour 2012, which also determined the four World Champions in the disciplines of men's ski, women's ski, men's snowboard, women's snowboard. Surprisingly enough, all four winners of the Xtreme today also earned enough points to be crowned World Champions.
 Freeride World Champions 2012
Ski Men: Reine Barkered, Sweden
Snowboard Men: Jonathan Charlet, France
Ski Women: Christine Hargin, Sweden
Snowboard Women: Maria Debari, USA
Winners Swatch Freeride World Tour Xtreme Verbier
Ski Men: Reine Barkered, Sweden
Snowboard Men: Jonathan Charlet, France
Ski Women: Christine Hargin, Sweden
Snowboard Women: Maria Debari, USA
The athletes were pushing the envelope in a tight battle for the world title. In tricky snow conditions, the competitors performed creative and stunning line choices while finding their way through the labyrinth of rocks scattered on the face. Judged on an overall impression by four judges of each of the categories ski and snowboard, any type of style can win. Throughout the season a big variety of style was witnessed on the podiums: big mountain chargers and more freestyle oriented athletes have been pushing the sport forward.
Swede Reine Barkered put on the most impressive run of the day, skiing faster and going bigger than his opponents who took similar lines. With zero hesitation, he charged down the now so-called "Barkered Line", to stomp numerous big cliffs on his way down. With his top result in Verbier, Barkered scored enough points to be crowned World Champion just in front of American Drew Tabke and French Aurélien Ducroz, both executing outstanding runs today on the Bec des Rosses.
In the snowboard division French mountain guide Jonathan Charlet once again showed us his consistent riding throughout the season with a sweet run, an original line choice and hitting more features than other riders. Veteran rider Flo Orley rode the Bec for his 12th time in competition and proved he is still in the game with a well earned second, placing him third on the overall ranking. American newcomer Ralph Backstrom has had a solid season. Despite not being on the podium today he still managed to be runner-up Champion.
Top ladies were charging hard with beautiful line choices. The top 3 female skiers Christine Hargin (SWE), Eva Walkner (AUT) and Angel Collinson (USA), rode "men's lines" as judge Martin Winkler put it. Swede Christine Hargin won with a spectacular line; fast, no hesitation and stomping several jumps, including a huge cliff at the bottom. Hargin was blown away to have won the World Champion title, taking over the title from her older sister Janette Hargin (World Champion 2011)!
Snowboarder Maria Debari (USA) is new on the tour this year. She outplayed her opponents on the Bec des Rosses with a committed run, linking up great jumps including a variant of Christine Hargin's big cliff, all while managing impressive sluff. With Debari's win today she snagged the world title, in front of Margot Rozies (FRA) and Shannan Yates (USA).
Event Director Nicolas Hale-Woods (CH) comments the 17th edition of the Xtreme, and closing the 5th edition of the Freeride World Tour:
"Once again we saw amazing riding on a face that never disappoints. The Bec des Rosses is a fantastic mountain and a beautiful finish of a successful Swatch Freeride World Tour 2012. A new generation of skilled and upcoming freeriders are accelerating the pace on the freeride scene right now. Young talents are motivated and propelled up through the system thanks to the Freeride Juniors by Dakine and the Freeride World Qualifiers (FWQ). "
Quotes Freeride World Champions
Reine Barkered (SWE), World Champion Ski Men
"I was back and forth about this line, the conditions were harder than any year before, but I managed to stay on my feet. Typically, my plan is to make hard things look easy and that's what I did. This is my fourth year on the tour and the win hasn't set in yet. It's beyond anything I could possibly imagine. I talked to my dad today and I heard him cry for the first time, it's an incredible feeling."
Jonathan Charlet (FRA), World Champion Snowboard Men
"I did not think I would be able to win this title. I needed to consecutive victories. To win in Fieberbrunn and then in Verbier seems impossible. On the top of the Bec all the stress and pressure throughout the season came out and I told myself the best moment of the day would once passing the finish line. So now I am incredibly happy. My father was here, as well as my brother and a lot of friends from Chamonix."
Christine Hargin (SWE), World Champion Ski Women
"The world champion win was totally a surprise to me! According to the pre-event calculations it was hardly possible for me to win. The conditions weren't super easy with a bit of crust so keeping my line fluid was a challenge. The airs I took in the end ended up working out and I can't wait to celebrate tonight in the Verbier Village."
Maria Debari (USA), World Champion Snowboard Women
"When I was invited to ride the tour I first hesitated but then couldn't resist the event in Chamonix. With my victory there I was encouraged to continue. My goal was to be qualified to ride here in Verbier. I was really nervous today as the title was as stake, the difficult face and that my mother was here! I am so happy with the season and the atmosphere between the girls is really awesome."
Press Release
Freeride World Tour
Sat, March 24, 2012
The Swatch Freeride World Tour 2012 six stages
1st stop - Swatch Freeride and Freeskiing World Tour, Revelstoke 2012
Dates: 6 January, 2012
Location: Revelstoke (CAN)
Disciplines: Men's and Women's Ski and Snowboard
2nd stop - Swatch Freeride World Tour, Chamonix-Mont-Blanc 2012
Dates: 21 January;
Location: Chamonix (FRA)
Disciplines: Men's and Women's Ski and Snowboard
3rd stop - Swatch Freeride World Tour, Courmayeur-Mont-Blanc 2012
Dates: 24 January;
Location: Courmayeur (ITA)
Disciplines: Men's Ski and Snowboard
4th stop - Swatch Freeride World Tour, Røldal 2012
Dates: 26 February ;
Location: Røldal (NOR)
Disciplines: Men's and Women's Ski and Snowboard
5th stop - Swatch Freeride World Tour, Fieberbrunn 2012

Contest date: 10 March

Location: Fieberbrunn (AUT)

Disciplines: Men's and Women's Ski and Snowboard

Final and 6th stop - Swatch Freeride World Tour, Verbier 2012

Contest date: 24 March

Location: Verbier (SUI)

Disciplines: Men's and Women's Ski and Snowboard