The FIS Council has today elected the Organizers of the FIS World Championships 2016/2017 at the 48th International Ski Congress in Kangwonland, Korea.
Following the final presentations on Tuesday by the nine candidates for the 2016/2017 Championships, the FIS Council has elected the organizers of the 2017 FIS Freestyle & Snowboard, Nordic and Alpine events as well as the 2016 FIS Ski Flying World Championships.
 
Kulm (AUT) and Sierra Nevada (SPA) were unanimously elected as hosts of the 2016 FIS Ski Flying World Championships and joint FIS Freestyle Ski & Snowboard World Championships 2017, respectively.The Nordic World Ski Championships will be hosted by Lahti (FIN), who took this honor in the 3rd ballot with 12 votes ahead of Planica (SLO).
 
St. Moritz (SUI) was elected as the host of the 2017 Alpine World Ski Championships. With 12 votes, it achieved an absolute majority in the first ballot against Are (SWE) and Cortina d'Ampezzo (ITA).
FIS news
May 31, 2012
ФИС. Швейцарският зимен курорт Сен Мориц спечели домакинството на Световното първенство по ски алпийски дисциплини за 2017 г. Решението беше взето днес от Съвета на Международната федерация по ски (ФИС) по време на 48-ия конгрес, който се провежда от 27-ми май до 2-ри юни в 5-звездния хотел "Кангуоленд" в луксозния курорт High1 Resort на южнокорейската провинция Гангуон.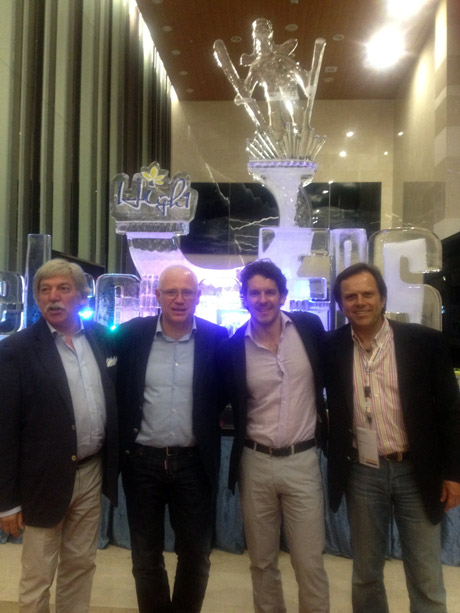 Президентът на БФСки Цеко Минев (втория от ляво на дясно) заедно с шефа на комисията на спортистите към ФИС Килиан Албрехт, президента на Мексиканската ски федерация Карлос Прунеда и директора "Връзки с обществеността" на италианските алпийци Роберт Прунер преди старта на контреса в Корея, фотография БФСки
За домакин на Световното по ски северни дисциплини през 2015 г бе избран Лахти (Финландия). Участие в конгреса взимат над 800 представители на 75 страни членки на ФИС. Българската делегация се ръководи от президента на БФСки Цеко Минев.
Изборите за 16-членния Съвет на Международната федерация по ски ще се проведат на 1-ви юни. Кандидатите за Съвета на ФИС са 19, а мандата им ще е за 2 г.
БФСки
31 май 2012 г.