SKI JUMPING. Andreas Wank is a real hotshot. After his victory in front of his home crowd in Hinterzarten the German now also won in the Far East. In Hakuba, Japan, Wank won the FIS GP ahead of Simon Ammann of Switzerland and veteran Noriaki Kasai.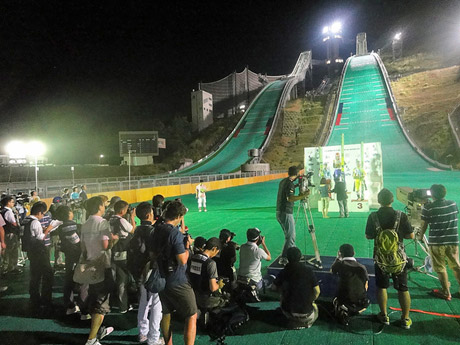 FIS Summer Grand Prix Hakuba (Japan) 25.8.2012, photo: FIS
With 259.8 points the 24-year-old achieved a pretty clear win. He laid the foundation with a great jump in the first round on 130.5 m. In the final he defended his lead and won for the second time in a row. Ammann was on the podium for the second time this summer with 251.1 points.
Japanese Noriaki Kasai captured his podium result with 248.3 points. In 2009 Kasai won on the Olympic hill in Hakuba, that was his last podium finish in the GP.
Also Michael Neumayer is usually doing well in Japan. This time he closely missed the podium and came in fourth. The best Pole, Dawid Kubacki, moved up from 13 to fifth in the final round.
Four Japanese in the Top Ten
The Japanese team is a real force this summer. Kasai third, Taku Takeuchi was sixth, Sho Suzuki, the winner of the qualification, was eighth and Yuta Watase tenth. Wow. Four Japanese in the Top 10.
Best Slovene was Jurij Tepes as seventh, Andreas Stjernen achieved a Top 10 result for Norway. Vladimir Zografski of Bulgaria showed with his eleventh place that he is capable of keeping up with the best.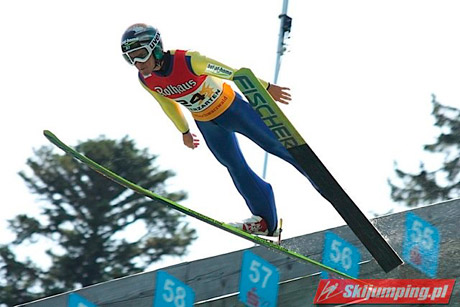 Vladimir Zografski (BUL), FIS Summer Grand Prix Hinterzarten (Germany) 19.8.2012, photo: Stefan Diaz / Skijumping.pl
Norwegians not among the best
For the Norwegian team this competition did not go as they wished. Tom Hilde, who was jumping great this summer so far, was only 17th. Two Norwegians in the Top 30 is not a very good result.
With his win, Wank extended his lead in the FIS GP overall ranking. With 309 points he has a lead of more than 100 points to Ammann (202). Reruhi Shimizu, who was 21st today, is now third (190 points).
FISskijumping.com
25.08.2012 11:07