St. Anton am Arlberg is simply the ideal place for those looking for a diversified and exciting ski experience. From the 30th November 2012 to 21st April 2013, this internationally renowned Tyrolean ski resort awaits with spectacular, sporting competitions such as the Ladies Ski World Cup and the legendary "White Thrill". Après-ski parties known from radio and television, cultural events such as the "Journey Through Ski History", the "Arlberg New Year's Concert" and weekly package deals ranging from the Snow Crystal Week to the Firn Week are all on the agenda. An eclectic mix combined with heaps of snow, 280 km of marked runs, 180 km of off piste terrain and 79 state of the art cable car and lift systems.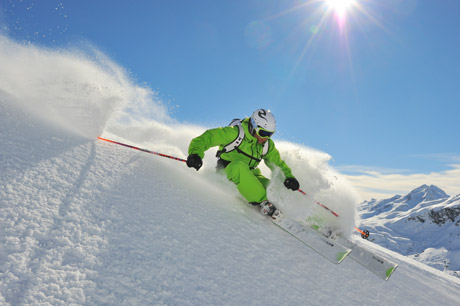 280 kilometres of marked runs, 180 kilometres off piste terrain and 79 cable car and lift systems await in St. Anton am Arlberg. Photo © Josef Mallaun / St. Anton am Arlberg Tourist Board
Stanton Ski Open from 30th November to 2nd December
It all starts in sporty fashion in St. Anton am Arlberg on the 30th November with three day long ski testing from multiple manufacturers and the St. Anton Rally up on the slopes. Skiers can test the latest gear of the season to their heart's content.
15th Arlberg-Pass "Krampalar" Devil's Run on the 5th December
Young lads in terrifying costumes accompany St. Nicholas through the streets of St. Anton on the 5th December: The Krampalar, as they are known as in Arlberg, wear fearsome carved masks and a so-called Devil's skin. No need to worry, though, because underneath their evil disguise they're really quite harmless. The Krampus Devil's Run in St. Anton am Arlberg is a Tyrolean custom that really has to be seen to be believed and shouldn't be missed.
SWR3 Ski Festival 7th to 9th December
From the 7th to 9th December, St. Anton am Arlberg will again be hosting the SWR3 Ski Festival. Listeners from Germany's biggest radio station will be celebrating both down in the valley and up on the slopes - and the SWR3 moose is always part of the action. Those looking for a more conventional run up to Christmas will appreciate the traditional Christmas market during the weekends of Advent, which is held simultaneously in the pedestrian zone at St. Anton am Arlberg.
RTL2 Après-Ski Hits on the 14th and 15th December
Be the first to find out what will be storming the charts this season: international chart toppers will be performing the most popular hits of the 2012/2013 winter season at the Mooserwirt on the 14th and 15th December. The show will be filmed by RTL2 and admission is free.
Journey Through Ski History: "Schneetreiben – Driving Snow"
Together with the Ski School Arlberg, St. Anton am Arlberg Tourist Board will be hosting the spectacular "Schneetreiben – Driving Snow" Ski Show at the World Cup Stadium. Fascinating driving skills and the historical developments of skiing can be seen both live on the piste and in big screen format. The journey through ski history begins at 21 hrs and admission to this outdoor event is free. Guests also have the opportunity to enjoy "Schneetreiben" with an evening meal and drinks in the warm, glazed lounge at ARLBERG-well.com. Transport to and from the event has also been taken care of with a special evening shuttle bus service between St. Anton am Arlberg, Flirsch, Schnann, Pettneu and St. Christoph. This year's premiere will take place on the 30th December and includes a firework display, after which guests and locals alike will be taken on their journey through ski history on the final slope at the World Cup Stadium in Arlberg on Wednesdays.
Ski Circuit: Ladies World Cup Race on 12th and 13th January
The ladies international ski elite will be meeting in St. Anton am Arlberg to battle for points in the two fastest disciplines in the World Cup. The legendary Kandahar Course will take these ladies to their limits. On Saturday, 12th January the focus is on shaving fractions of a second off the best Super-G times, followed by Sunday's challenging downhill race. The finishing line for both races will be at the stadium of the 2001 World Ski Championships.
Cool: "Kirschbaum Battle" in Spring
St. Anton am Arlberg is known and famous for its' numerous free-ride opportunities – over 180 km of deep powder back country terrain is ready and waiting for the specialists. It's going to be colourful and sporty fun in March, as the "O'Neill Kirschbaum Battle" is inviting participants to this two day event. Free-skiers, snowboarders and rookies will be arriving at Stanton Park in colourful, cool clothes to put their skills to the test and battle it out for prize money, fame and honour. With an amazing entertainment programme and after contest parties – this event speaks for itself! Exact date to be announced.
Unfamiliar terrain: "Snow Volleyball World Tour" on the 5th and 6th April
Extreme sport, party, snow, mountain air and adrenalin – the Snow Volleyball World Tour will be here to give a guest performance in Arlberg, luring hundreds of fans and spectators to unfamiliar, icy terrain. The international volleyball elite will be competing in customary style at the top station of the Rendl lifts at 2,030m above sea level for the title, "King of the Snow".
A matter of fact: "The White Thrill" on 20th April
The specifics of this iconic end of season ski race: mass start of around 500 competitors, nine kilometres downhill, unprepared pistes, 1,300 metres in elevation difference and a 150 metre ascent. Whoever thinks that alone is more than enough is sorely mistaken: Down in the valley just before the finishing line, a final obstacle awaits that really takes the biscuit!
Package deals for even more winter holiday
Great offers for the start of the season: Snow Crystal Week and Wedel Weeks
St. Anton am Arlberg starts the season with some very attractive prices. During the Snow Crystal Week from the 1st to 8th December numerous guest houses and hotels offer attractive deals and a 6 day lift pass costs 25 per cent less than the already reasonable low season tariff. Those who don't have time during this particular week can take advantage of the following Wedel Weeks from the 8th to 22nd December – this has got to be the best Christmas present ever for all those diehard ski fans out there.
"Ladies First"! The Feel Good Weeks for Ladies from 5th to 26th January
This is when the St. Anton am Arlberg holiday region pays particular attention to its female guests: During the "Ladies First"! Feel Good Weeks, all female guests can collect their personal "Ladies First Book" from the Tourist Information offices. This includes vouchers for a whole host of fabulous freebies, including drinks, ski hire, ski service, hours of relaxation and feel good pampering services, a range of goodies and special offers.
Powder Snow Weeks from the 5th to 26th January
January is THE month for deep snow enthusiasts and pleasure carvers. In the evening they check out the sky and weather forecast and are the first to hit the slopes the next day. It's all about being the one to make the "First Line" in virgin snow. There are, after all, no less than 180 kilometres of back country terrain waiting for off piste enthusiasts. Equally tempting are the reasonable prices for these weeks.
Firn Week from 16th to 23rd March
During the Firn Weeks, winter sports enthusiasts can look forward to perfect conditions in the mornings and relaxing in a sun lounger under bright blue skies in the afternoon. Firn Weeks are available for as little Euro 410 per person and include a 6 day lift pass and overnight accommodation in a private B & B.
Sun Ski Weeks from 6th to 20th April
The season ends as it began: In the final two weeks of the season the lift passes cost 25 per cent less than the already very reasonable off season prices. Many hotels and accommodation providers offer special conditions with drastically reduced rates.
And that is by no means everything…
280 kilometres of marked runs, 180 kilometres off piste terrain, 79 cable cars and lift systems, fun in the Park and Info Teams on the pistes.
While the free-ski and boarding scene meet at the Funpark on Rendl to smash the kickers, ramps and rails, skiers and snowboarders revel in the diverse ski region of St. Anton am Arlberg. What's so special: its' enormity – skiers can ski from morning to night without ever having to ski the same slope twice. Even those who have skied from a young age wax lyrical about this region. Local guides in particular know when a particular slope offers optimum conditions – and they can be booked at one of the local ski schools to accompany you for a perfect day on the slopes. Not only that, multi-lingual Info Team guides are on hand to give helpful advice at various points in the ski region – easy to spot with their red anoraks.
Gentle Winter Sport and Wellness
Winter sports enthusiasts and snow lovers are also well catered for away from the pistes in St. Anton am Arlberg. Cross country skiers can enjoy a 40 km network of cross country trails and walkers have 70 kilometres of winter trails at their disposal. A natural toboggan run and the ice skating rink at ARLBERG-well.com all enhance the choice of winter sports activities. Wellness in all shapes and sizes can be found in numerous local hotels, at ARLBERG-well.com in St. Anton am Arlberg as well as in the Arlberg Stanzertal Wellnesspark in Pettneu.
Multifunctional: Sport and Climbing Centre "arl.rock"
Tennis, volleyball, squash, bowling, indoor soccer, climbing, bouldering, ice climbing….. you will find "Active" fun all year round at the "arl.rock" Sport and Climbing Centre in St. Anton am Arlberg The distinguishing feature of arl.rock, however, is the extensive climbing facilities. Up to 25 varied outdoor routes in all levels of difficulty, 130 square metres of indoor bouldering facilities and 60 climbing routes in grades 3 to 9 are all waiting to be conquered.
 
Little snowmen having big fun – Children's season ticket for only 10 Euros
Children born from 2003 onwards pay only 10 Euros for the "Snowman Card" season lift pass, enabling them to take advantage of all that St. Anton am Arlberg ski resort has to offer.
The highest of culinary delights
Four St. Anton restaurants have again been recognized by Gault Millau: Die Stube at the Hotel Alte Post, the Verwallstube at Galzig, the Restaurant at the Hotel Arlberg Hospiz as well as the Hopiz Alm in St. Christoph am Arlberg.
Leave your car at home
A relaxing holiday begins with a relaxing journey. Why not leave you car at home for once. St. Anton am Arlberg's railway station is right in the centre of town and all main international express trains stop here, You don't actually need a car in the entire St. Anton am Arlberg holiday region: There are regular shuttle buses through the villages of St. Anton as well as throughout the entire holiday region. The base lift stations are in the middle of town, shops and restaurants are easily accessible on foot.
Overview of the winter season 2012/2013 fixtures:
30.11.2012 – 02.12.2012 Stanton Ski Open
01.12.2012 – 08.12.2012 Snow Crystal Week
05.12.2012 15. Arlberg-Pass Krampalar Devil's Run
07.12.2012 – 09.12.2012 SWR3 Ski Festival
07.12.2012 – 09.12.2012 Christmas Market
08.12.2012 – 22.12.2012 Wedel Weeks
14.12.2012 – 15.12.2012 RTL2 Après-Ski Hits 2013 at the Mooserwirt
30.12.2012 Premiere 2012/2013 Ski-Show "Schneetreiben – Driving Snow"
04.01.2013 Arlberger New Year's Concert
05.01.2013 – 26.01.2013 "Ladies First"! The Feel Good Weeks in January
05.01.2013 – 26.01.2013 Powder Snow Weeks
12.01.2013 – 13.01.2013 Ladies Alpine Ski-World-Cup
26.01.2013 – 02.02.2013 Ski-Club Arlberg Week
15.02.2013 Nostalgic ski race of the Ski Club Arlberg
March 2013 "O'Neill Kirschbaum Battle"
16.03.2013 – 23.03.2013 Firn Week
05.04.2012 – 06.04.2013 "Snow Volleyball Tour"
06.04.2013 – 20.04.2013 Sun Ski Weeks
20.04.2013 "The White Thrill"
21.04.2013 Season end in St. Anton am Arlberg
Tirol Werbung | Tirol Touris Board
St. Anton am Arlberg, 28.09.2012
Further information is available from St. Anton am Arlberg Information Offices under +43(5446)22690 or www.stantonamarlberg.com