ALPINE SKI. Want to know what World Cup athletes REALLY think about the new 35 meter GS skis? US alpine ski team member Warner Nickerson asked the best men on tour. Here's what they said... Check it out and get your own picture of it!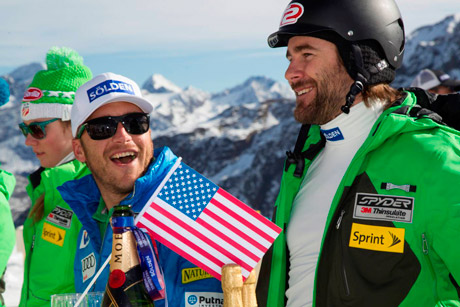 Warner Nickerson and Bode Miller during a press conference with Soelden/Obergurgl-Hochgurgl/Oetztal - the Official European Training Base of the U.S. Ski Team. Photo credit: Mitchell Gunn/ESPA
The governing body of World Cup and Olympic Skiing (F.I.S.) changed the dimensions and length requirements of Men's and Women's Giant Slalom, Super G, and Downhill skis for the 2012-2013 seasons.
The most dramatic change was to Men's Giant Slalom skis as these skis must be 10 cm longer and much straighter making them much more difficult to turn. Although F.I.S. claims these new skis are "scientifically proven to enhance athlete safety and reduce risk of injury," the jury is definitely still out.
Rather than focusing on the safety concerns in this video, we talk to many of the best male giant slalom ski racers in the world to see what they think of the changes. Some think it's better while others argue it is taking us back in time to the 1980s.
The reasons I did this are the following:
1. The athletes do not have any power under the dictatorship of F.I.S. and the athletes must be heard.
2. The athletes have very mixed reviews on how these new skis work, but they do not seem to be as detrimental as we originally thought. However, younger athletes -- racing F.I.S. at age 16 -- rarely have sufficient strength and the correct snow conditions to properly turn these new skis. This change is potentially terrible for the future of our sport.
3. I think the athletes ability to overcome these drastic changes is a compelling story.
For more information about this change and more related articles go to www.warnernickerson.com
Special Thanks to: Ted Ligety, Marcel Hirscher, Aksel Lund Svindal, Ivica Kostelic, Philipp Schoerghofer, Felix Neureuther, Fritz Dopfer, Leif Kristian Haugen, Jon Olsson,Truls Ove Karlsen, Marcus Sandell, Tim Jitloff, JP Roy, Andreas Romar, Lars Elton Myhre, Adam Zampa, Will Gregorak, Robby Kelly, Sammy Blanc, Ben Griffin, Michael Janyk, Christoph Nösig, and Hans Olsson
Warner Nickerson
24.10.2012