ALPINE SKI. Nearly 50 year after having honored Austria's Egon Zimmermann, one of the top racers in the early 1960s, the members of the AIJS have massively chosen his younger compatriot Marcel Hirscher as the newest receiver of the 'Skieur d'Or - Serge Lang Trophy' following his flamboyant achievements during the 2011/12 season.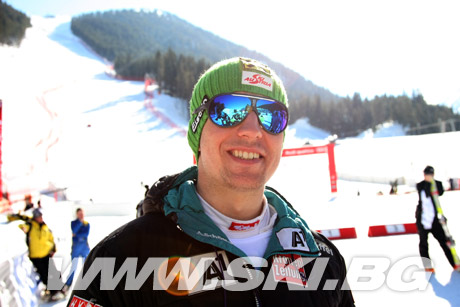 Marcel Hirscher (AUT), double winner at Audi FIS Alpine Ski World Cup Bansko 2012, photo: SKI.BG
The 23-year-old champion got the most votes ahead of other top champions such as Switzerland's Didier Cuche, USA's Lindsey Vonn or Beat Feuz, also from Switzerland. A very charismatic and dedicated athlete, Hirscher has accomplished impressive performances in recent seasons, reaching twenty-seven World Cup podiums in giant slalom, slalom, Super-G or combined including twelve victories since December 2009.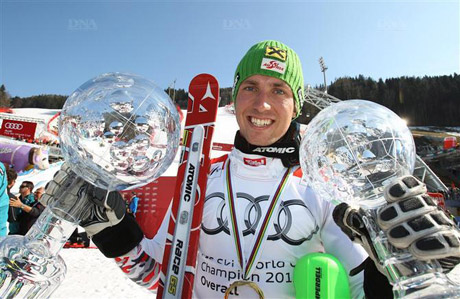 Marcel Hirscher (AUT), overall Alpine Ski World Champion 2012
At the end of his first World Cup season, the three-time junior World Champion in 2007 and 2008 stormed onto the scene with superb 3rd places in slalom at Kranjska Gora and Bormio. At that time he was 'only' 19! A year later, the passionate dirt bike rider only missed by 7/100 of a second the bronze medal in giant slalom at the 2009 FIS World Championships at Val d'Isère – finishing 4th behind Switzerland's Carlo Janka, Benjamin Raich and Ted Ligety – three of the best specialists in the event.
At the beginning of the following season, the skier from Annaberg, south of Salzburg, enjoyed a nice revenge on the same slope claiming his first World Cup giant slalom on the treacherous 'La Face' slope after ending a promising 11th in Super-G and 2nd in a Super-combined event there. He won another giant slalom later on in March 2010 at Kranjska Gora – and finally also his first slalom – again in Val d'Isère – in December 2010.
Unfortunately, an injury sustained early February 2011 at his left foot during a crash in Hinterstoder prevented him to fight for medals the following weeks at Garmisch-Partenkirchen. Marcel showed once more his mental strength in the way he dealt with that misfortune taking it as a simple incident among many others in his career. This positive attitude strongly helped him to get efficiently over the annoying time of rehab that took place in the springtime and early summer.
What was considered by him and his dad Ferdinand, a former ski instructor who has always taken great care of Marcel's technical skills, as a 'comeback winter' soon turned out to be an amazing season for the young gate specialist. After an encouraging start at Soelden where he finished 6th, Marcel suddenly began to ski at a tremendous rhythm in Beaver Creek, Colorado, where he won the next giant slalom ahead of Ted Ligety prior being 2nd in the next one behind the American and then 3rd in the slalom taken by Ivica Kostelic.
Ten days later, he was a solid yet not so happy 5th in the giant slalom at Alta Badia after clocking the second best time in the first leg - before fighting back in the slalom that he captured ahead of Italy's Olympic Champion Giuliano Razzoli and Germany's Felix Neureuther. It was the start of another 'tornado' tour for Hirscher who won the next four events that he finished in January at Zagreb, Adelboden and Schladming – after straddling gates in Flachau, Wengen and Kitzbühel. In Switzerland, he became the very first athlete to win both technical races set on the challenging 'Chuenigsbergli' course within twenty-four hours.
His determination and his capacity to move at his limits brought him more successes later on at Bansko and then at the Finals in Schladming where he also nailed a crucial and unexpected 3rd place in the last Super-G race of the winter three weeks after finishing a distant 34th at Crans-Montana! Yet Marcel Hirscher is not only charming the audience with his spectacular style on snow but also with his sense of humor and his sometimes colorful answers given to journalists at interviews and press conferences. His gentle manners are appreciated by all – what also explain his clear election this year.

Marcel Hirscher honored with the Skieur d`Or AIJS - Serge Lang Trophy 2012, photo: FIS
The Award Ceremony will take place on Thursday evening at 7:00 PM at the Hotel Bergland in Soelden. The first winner of the Skieur d'Or 1963, former Olympic Champion Egon Zimmermann, should also be present at that occasion.
A.I.J.S. Ski Press News Center
25th of October, 2012