ALPINE SKI WORLD CUP. LEVI, Finland – After securing the discipline title last season, Andre Myhrer proved in today's first run that he hasn't lost his touch over the summer. With a time of 53.86 seconds the Swede was the only athlete to complete the run in less than 54 seconds. In second place, last year's Overall title winner Marcel Hirscher is currently .27 seconds behind Myherer while Jens Byggmark, the last to start from the top group with number 16 proved conditions were holding up well and placed third, .31 seconds behind his teammate.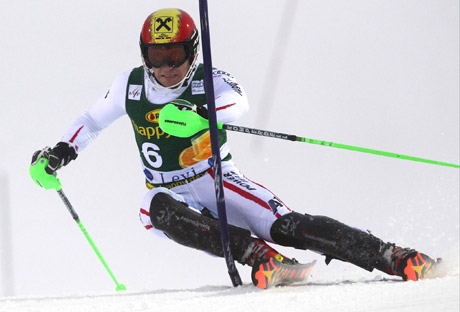 Marcel Hirscher (AUT), photo: Atomic
This morning warmer temperatures then the ladies greeted the racers, but luckily the few centimeters of snow on the race hill and high percentage of humidity didn't damage the slope too badly.
"Conditions are really good, the water preparation of the slope made it so that today it's hard but you can have enough grip. I felt good, even though I might make small mistake, get out of balance at some gates – it feels easy to get back," third ranked Byggmark said.
Manfred Moelgg is keeping his momentum from Soelden, after a second place in the Opening race of the season he is currently fourth, just over half a second behind the leader.
Felix Neureuther, currently in sixth, felt confident coming down the Levi Black.
"Conditions are good and even visibility is not really a problem, it sticks a bit to your goggles but it's ok. My problem is that I lost so much time on the flat sections. The setting is rather straight but I never know what to do – I tried to generate speed somehow and still lost a lot of time there."
At a point where the top of the leaderboard seemd set for the second run, the run of the day came from Alexander Khoroshilov. The Russian skier, starting with bib number 45 surprised everyone with an outstanding run, earning himself a 5th position, just .57 behind Myhrer.
Defending national colors and representing the young force which will be following the steps of Kalle Palander who will be skiing his farewell run today, is Santeri Paloniemi. The 18 year sits in 22nd place and will be chasing his first World Cup points in fornt of the home crowd.
Second run starts at 1pm CET, stay tuned!
Ana Jelisic
FISalpine.com
Sunday 11 November 2012