ALPINE SKI WORLD CUP. LEVI, Finland – Andre Myhrer held on to his lead in the first run of Sunday's men's slalom. With a time of 1 minute, 49.55 seconds the Swedish skier picked up where he left things last season. After winning the slalom at the finals in Schladming, earning the discipline title, he started the new season at the top of the podium.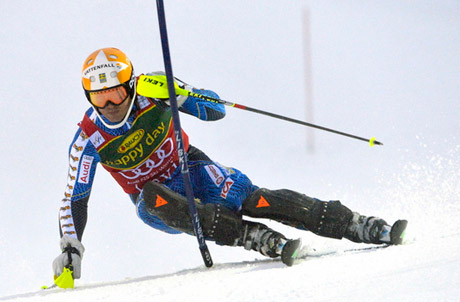 Andre Myhrer SWE, photo by Agence Zoom / FIS
"It feels great to start the season with a win," Myhrer said with his usual calmness. "This means I can continue to do what I have been doing so far; there is less stress when you start like this."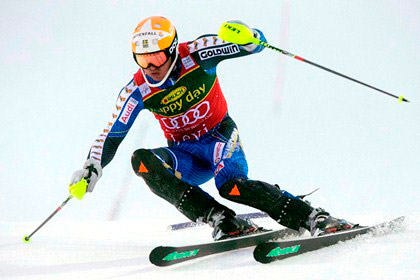 Andre Myhrer SWE, photo by EPA
When you are the best in the discipline, it's not always easy to keep it going over the long summer but Myhrer seems to have found a good way and today he was as strong as we left him in March.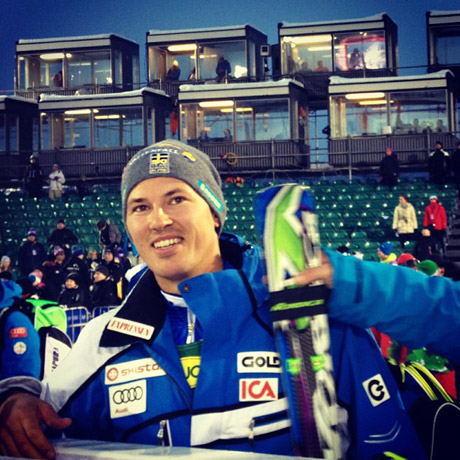 Andre Myhrer SWE, photo by Agence Zoom / FIS
"The skiing is there and I had a good summer. I took it easy in spring due to some back problems but was able to slowly increase the training. We also went to New Zealand, as we haven't been there for two years the change was welcomed. I felt really good coming into this race."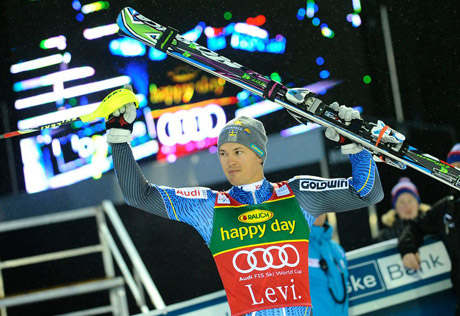 Andre Myhrer SWE, photo by Agence Zoom / FIS
Last year's Overall title winner Marcel Hirscher was gave it his best shot at stealing the victory, after being only .27 seconds behind Myhrer in the first run, but his efforts proved just not be enough as he finished second, a mere .06 seconds behind the Swede.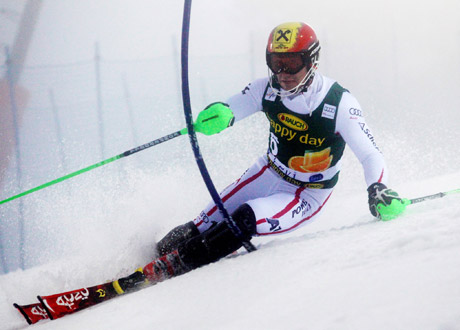 Marcel Hircher AUT, photo by Atomic
"This year I definitely started better then last year, now I just have to hope that the rest of the season will be the same as last year. Seems that not that much has changed over the summer, but I was a bit scared of the young guns. Some of them today were amazing and they are really fast. It's good to go home with a good gift for Santa Claus, I've competed here five times so far and a 26th place was my best result – today's second place was definitely an improvement!"

Marcel Hircher AUT, photo by Marcel Hircher
 Jens Byggmark rounded up the podium, making it his first top three result since 2008 when he was second in the Kitzbuchel slalom.
"It's great that my commitment this summer paid off today. I was on the podium last time in 2008; in 2009 I started here with 56 so it has been a struggle. I have made some good and some bad choices but finally I am back on the podium and that feels great. I am on the podium with the best guys from last year and now the next step is to beat them. Also, sharing it with a teammate, we train so closely all year so we are happy for each other when we do well."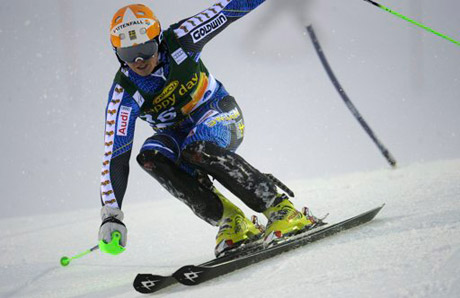 Sweden's Jens Byggmark slaloms past a pole on his way to clock the third fastest time during the first run of an alpine ski, men's World Cup slalom, in Levi, Finland, Sunday, Nov. 11 , 2012. (AP Photo/Giovanni Auletta)
"Conditions are really good," Byggmark added. "The water preparation of the slope made it so that today it's hard but you can have enough grip. I felt good, even though I might make small mistake, get out of balance at some gates – it feels easy to get back," third ranked Byggmark said.
This morning warmer temperatures then the ladies greeted the racers, but luckily the few centimeters of snow on the race hill and high percentage of humidity didn't damage the slope too badly.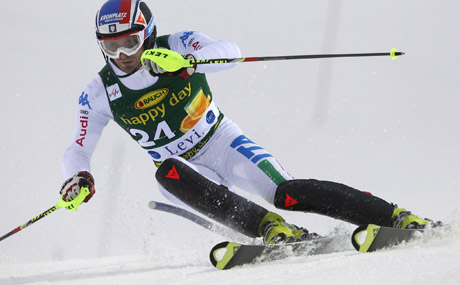 Manfred Moelgg ITA, photo by Fischer
The conditions were ideal for some of the athletes attacking from the back, so today there were a few new names added to those scoring World Cup points on a regular basis.
Great Britain has been struggling to make a name for itself on the World Cup tour, but today, for the first time since a race in Chamonix in 2005, they had a male athlete score World Cup points. David Ryding hammered down the course in the first run from bib number 55, earning himself a start in the second run. He finished the race in 26th position and will be going home from Levi with his very first five World Cup points.
One of the legends of the sport retired today, Kalle Palander skied his last World Cup run before the second run and said goodbye to what has been his world since his first World Cup start in Madonna di Campiglio back in 1996.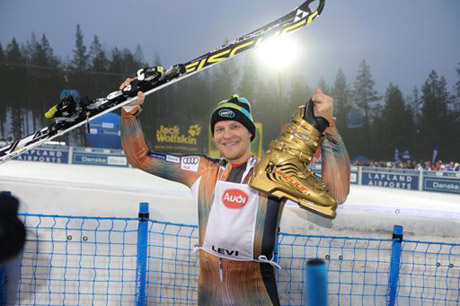 Retired Finnish skier Kalle Palander holds up a "golden" skiing boot after his farewell-run during the day of men's slalom at FIS Alpine Ski World Cup Levi in Kittila, November 11, 2012. REUTERS/Heikki Saukkomaa/Lehtikuva
The day where his World Cup story ended, someone else's just begun. Santeri Paloniemi, the 18 year old Slalom Junior World Champion left his first mark on the World Cup tour, he will be going home with a 24th place and a big smile. His colleague, Giant Slalom Junior World Champion Henrik Kristoffersen id even better, he will have an 11th place as a reminder of his first World Cup points.
With their eyes set on the upcoming Olympic Games in Sochi, the Russian team has something to be pleased with today. Their athlete, Alexander Khoroshilov surprised everyone when he earned himself a 5th position in the first run, from bib number 45. He was unable to perform equally well in the second run but finished 18th in today's race, a good start of the season as he is still struggling to be constant with scoring points.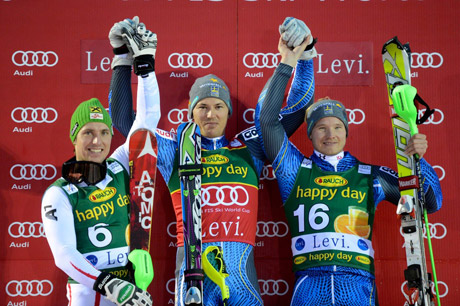 Men's slalom podium at the FIS Alpine Ski World Cup Levi in Kittila, November 11, 2012, photo by A.I.J.S.
The men's Tour moves on to the first speed events of the season and wit the hope that the events in Lake Louise get confirmed on Wednesday 14th, that will be  the first test for the speed athletes to showcase the work they have done this summer.
by Ana Jelusic
FISalpine.com
Sunday 11 November 2012