ALPINE SKI. Swiss skier Daniel Albrecht has suffered a serious injury to his left knee in a crash in training for a World Cup downhill race in Lake Louise on Thursday.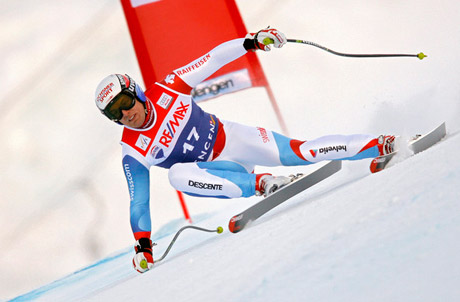 Daniel Albrecht of Switzerland takes 6th place during the Alpine FIS Ski World Cup. Men's Super Combined on January 16, 2009 in Wengen, Switzerland. (Photo by Agence Zoom/Getty Images)
The Swiss Ski Federation said that Albrecht, who was airlifted by helicopter to a hospital in Calgary, had suffered a "complex injury" to his knee but had no head injuries.

The 29-year-old has not competed in downhill or Super-G events in nearly four years after spending three weeks in an induced coma to recover from brain and lung injuries after crashing heavily in downhill training in Kitzbuehel, Austria.

He returned to competition two years later in December 2010 but the only speed events he has competed in since his accident were a downhill and super-combined in January 2011.

The 2007 world champion in super-combined and a four-time World Cup winner, has not been unable to find top form since his Kitzbuehel accident.
AFP News
The 23th of November, 2012
Season over before it started for Beat Feuz
2012 overall World Cup runner-up Beat Feuz (SUI), who has been fighting an infection in his left knee since the World Cup Opening in Sölden, remains in hospital. His condition is stable but has forced Feuz to declare the season to be over for him.
The reason for the infection remains unclear. The first symptoms started to appear before Feuz left Sölden. However, they only became disturbing after he decided not to start in the Opening. After first aid on site and further examinations in a hospital in Berne, the knee joint was cleansed several times to try to identify and treat the source of infection.
The situation took a turn to worse last weekend and Feuz was transported to the Insel Hospital in Bern. With the help of specialists from various departments including orthopaedy, haematology, vascular surgery, radiology, and others, Feuz was diagnosed with increasing infection in the knee and bleeding in the joint. He has been treated with various therapy and medical measures, and efforts are underway to get to the core of the infection. As a result however return to racing is out of question at this time.
FISalpine.com
Wednesday 21 November 2012
Robbie Dixon breaks leg at Copper
Canadian Alpine Ski Team veteran Robbie Dixon suffered a serious leg injury after crashing during a race in Copper Mountain, USA, on Thursday.
The 27-year-old from Whistler, B.C., was taking part in a FIS race as part of his preparations for the Lake Louise World Cup, which gets underway in Alberta next week.
Dixon landed after a jump and caught an edge. He suffered a tib-fib fracture of the right leg and is due to have surgery in Vail, Colo., Thursday evening. No timeframe has been set for Dixon's return but it is expected to be a long-term injury.
"It's a hard one to swallow given how the last couple of years have gone," said Dixon, who battled back from a serious concussion and had been looking forward to getting his 2012-13 World Cup season underway next week.
"I caught an edge and one thing led to another. I'm going to stay positive. I'm fortunate to have some pretty amazing teammates who I can call my friends. They're supporting me and I know they've got my back."
Dixon is one of Canada's most gifted speed skiers. The 2010 Olympian has racked up 11 top-10 World Cup results and last year came agonizingly close to securing his first podium when he finished fourth in the super-G in Beaver Creek, USA.
FISalpine.com
Friday 16 November 2012