CROSS-COUNTRY SKI WORLD CUP. Winter is back, and with it, a brand new season full of highlights for the FIS Nordic World Cups presented by Viessmann which will begin this coming weekend in Gaellivare (SWE) and Lillehammer (NOR).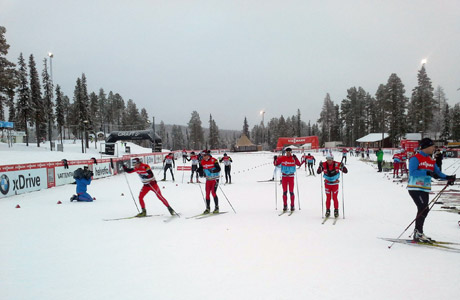 FIS Cross-Country Ski World Cup Gaellivare (SWE) - the skis testing has begun, photo: FIS
On 24th and 25th November, the world's Cross-Country Skiing elite will be competing in Gaellivare situated 100 kilometres north of the Arctic Circle in Swedish Lapland. About 6000-7000 spectators are expected to come and watch the World Cup premiere where triple FIS Tour de Ski winner and World Cup champion Dario Cologna will be racing against his competitors, including local hero Marcus Hellner and Norway's Petter Northug, who returned to racing last weekend in the Norwegian national season opener. On the ladies side, Justyna Kowalczyk (POL), the three-time FIS Tour de Ski champion, and Marit Bjoergen (NOR), the 2011/12 overall crystal globe winner, have announced their participation along with most of the other stars.
Ski Jumping and Nordic Combined to get going in Lillehammer
For the first time in history, Norway's Lillehammer will be hosting the FIS World Cup season opening in Ski Jumping and Nordic Combined from 23rd-25th November.
Ski Jumping will be especially exciting this season, since new teams and athletes may be emerging to the front ranks as the FIS Summer Grand Prix series already indicated. The main reasons for this may be the new tighter fitting jumping suits, the continuation of ladies' World Cup series for a second season, and the mixed team events.
With a full schedule of 26 events in 11 locations, it will be interesting to see who the main contenders for podiums will be in this season's Nordic Combined. Three-time World Cup overall winner Jason Lamy Chappuis is eager to defend his title but already the past season saw both well-known and new faces emerge on top, such as Mikko Kokslien (NOR) or Akito Watabe (JPN), to challenge the French champion.
After the respective World Cup openings in Sweden and Norway, the circuits will move on to Finland's Kuusamo where a major Nordic weekend including Cross-Country, men's Ski Jumping and Nordic Combined will take place from 29th November-1st December.
FIS news
21/11/2012